We live during technology dominated times, and that means we've become rather addicted to our smartphones. During long drives, you might often face inconveniences if you don't have around a few useful accessories.
The market has become quite versatile when it comes to car gadgets, and many product developers are focusing on providing smartphone users with practical accessories for their vehicle. If you've been thinking lately about getting your hands on a few essential products, which will allow you to better enjoy your iPhone while you are behind the wheel, you should be aware of 2019's must-haves.
Which accessories are actually worth investing in? What type of iPhone care gadgets should you always have around? Here are some of the most popular choices for drivers lately:
Dual USB car charger
Going on a road trip and having your iPhone battery die out when you're in the middle of nowhere is certainly a scenario you would like to avoid at any costs. Whether you've been talking on the phone too much, or a navigation app is using all your battery, if you deal with a dead battery, you should be covered and have a solution available.
Car chargers have become possibly the number-one car accessory over the last couple of years. This is why the variety of options in this department has also increased lately. As an iPhone user, you should look for a dual USB car charger. The dual USB allows you to charge two devices at the same time (it may come in handy in some cases), and if you opt for the right brand, you'll also benefit from appealing charging speeds.
It's easy to use, it's convenient and it can be of great help not only on road trips, but for your regular daily drives as well.
Spare charging cable
Obviously, plugging in your iPhone won't be possible if you don't have a charging cable around. Because cables tend to wear and tear quite easily, choose an option of higher quality, and perhaps get a spare one just in case as well. You can find cables with braided nylons, which last in a better condition longer. Also, because you may want to keep your iPhone place in a mount, while charging it at the same time, it's best if you choose a cable of longer dimensions, instead of those short ones that usually come with a regular iPhone charger.
iPhone mount
Using your iPhone while driving can sometimes be necessary, but we all know how unsafe that can be when you're behind the wheel. Talking on your phone, texting someone or checking Google maps to get directions can often put you in the position of no longer focusing on the road ahead. Because it's 2019, you should be able to use your phone hands-free, and the best way to do that is by getting a high quality car phone mount.
It doesn't matter if you want to use a navigation app, you want to call someone or to simply keep your iPhone safe on bumpy roads, a mount is the perfect accessory. It has become one of the most essential car gadgets, and if don't already own one, it's certainly time to make a purchase.
You will come across a variety of great models, each having its own set of advantages. You can opt for a magnetic mount, a cradle, a dashboard accessory or any other mount type you think would suit your needs best. Simple compare different versions, and decide which one is more convenient for you personally.
Remember to take into account your car model, your iPhone, and the ease of installation and use when you are trying to make a selection. With this accessory installed, your rides will become more pleasant than ever, and if you have an urgent phone call to make, you won't have to worry that you'll get pulled over by the police and receive a fine.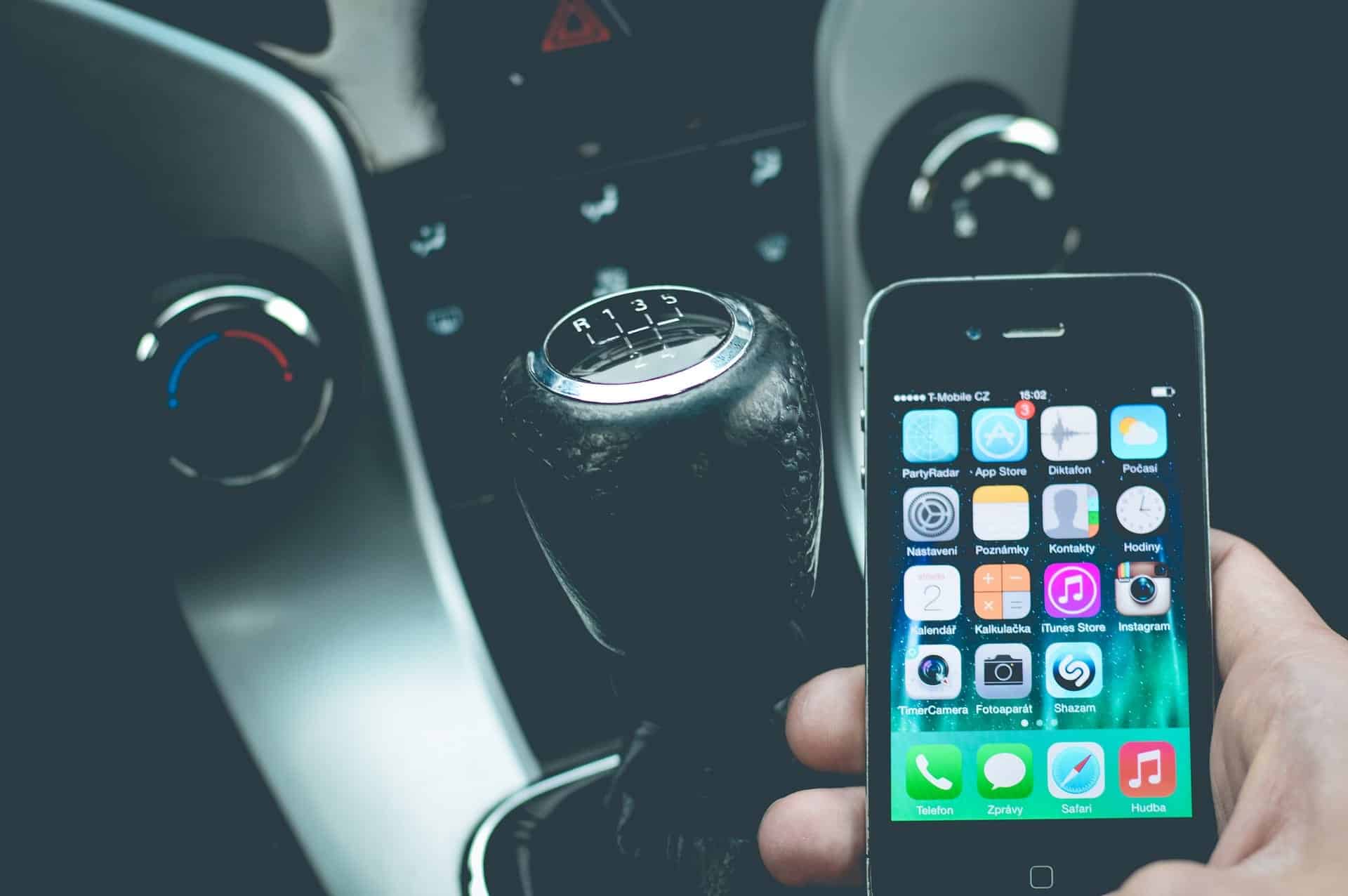 Bluetooth wireless transmitter
The latest vehicle models no longer require you to have a separate gadget for smart device connectivity. However, if you're driving an older model, that doesn't come with Bluetooth built-in features, a wireless transmitter is the type of accessory you should consider getting. If you want to listen to a media file on your iPhone, listen to YouTube podcasts or access your Spotify library, you will be able to do so with a transmitter installed. You simply need to plug the device into the power port, the same place where you charger usually goes, and make the connection to your phone via Bluetooth. It will allow you to enjoy more entertaining rides, and play the selection of music you want conveniently. Moreover, some transmitters have a charging USB port available as well, if you need to charge your iPhone simultaneously.
OBD device
One last item you might find useful, which can keep you informed on potential car issues is an OBD device. All car models made since 1996 come with an onboard diagnostic port. Usually, mechanics are the ones to own special devices, which can be plugged into these ports and have certain troubleshooting info read.
Nowadays, however, you can get an idea on various dashboard issues yourself by getting an OBD device. You just need to plug the accessory into the port and then connect it to your iPhone via Bluetooth. After installing an app on your phone, you can read the details the OBD device has picked up, such as engine lights codes.
If you've been looking for a few gadgets and accessories that would make using your iPhone on the go easier, these are definitely the options you should be looking into first. Over the last few years, new products have been brought into the market designed to make smartphone use as convenient as possible in the modern vehicle. From a car phone mount, which has become essential for the common driver to car chargers, all of these items benefit from increased popularity in 2019, and can make your phone user experience more enjoyable.