Screen Saver Madness
One of my favorite screen savers is "Cosmos." The location of the system default screen savers is: /Library/Screen Savers/Default Collections. In Sierra, I loaded up the Cosmos folder with additional NASA images: 23 in all. And they're no larger than any of the original files there. I never had a problem.
However, in High Sierra that folder of screen savers did cause a problem. The display and UI would lock up completely after about 6-12 hours. I'd have to use the Mac's power button to reboot.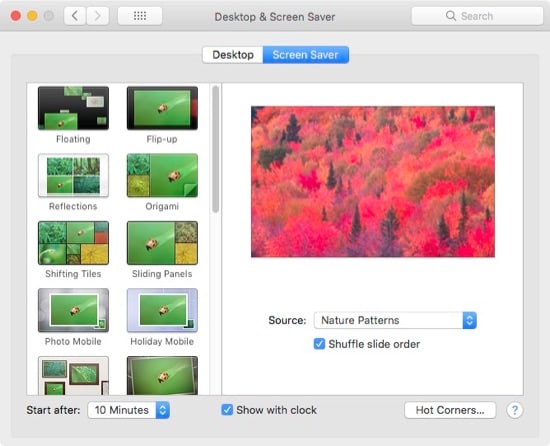 My first trial fix was to use one of the other unmodified directories: Nature Patterns. There are only 7 images there. Using that collection, I haven't had any lockups, even overnight. My initial guess is that High Sierra can't handle so many added images. That seems crazy, because Sierra could, but there's always some wrinkle with macOS security or the graphics on this 2013 Mac Pro, so that's my working hypothesis. I'll update if I find out more.
Remain calm. Experiment.
Sierra High Jinks
Two other annoying, historical problems with Sierra, for me, were:
I have been watching for these problems in High Sierra, but I haven't seen either yet. However, I haven't been upgraded long enough to draw any firm conclusions. Again, I'll update if I experience these issues again. None of the other TMO staff members have yet reported spontaneous logouts im High Sierra.
Final Thoughts
In every other respect, the High Sierra update has gone very well. That includes my Audio Hijack podcasting suite of tools from Rogue Amoeba. I'm still testing, but I haven't found any show stoppers. Of course, there are always cases where a particular system with its history and suite of apps and (kernel) extensions can go awry. But I was very pleased with this upgrade.
Except for the Mail app incident. That should never have happened. But then, ahem, it's the Mail app.