Sing the lyrics to The Beatles' "Come Together." Before you get to "holy roller" there will be a new instance of Android malware out there. That's according antivirus firm G-Data, who claimed it found 754,958 instances of Android malware in just the first quarter. The company is projecting 3.5 million Android malware samples in 2017, a figure that would beat 2016's record of more than 3.2 million.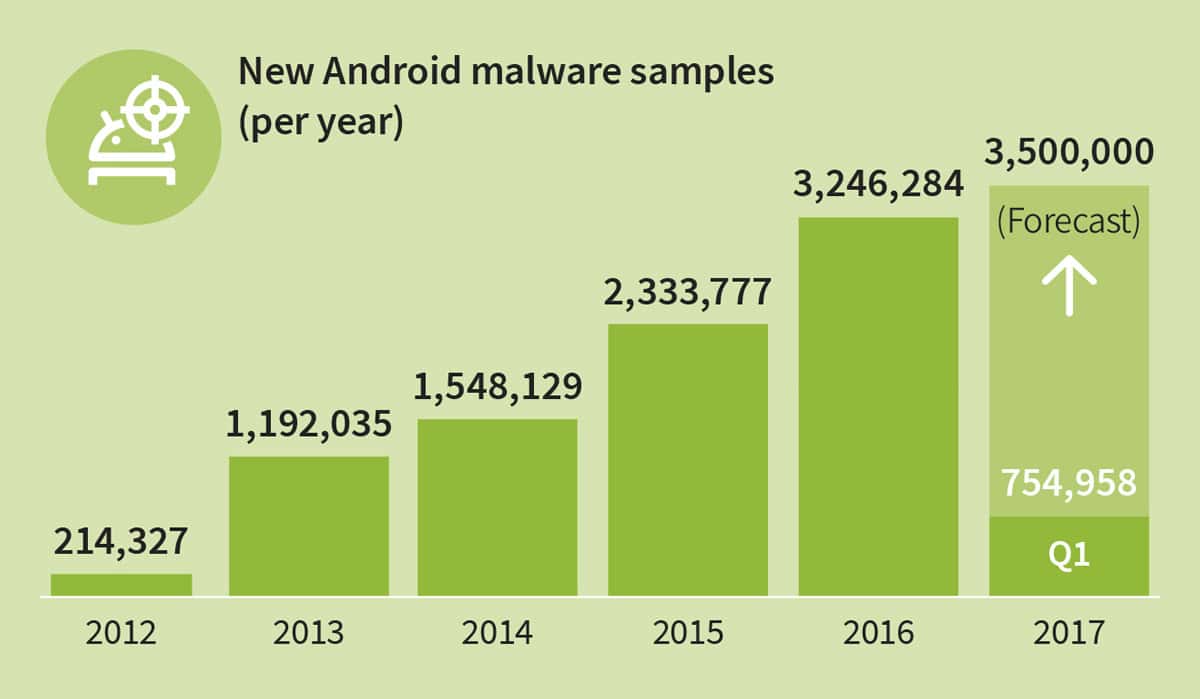 That amounts to "almost 8,400 new malware instances every day." 9to5Google noted that breaks down to a new instance of Android malware every 10 seconds.
1 new Android malware sample every 10 seconds.
SMH…
Crappy, Unupdated Android Devices
At the heart of the problem is the reality that Android devices don't get many, if any, updates. Ever. That gives the bad guys plenty of time to dig into Android looking for exploits. Here are the numbers supplied by G-Data:
G-Data Android OS Distribution
Android-Version
Distribution
2.3. – 2.3.7 ("Gingerbread")
0.9%
4.0.3 – 4.0.4 ("Ice Cream Sandwich")
0.9%
4.1.x – 4.3 ("Jelly Bean")
10.1%
4.4 ("KitKat")
20.0%
5.0 – 5.1 ("Lollipop")
32.0%
6.0 ("Marshmallow")
31.2%
7.0 – 7.1 ("Nougat")
4.9%
Those numbers are significant. Fewer than 5% of Android devices run something close to the current version of Android. Compare that to iOS, where Apple says 79% of iOS devices run iOS 10. While Android improves with every release—and gets more secure with every release—the vast majority of Android devices are stuck on old versions the operating system with all their vulnerabilities.
That makes Android prime real estate for criminal and state-sponsored hackers. If you're going to go Android, at least buy a device from Google that will get updates for a while.