Apple committed a massive US$350 billion to the U.S. economy on Wednesday. In a long press release, the company said increased investment, existing plans, and a one-time tax would add up to a $350 billion contribution to the nation's economy.
Apple didn't offer a lot of details, but reading between the lines indicates Apple isn't planning on using much of the money it's repatriating for capital investment, as I explain below the fold.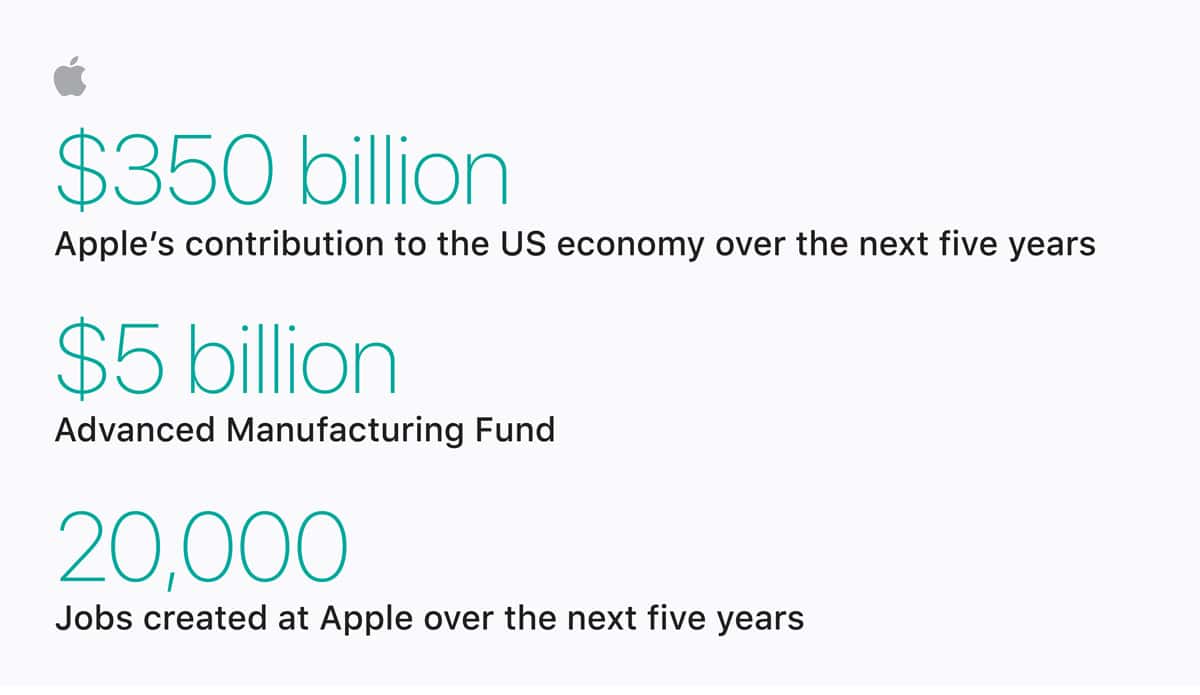 Among the tidbits we did get are that Apple is increasing its for for investing in U.S. manufacturing—the Apple Advanced Manufacturing Fund—from $1 billion to $5 billion. The company also said it was building a new campus, would hire another 20,000 people, make investments in STEAM education, add more data centers, and more.
There Are Taxes, and There Are Taxes
Interestingly, Apple is including its $38 billion in one-time repatriation taxes in the $350 billion figure, but isn't included its regular, ongoing taxes. Apple also isn't counting taxes paid by its employees—a figure adding up to billions more over five years—in its claim.
I call it interesting, because it would certainly be reasonable for Apple to do so. Here's Apple's statement on the topic:
Combining new investments and Apple's current pace of spending with domestic suppliers and manufacturers — an estimated $55 billion for 2018 — Apple's direct contribution to the US economy will be more than $350 billion over the next five years, not including Apple's ongoing tax payments, the tax revenues generated from employees' wages and the sale of Apple products.

Planned capital expenditures in the US, investments in American manufacturing over five years and a record tax payment upon repatriation of overseas profits will account for approximately $75 billion of Apple's direct contribution.
Reading Between the Lines
Another way of looking at this is that Apple's existing plans already accounted for roughly $275 in contributions to the economy. Some $75 billion will be new contributions, and at least $36 billion of that figure had already been accounted for and set aside by Apple in the years before the GOP tax plan that was just signed into law.
And what that means is Apple will be spending only a small amount of the $245 billion in money being brought home as a consequence of the tax bill. Apple didn't say what the rest will be used for, but paying down debt, buying back stock, and increasing dividends are (still) a good bet.
*In the interest of full disclosure, the author holds a tiny, almost insignificant share in AAPL stock that was not an influence in the creation of this article.