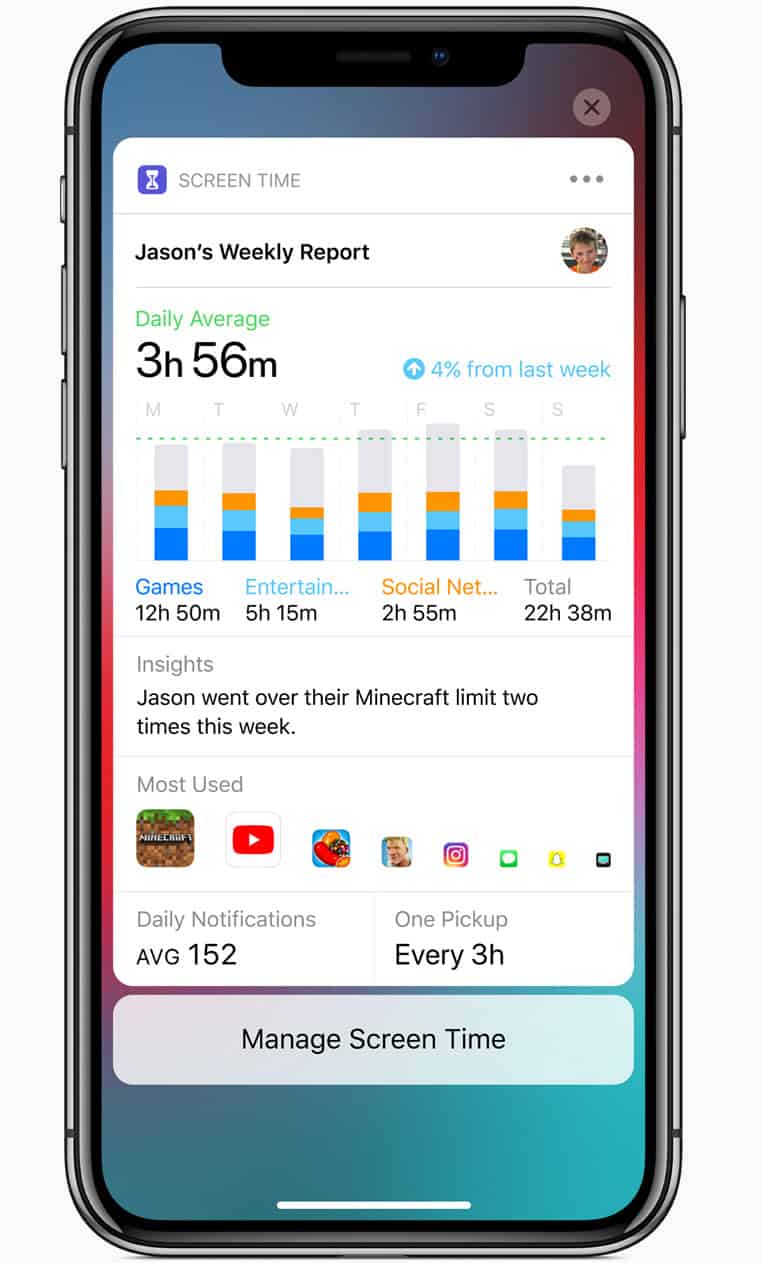 SAN JOSE – Apple announced at its annual World Wide Developers Conference several new features in iOS 12 designed to help curb our addiction to Apple's own mobile devices. With the addition of Do Not Disturb, greater Notifications controls, and Screen Time, Apple is giving users the ability to better manage their mobile time. Parents can also use Screen Time to give their kids time allowances.
[Apple Announces iOS 12: Siri Skills, Performance, Improved Communication, Enhanced Augmented Reality]
Hello, My Name is Bryan, and I'm Addicted to My iPhone
The first thing to note is that Apple Senior Vice President Craig Federighi didn't use the word "addiction" once, but it was very clear he was talking about exactly that. More specifically he was talking about how developers (especially social media platforms) work hard to get you to spend as much time in their apps as possible. Notifications, badges, and other tools have been expertly harnessed by some developers to get users hooked on their apps, and therefore Apple devices.
Some might argue that's good for Apple (it is, sort of), but going back to the introduction of Apple Watch, Apple execs have talked finding ways to make it easier for us not to bury our faces in our iPhones. This continued during Monday's WWDC keynote with the announcement of several features that give users more control over Notifications and how much time we spend in some apps.
Do Not Disturb
Apple has long had a Do Not Disturb mode that prevents incoming texts and phone calls from making noise or otherwise alerting you. On Monday, Apple said this would be extended to iOS 12 Notifications. When in Do Not Disturb mode, your iPhone or iPad won't display any Notifications.
The example used during the WWDC keynote was while you're sleeping. You get up to go to the bathroom in the middle of the night and check your iPhone to see what time it is. Boom! There's an Instagram Notification from your girlfriend who happens to be on the other side of the world. And an Apple News Notification for some new political atrocity tearing at the very fabric of government. Or…all of the things. This stuff can get us "spun up," as Mr. Federighi put it, and really, it can bloody well wait until you've had a good night's sleep. With Do Not Disturb mode on, those Notifications won't be on your Lock Screen while you're checking the time.
Extend that to meetings, dinner time, family time, quiet time, reading time, painting time, and any other time, and that's what we're talking about.
More Notifications Controls and Features
Apple will also beef up Notifications controls in iOS 12. Users will be able to immediately control Notification alerts right from the Notification itself, including from the Lock Screen. You will also be able to turn off Notifications from that app from within the Notification. Lastly, Apple is adding the ability to Group Notifications so that they occupy less space on your screen and can be dismissed in one fell swoop.
Screen Time
Screen Time is the most significant feature being added for those who need outside help controlling how much time we spend endlessly scrolling through infinite scroll timelines in apps like Facebook, Instagram, Twitter, and more. Not me, of course. I'm talking about you lot. Me? I can quit any time I want.
With Screen Time you can give yourself an allowance of time for a particular app. When your time's nearly up, you get a reminder, and when you're time is up, you get a screen telling you to move along. You can ignore even your own reminders and limitations, of course, so this feature is a tool for people who want help helping themselves. It's not the boss of your iPhone time.
You also get detailed reports on just how much time you spent in which apps on a daily and weekly basis. According to Apple, "Daily and weekly Activity Reports show the total time spent in individual apps, usage across categories of apps, how many notifications are received and how often iPhone or iPad are picked up."
And then there are parents. I know a teacher who had the parents of one of her elementary school kids ask her to tell their child not to use an iPad at the dinner table. It's mind-boggling, the complete abrogation of both control and responsibility, but it's a true story and it's not isolated. iOS 12 is going to help with this, or at least give parents some tools for enforcing screen time discipline.
[Tim Cook on not allowing his nephew on social networks.]
Screen Time will allow parents who use Family Sharing in iCloud to monitor their kids Activity report. They can also schedule limits for when their children can even use their devices. That should be a big help to parents taking an active role in how their children use their devices.
Apple Taking Bold Steps to Help Us Limit Ourselves
I admire these announcements and the ways in which Apple is adding tools that help us help ourselves. Like Drive Time in iOS 11, these new features are opt-in (or at least opt-out) and provide us with ways to do the things we should do without being all Nanny State about it.
I imagine most of us will be shocked the first time we look at our Activity Report. And I imagine most of that most of us will then never look at another Activity Report because we don't want to curb our screen addiction. But for those who do, these tools will help.
Apple has faced stupid criticism for not being more Nanny State about these issues. And while I doubt these new features will make those whiners whine any less, they will help empower many users reclaim more time from their screens.