Apple tripled the number of its supplier sites in its Energy Efficiency Program, according to the newly released 2017 Progress Report on Supplier Responsibility. That report also included highlights on its goal of UL Zero Waste to Landfill, and responsibly sourcing minerals. We've gathered the highlights below.

Energy Efficiency Program
Apple prides itself on environmentalist efforts—and with good reason. With the effects of global climate change on the rise—and a U.S. Environmental Protection Agency dead set against fighting it—it's increasingly up to individual companies to manage their environmental responsibility.
Apple has an energy efficiency program in which it works to reduce carbon emissions throughout its supply chain. Additionally, Apple said it is working with suppliers to have each one create 4 gigawatts of renewable energy by 2020.
In 2016 Apple was able to triple the number of suppliers that create renewable energy. Thanks to this program, over 150,000 metric tons of carbon emissions were reduced last year. Larger suppliers have committed to power Apple's entire manufacturing chain with renewable energy by the end of 2018. In total, this will help reduce carbon emissions by 7,000,000 metric tons per year. This is equal to removing 1.5 million cars from the road for an entire year.
UL Zero Waste To Landfill
Apple also has a UL Zero Waste to Landfill validation program, related to Underwriters Lab's UL Zero Waste initiative. The company works with suppliers to reduce and eventually eliminate manufacturing waste. Last year the program expanded to include all Chinese final assembly sites. Year after year, the total volume of waste diverted from landfills has doubled, from 74,000 metric tons in 2015 to over 200,000 metric tons in 2016.
Now, all of Apple's final assembly sites in China divert 100%, and 15 sites were certified as completely zero waste. This is a big increase from just one site in 2015. The program impacts not only the supply chain, but also strengthens local recycling networks.
Responsible Sourcing
Responsible sourcing of raw materials is also part of Apple's green initiative. Apple was the first company to map it's supply chain down to the smelter level in 2010. This includes resources like tin, tantalum, tungsten, gold, and cobalt (3TG). The company requires that each smelter and refiner participate in an independent third-party audit to assess and manage risks in their operations. Mapping the chain means that Apple knows exactly where each resource is mined, refined, smelted, and sent off to the manufacturing chain.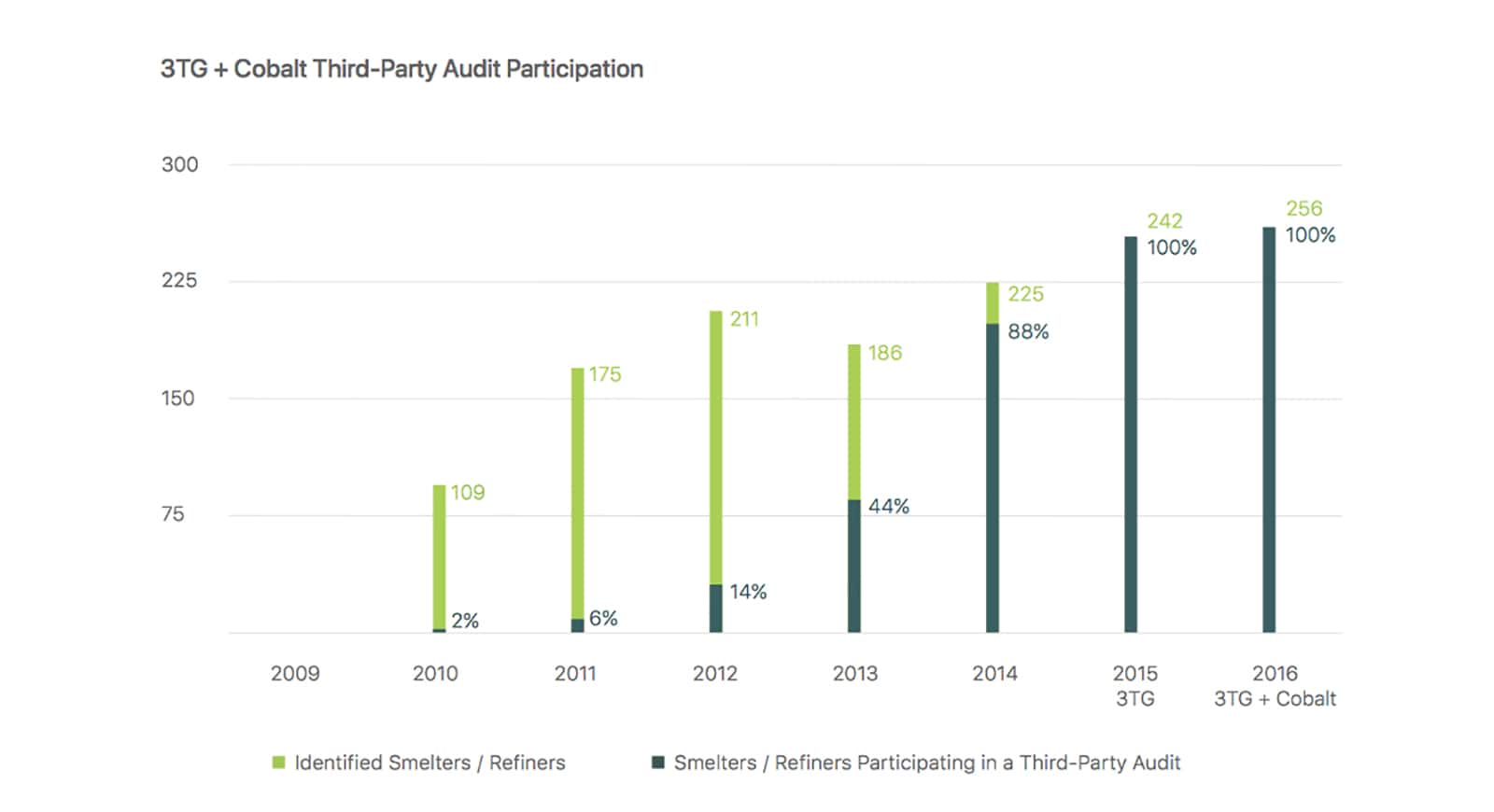 Responsibly mapping sources also means that Apple makes sure that there is no forced or underage laborers. In 2016 the company assessed 705 facilities that employ about 1.2 million people. Of those, the company did find one underage worker in a Chinese manufacturing facility. Apple made sure that the supplier provided the worker with safe passage home while continuing to pay their wages, and even giving the person educational opportunities.
Conclusion
In short, 2016 was another successful year for Apple when it comes to Supplier Responsibility. For Apple, success doesn't just mean the number of products sold, or the number of new markets entered. Success means that every part of the company—from its resource mines to manufacturing and all the way up to Apple Park—is working in tandem to improve the lives of millions of people around the world, while at the same time making sure that Apple gives back to the earth. It's often said that Apple employees bleed in six colors. Thanks to Apple's green efforts, maybe it's time for them to say that they bleed sap.