The Story Continues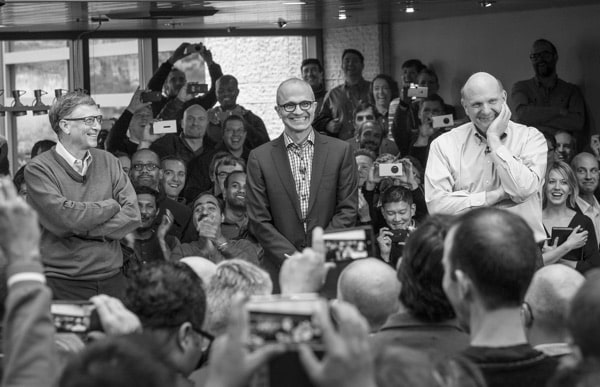 If there's one story in this book that reveals the thinking and leadership of Satya Nadella, that's it. Microsoft is now all about the best solutions for all comers, not just those who have allegiance to Windows.
In the first article of mine, linked above, I wrote.
Of course Microsoft isn't out of the woods. The company is still shackled by its past, a past that found it mired in poor executive vision and teamwork. Plus destructive Apple envy. Not to mention the lack of a true technical visionary—as Apple had with Steve Jobs.
This new book by Mr. Nadella tells a strong personal story of how he plans to lead Microsoft out of those woods of old. It's great reading, and it sets the stage for only the 3rd CEO in Microsoft's history to spend the coming years focusing on the new age. Machine learning, the cloud, mixed reality and artificial intelligence.
Of course, any passionate personal story will focus on the positive, but my own observations of the company since early 2014 suggest that Mr Nadella is, in fact, successfully carrying out his vision. There haven't been many obvious mistakes along the way,
Confronting Apple (Again)
In the past, Apple had an easy time competing with Microsoft in the consumer market. Microsoft's vision was conflicted. A fixation on Windows shackled the company. Mr. Ballmer didn't appear, outwardly, to indicate that he understood Microsoft's deepest problems, both in product vision, customer focus, and internal organizational structure and leadership. The company followed Apple like a fawning puppy dog, and its marketing outreach showed, according to Steve Jobs, no signs of taste. Customers were in love with the iPhone, and Apple sold more than a billion of them.
I expect Apple to continue to do well, but if the company has a weakness, it's the inability to embrace and produce excellence in the mechanics of modern tech in broader markets , products and services. (Limited iCloud, displays, servers, routers, science and tech professionals, enterprise to name a few.) While Apple has great consumer hardware and services, a comprehensive sense of excellence in business: productivity, the cloud and collaboration has eluded the company. And so it keeps its challenges there modest and works to leverage its specific strengths.
One of my takeaways from Hit Refresh is that I don't think it will be quite so easy anymore for Apple to shrug off the formerly sleeping giant.
I expect new, continuing and some unexpected challenges to Apple. It will be a Good Thing.