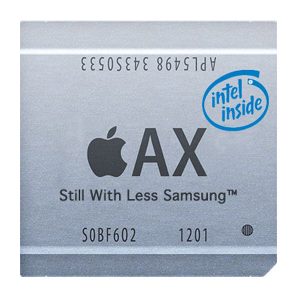 Apple might have a new source for manufacturing the company's Ax line of ARM processors: Intel. Bloomberg reported that Intel has licensed the right to make ARM processors, which is an interesting development for both Apple and Intel.
Intel
Intel benefits from taking an ARM license in many different ways. The first is that ARM is eating Intel's lunch in the mobile space. Sure, Intel would prefer that Intel processors were driving the move to mobile, but having failed to make that happen, making ARM processors for others is substantially better than not being involved at all.
Related, an ARM license will allow Intel to optimize its best-in-class fabrication facilities. Chip fabrication facilities can cost billions, and an idle fab is a fab not making money. To this end, Intel announced this week a deal with LG to make some of the Korean company's processors.
Apple
The case for Apple is very different, but it starts with Samsung. Apple and Samsung are bitter rivals and close manufacturing partners, too. Samsung has long made most of Apple's Ax processors, and Samsung built a fab in Manor, TX (outside Austin) for this very purpose.
Samsung earned that business by being one of the best at making ARM processors, but who among us thinks Apple wouldn't be pleased as punch to send that business to someone else? Apple has given some foundry business to Taiwan Semiconductor Manufacturing Corporation (TSMC), but Samsung is still a major partner in Apple's chip business.
Another aspect is the price Apple pays for its chips. One of the company's specialties is pitting component makers against each other to get the best quality at the lowest price. While TSMC has only been able to earn some of Apple's foundry business, Intel could conceivably earn it all. Intel has the resources, engineering brilliance, facilities, and skill to become a heavy weight in ARM fabrication.
A major new competitor in the foundry space means Apple can extract that much more value out of its contracts.
All in all, it's a good move for Intel and good news for Apple.