Verizon Wireless
Big Red no longer offers traditional subsidies and has now moved to zero-interest payment plans and trade-in credits. For both new and existing customers, Verizon offers virtually the same zero-interest financing terms for the iPhone 7 as the Apple Installment Plan. For the 32GB iPhone 7, that's $27.08 per month for 24 months (which works out to $649.92), while on the other end of the spectrum the 256GB iPhone 7 Plus will run you $40.41 per month (total cost: $969.84).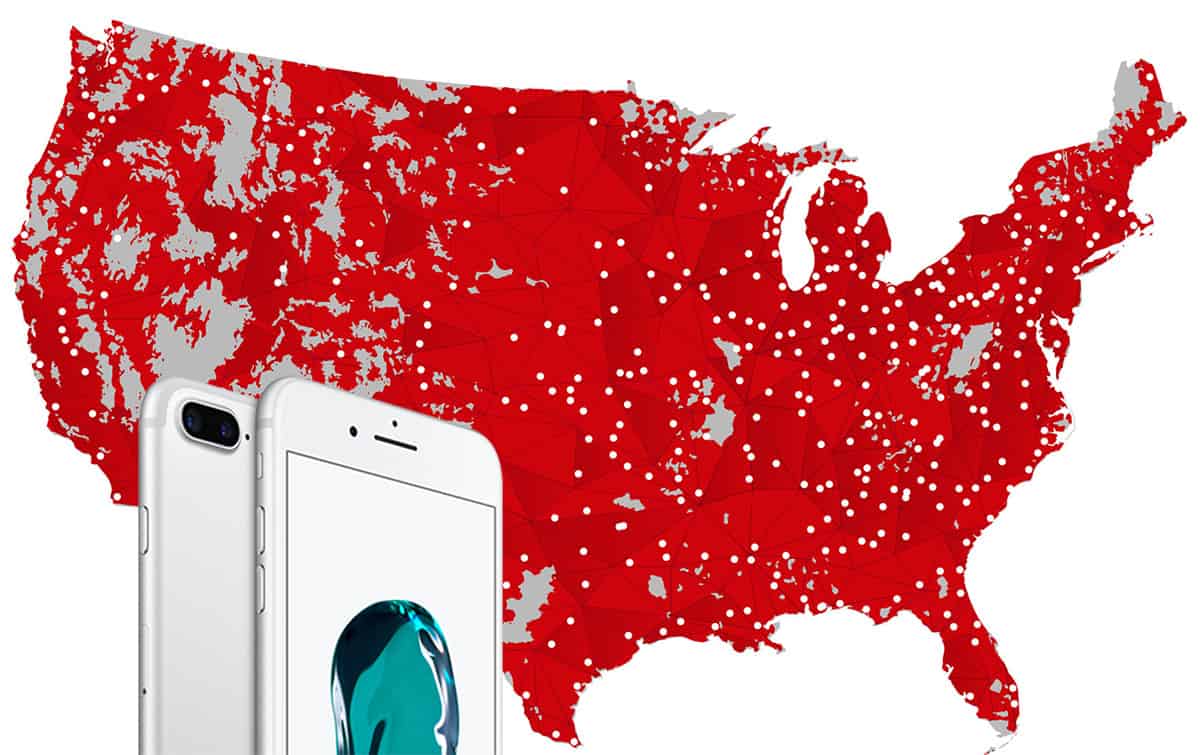 Keep in mind that these prices are just for the phone itself. You'll still need to tack on a Verizon service plan to actually use the thing. And, just like all of the other financing options, you'll need to pay the full sales tax up front. In Verizon's favor compared to the other carrier options is that the iPhone is unlocked, so that's one less thing to worry about if you want to sell or jump ship down the road.
For customers who already own certain iPhone models, Verizon offers a trade-in option worth up to $650. Those with an iPhone 6, iPhone 6 Plus, iPhone 6s, or iPhone 6s Plus can opt to trade their working and good-condition device in to Verizon when purchasing a new iPhone 7. The carrier will then credit your account $27.08 per month for 24 months. For the 32GB iPhone 7, this covers the cost of your phone over the two year payment plan, minus taxes and interest (which makes the total package worth far less than $650 from the customer's perspective). For higher end models, this acts as a subsidy on your monthly payments.
The key factor for the Verizon trade-in program, however, is that you must maintain service with the company for 24 months. If you switch to another carrier after, say, 12 months, Verizon won't pay out the remainder of what it owes you on the trade-in. Therefore, only go this route if you're sure that you'll stick with Verizon for the long haul. Otherwise, you're better off selling your existing iPhone on your own and using the cash to offset the cost of your upfront or monthly payments.
Finally, Verizon offers something similar to Apple's iPhone Upgrade Program with its Annual Upgrade Program. Customers with select recent smartphones (iPhone 6s and newer, Samsung Galaxy Note 7* and Galaxy S7), can trade their devices in after a minimum of 30 days and 50 percent payment and re-up with a new device and new agreement. This isn't an entirely clean transaction, however, as you'll need to pay upgrade and activation fees for the new device.
*If it's not on fire.
AT&T
AT&T was the first major carrier to move away from traditional subsidies, and they continue along that path with "Next" and "Next Every Year" options for the iPhone 7.
AT&T Next is based on a 30-payment schedule, so the monthly costs will be lower, but users will need to make at least 24 of those payments to upgrade. Like the other financing options presented here, there's no interest if all payments are made in a timely manner. If you like the standard Next plan but don't want to wait two years, you also have the option to make a down payment to both lower your monthly payment and become eligible for an upgrade sooner.
Monthly prices for AT&T Next plans range from $21.67* for the 32GB iPhone 7 (total cost: $649.99) to $32.34* for the 256GB iPhone 7 Plus ($969.99), plus taxes which, again, are paid upfront.
AT&T Next Every Year is similar to the financing options from Apple and Verizon. Customers agree to 24 monthly payments, and can trade-in and re-up after only 12 months. Next Every Year prices range from $27.09 per month for the 32GB iPhone 7 ($649.99) to $40.42 per month for the 256GB iPhone 7 Plus ($969.99), plus taxes.
Like Verizon's plans, you'll need to maintain service with the company in order to keep your interest-free monthly payment schedule. Should you cancel or switch to another carrier, you'll be required to immediately pay the balance of the phone's price. Also like Verizon, AT&T is offering the same $650 trade-in option for select iPhones (iPhone 6 or 6s), with the value paid back to the customer in the form of 24 monthly credits.
*For AT&T and T-Mobile, the final monthly payment is slightly lower to bring the total cost to exactly the retail price of the phone.