Chinese clothing brand KON has sued Apple for App Store trademark infringement. According to Phone Radar, KON wants Apple to apologize in the Chinese national media and to compensate KON for its alleged violation. Let's look at the logos: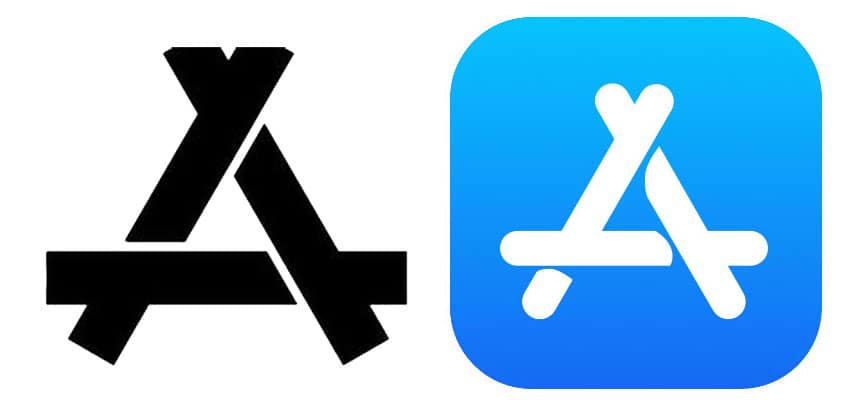 Alleged App Store Trademark Infringement
It's always dangerous to look at Chinese intellectual property law through the lens of a Westerner (who isn't a lawyer). But, there are a few things that stand out.
First and foremost, Apple's App Store icon clearly looks exactly like the KON logo, a brand that launched in 2009. But wait, Apple launched the App Store in 2008, with this icon:
So whose logo violates whose?
Fun with Trademark Law
Furthermore, KON is a clothing brand. In the U.S., trademarks cover particular areas, say clothing, hats, mobile phones, computers, etc. The idea is that trademark holders can protect their brand from other companies benefitting from infringing on that brand. Few courts in the U.S. would find much chance of consumers confusing Apple's App Store icon for KON's trademarked logo in the field of clothing.
If KON made a smartphone, it would be a different issue.
But hey, this is China we're talking about. I don't know the limits of Chinese trademark law, or whether the different markets these two companies compete in is relevant. Even if it is relevant, however, there's no telling if that relevance will actually play a role in whatever decision the Beijing People's Court hands down.
This is the same legal system, after all, where Apple lost a trademark infringement claim for "IPHONE" against a leather goods company.
Seriously, a leather goods company.
In general, Western companies are often at a disadvantage in Chinese courts when facing local companies.
Watching the Case
As noted, the Beijing People's Court has accepted the case, and a ruling is expected in the next few weeks. We'll update you when we learn more.