Page 2 – Apple Is Being Caught in the Educational Crossfire
How Is Apple Caught in the Crossfire?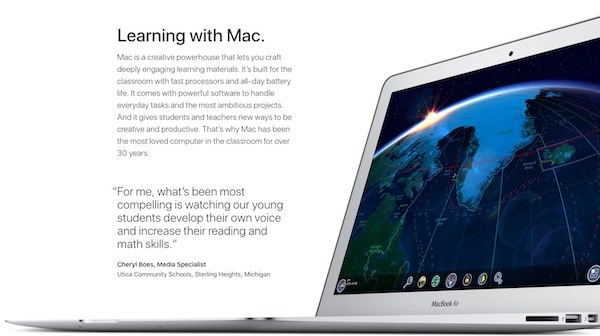 Apple has been under fire in the educational arena for some time. The lack of updates to its MacBook Air products has led many away from that platform. At the lower end of the price spectrum, Chromebooks have usurped iOS devices in many regards.
Business Insider recently revealed a Futuresource Consulting estimate. It shows Apple products in third place behind Google's Chromebooks and Microsoft Windows. This is a major blow for a company that used to be synonymous with educational technology. Remember in 2013, when Cupertino claimed half of the devices sold to American classrooms?
Now, Apple finds itself forced to amp up its game in the low-end market as well as the high-end one. Cupertino will have double the pressure in the under-$500 market. There will also be truly legitimate competition at the price point where the MacBook Pro competes for educational users. This latter point of competition comes by way of the new Microsoft Surface Laptop, which our own John Martellaro has described as "a new assault" on Apple.
Apple Education Needs to Heed This Wakeup Call
Once upon a time, Cupertino was truly competitive in the education market. Apple would send teams of product marketers to schools to tout the benefits of the Mac and iOS product families. Cupertino also had a remarkable presence at trade shows and conferences for education.
That's a thing of the past, though. It's an arena that Apple needs to seriously consider embracing once again. First, though, the company needs to make sure it can adequately compete with Microsoft, et al. The MacBook Air needs a refresh, because schools seldom rely just on a tablet. It's embarrassing that Apple's showcased product for Mac in education, the MacBook Air, is two years old. Worse, there's no new version in sight.
Come on, Apple. Show us that you can be the true competitor you used to be.