Bitcoin Cash (BCH) had a rocky debut Tuesday on Coinbase and its GDAX trading platform. The third biggest cryptocurrency by valuation behind Bitcoin and Ethereum, Bitcoin Cash trading started Tuesday evening, only to be halted as the price skyrocketed to more than US$8,500. Trading resumed at $4,329 Wednesday morning, quickly correcting closer to other BCH exchanges in the $3,300-$3,500 range.
Coinbase reopened the GDAX platform to Bitcoin Cash orders Wednesday morning at 9:00 AM PST in post-only mode. That meant traders could place orders, but no actual trading would take place. The company said this would remain the case for at least an hour, "to allow liquidity to be established." Trading resumed just after 11:00 AM PST, a little more than two hours later.
This delay allowed buy and sell limit orders to accumulate, centering around an opening price of $4,329,52. Within an hour it had dropped to a range of $3,300-$3,500 on GDAX. The average price per BCH across other exchanges stands at $3,757.78, as of this writing, with high volatility.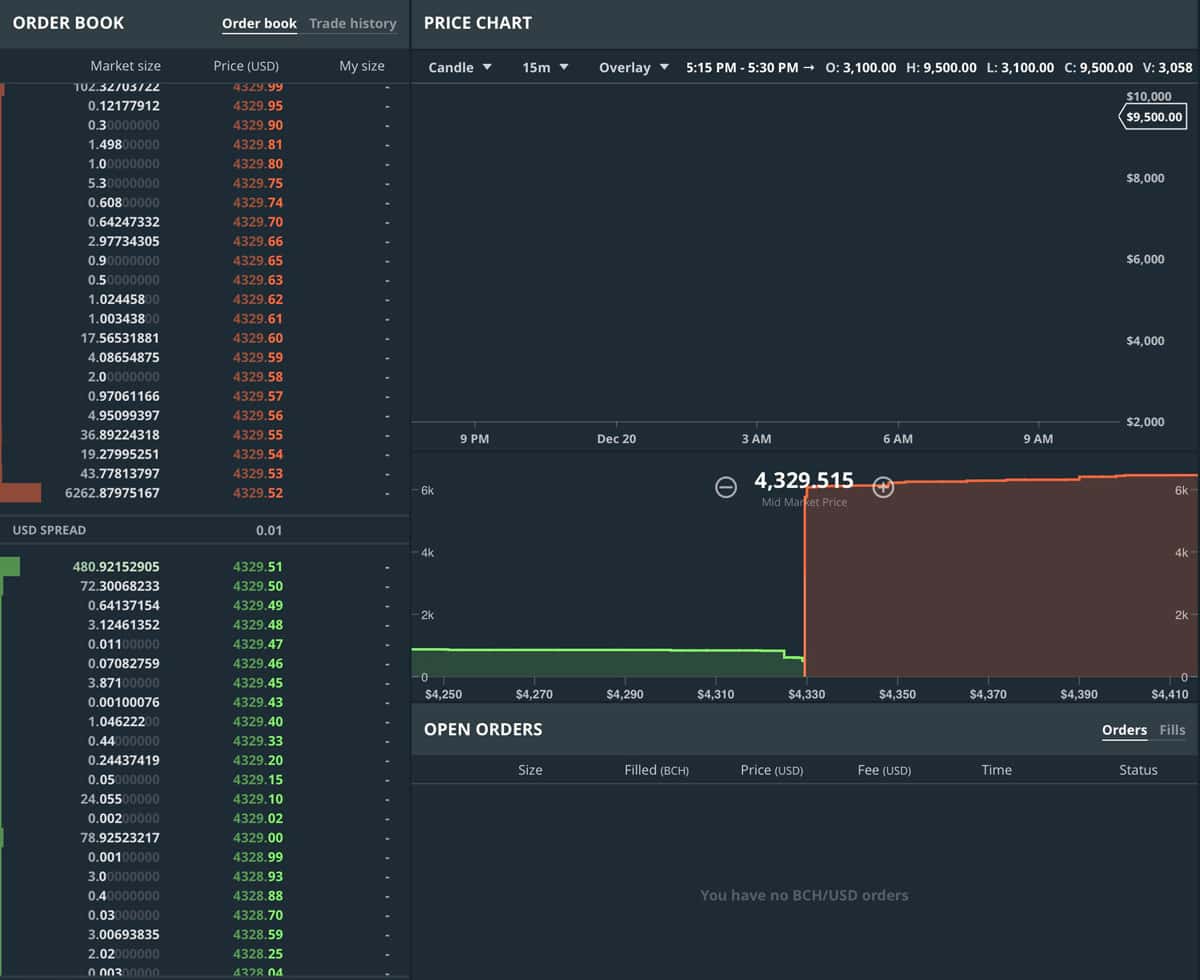 Coinbase Launches Internal Probe of Bitcoin Cash Insider Trading
In the meantime, Coinbase launched an internal probe of insider trading in the run-up to Tuesday's launch. Based in San Francisco, Coinbase and its GDAX trading platform are the largest mainstream cryptocurrency exchanges in the U.S.
Before Tuesday, the company hosted trading for only Bitcoin, Ethereum, and Litecoin. That made the addition of Bitcoin Cash a big deal for cryptocurrency as a whole, Coinbase, and Bitcoin Cash itself. In the 24 hours leading up to that launch, Bitcoin Cash increased from the $1,800 range to more than $2,200.
As noted by The Verge, that led some outside observers to retroactively suspect insider trading. For instance:
I dont care how you slice it, this is INSIDER TRADING! Someone with alot of Bitcoin knew @coinbase would add Bitcoin Cash BCH and took one BIG chunk of profit from the #flippening. Whoever you are you are your making crypto look like wall st. Shame on you. pic.twitter.com/g9YU9jGm0T

— CryptoSoldier (@NoTimeToSearch) December 20, 2017
For its part, Coinbase tweeted:
Coinbase maintains a strict trading policy and internal guidelines for employees. Coinbase employees have been prohibited from trading in Bitcoin Cash for several weeks.

— Coinbase (@coinbase) December 20, 2017
Coinbase CEO Brian Armstrong also posted an essay on the topic to Medium, saying:
We've had a trading policy in place for some time at Coinbase. The policy prohibits employees and contractors from trading on 'material non-public information,' such as when a new asset will be added to our platform. In addition to trading restrictions, it prohibits communication of material non-public information outside the company. This includes to friends and family.

[…]

Given the price increase in the hours leading up the announcement, we will be conducting an investigation into this matter. If we find evidence of any employee or contractor violating our policies — directly or indirectly — I will not hesitate to terminate the employee immediately and take appropriate legal action.
Next: Bitcoin Cash Resumes and Where Bitcoin Cash Came From
Page 2 – Bitcoin Cash Resumes and Where Bitcoin Cash Came From
Wild and Wooly Bitcoin Cash Trading
Insider trading in the run-up to the actual launch is one thing; what happened during the actual launch is another. While Bitcoin Cash traded elsewhere in the $3,000-$3,500 range, it skyrocketed to $9,500 at Coinbase, when trading was halted.
The best explanation I've found for this is that a lot of people put in market orders to buy—meaning automatic orders to buy now at current market price. With trading just opened, there were few limit "sell" orders—meaning orders to sell if the price hit a certain level. The market "buys" gobbled up what few limit sell orders there were, catapulting the price way beyond what the rest of the trading community was valuing BCH.
That makes it rough for those whose orders were executed at the inflated price. Unfortunately, this is life in the wild and wooly world of largely unregulated cryptocurrency markets.
Bitcoin Cash Trading Resumes on Coinbase and GDAX
Which brings us to Wednesday morning, when Bitcoin Cash trading resumed on Coinbase and GDAX. The markets are all over the place, with the average price reported on CoinMarketCap hovering in the $3,700 range. Bitcoin Cash is bouncing around the $3,300-$3,500 range on Coinbase and GDAX.
There are usually some differences in price for most cyrptocurrencies from exchange to exchange, as the length of time it takes to transfer cryptocurrencies makes arbitrage trades difficult. For instance, Coinbase and GDAX often trade Bitcoin itself higher than other exchanges. The Bitcoin Cash markets will most likely sort themselves out as traders decide exactly how much value trading at Coinbase does or does not bring to BCH.
Quick and Dirty Bitcoin Cash Explanation
Bitcoin Cash was created on August 1st from a so-called hard fork in the Bitcoin blockchain. That fork was the result of competing camps in the Bitcoin community wanting to pursue different ways of solving limitations in Bitcoin's underlying technology.
A segment of the mining community supported changes put forth by the camp that became known as Bitcoin Cash, which includes larger blocks to cope with increased transactions on the blockchain. Most of the Bitcoin community stuck with the core developers, however, who have not yet settled on a way of moving the platform further.
The result was a fork into two separate chains. Both chains have the exact same history until a particular block was mined on August 1st, but from then on, they went their separate ways.
This means that people who had Bitcoin at the moment of the fork also owned the same amount of Bitcoin Cash. There have been other forks, but so far, Bitcoin Cash is the only one that has taken on a significant life of its own, including support from Coinbase and Blockchain.info.
Users who had Bitcoin in Coinbase at the moment of the fork will now see their Bitcoin Cash in their Coinbase account.
For the sake of full disclosure, the author holds tiny positions in various cryptocurrencies that are not believed to color his views.