Apple's highly anticipated Worldwide Developer Conference keynote is scheduled for Monday morning, June 5th, at the McEnery Convention Center in San Jose. The Mac Observer will be on location to report on the big announcements that are sure to come, and here's my list what may be announced next week.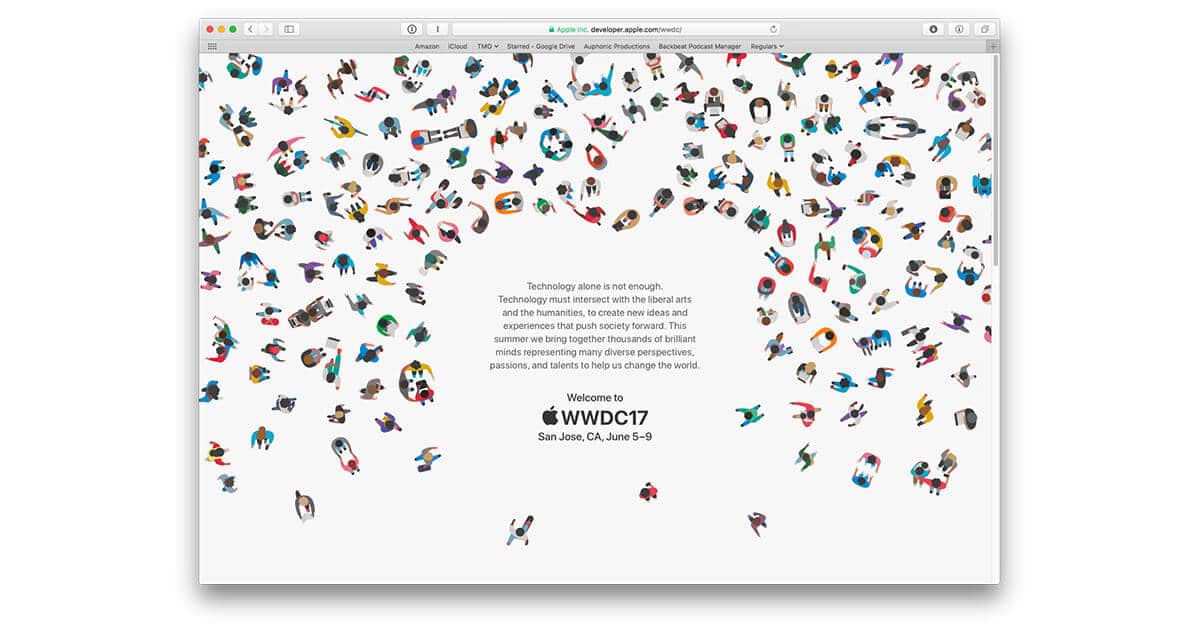 WWDC Software
Apple likes to show off the next major refresh of its operating systems at WWDC, so its a safe bet we'll have a better idea what's coming this fall for the Mac, iPhone, iPad, Apple Watch, and Apple TV after Monday's keynote.
macOS 10.13 Word on what Apple may show off for macOS 10.13 is pretty scarce, so I'm expecting we'll see mostly under the hood refinements and improvements. With the APFS file system already running on iOS that may be more visible in this fall's macOS release, although this probably won't be the year Apple makes it the primary format for our boot drives.
iOS 11 It's no secret Apple has been working on augmented reality, so that may play a role in Monday's announcements. I'm also hoping Apple ditches the giant Night Shift button in Control Center and lets us see which WiFi network we're connected to—or even switch networks—from there. AI improvements for Siri would be welcome, too, along with FaceTime group calls.
watchOS 4 Apple is all about health and fitness, so that's where we'll likely see changes for the Apple Watch operating system. This refresh may also set up the framework for the rumored smart watch bands that'll add new functionality to our watches.
tvOS 11 Apple is rolling out original shows to help draw in new Apple Music subscribers, so we can expect changes to the Apple TV interface that plays into that. If we're really lucky we'll get improvements to the overall tvOS interface that makes finding and playing content easier, too.
WWDC Hardware
10.5-inch iPad Pro Rumors say we'll see a 10.5-inch iPad Pro at the WWDC keynote. If so, the 12.9-inch model should get a refresh, too. The big screen iPad first shipped in November 2015 and hasn't been updated since. It's about time for a new model to come out.
MacBooks How about a Kaby Lake processor Touch Bar MacBook Pro with 32 GB RAM? Rumors say it's a possibility even though Apple's pro-level laptop was refreshed nine months ago. There are also reports saying the MacBook and MacBook Air will get updates. If so, that means Apple's entire laptop lineup is getting a makeover. Anything is possible, but that's a lot of laptops to show off considering everything else we may see.
Siri Speaker It's sounding pretty certain that we'll see the rumored Siri Speaker—a Siri-based voice assistant appliance with an impressive sound system—making an appearance on Monday. The comparisons with Amazon Echo and Google Home will no doubt flood the web, but as TMO's Dave Hamilton noted, it may be more appropriate to compare the Siri Speaker to Sonos.
WWDC Announcement Odds
That's a lot for Apple to show off at a singe keynote event and doesn't even take into account the possibility of other announcements related to the company's services such as iCloud and Apple Music. Apple also typically doesn't make loads of hardware announcements at its developer keynote.
Based on Apple's track record and the rumors we've been hearing, I expect Apple to show off highlights for its fall operating system releases. We'll also hear some about Swift and Swift Playground, even though Apple already dropped that announcement on us, and Apple Music will get a mention, too.
If Apple unveils new hardware, the 10.5-inch iPad Pro and Kaby Lake processor Touch Bar MacBook Pro will most likely be on the list. The Siri Speaker is all but assured to be there, and I expect developers will be able to get early access to the device while consumers will have to wait for an official launch later this year.
The Mac Observer will be on location in San Jose, so be sure to follow along with our news and analysis to stay on top of Apple's WWDC announcements.