Past fumbles and recoveries
Apple took a Touch Bar knife to a gun fight in the wake of Microsoft's stunning Surface Studio announcement. This reminds me a bit of when Steve Jobs was hawking DVD drives on iMacs when everyone wanted to rip and burn CDs; he then course corrected a bit later admitting the mistake. He also told us you don't want to watch video on your iPod, and later graciously released iPod with video (or iPod, 5th Gen).
It also reminds me of how Apple was tone deaf to users asking for larger screens on the iPhones. Instead of listening, Apple gave us only a slightly longer 4″ iPhone 5 (assuring us we didn't know what we wanted, that one handed use is where it's at), rather than listening to our needs. In each case, Apple eventually bought a clue, course corrected, and was rewarded with far improved sales. 
"Apple knows best," the new "not-invented-here"
Now Apple assures us we don't know $%*& about how we want to use our laptops and desktops. They set up idiot straw man arguments that you don't want to touch a vertical screen because of arm fatigue (true) when they filed patents on desktop iMacs that tilt down horizontally (and Microsoft made real with the Surface Studio), and despite kids constantly reaching out to touch vertical screens from intuition. Apple once again knows better. 
They give us bullshit toaster-refrigerator analogies that you don't want to mix touch and powerful pc technologies, that such convergence shouldn't happen. This is much like when tech pundits told us we'd never have phone and iPod convergence. Well, until Apple found the right recipe with the iPhone and caught the entire industry with its pants down. 
They have the gall to make this analogy when iTunes is still used on your Mac to sync your photo albums on your iPhone. Well karma is a bitch, and Apple is enjoying an ass full of fresh air courtesy of Microsoft's Surface Studio.
Fiddle me this
What's worse is Apple has engaged in nostalgia that Steve jobs wouldn't have tolerated in comparing its original PowerBook (not the original behemoth Mac portable–way to be selective) to the latest MacBook Pro. Way to set the bar real low Apple, 'hey, we're a lot faster than a 25 year old laptop!'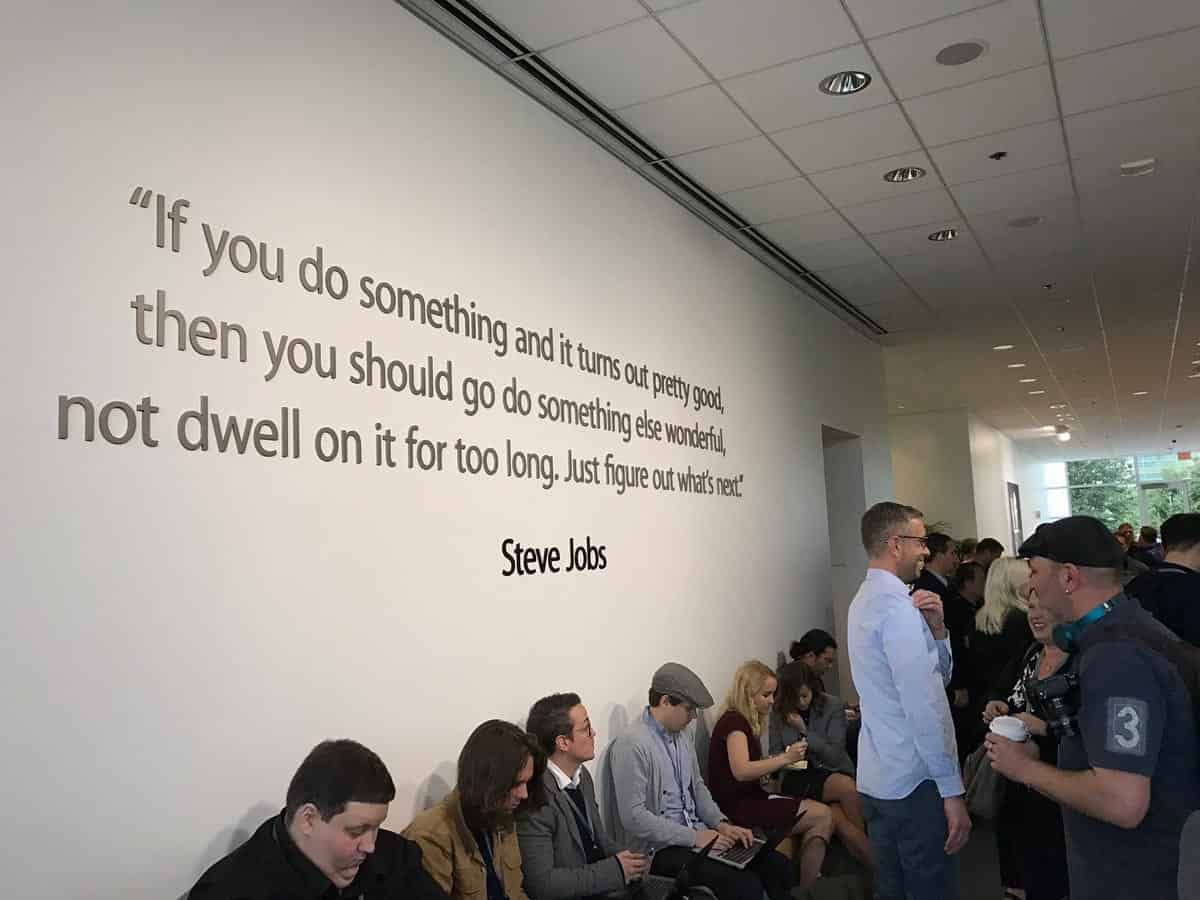 Apple wouldn't dare compare its 2011 MacBook Pro to the new MacBook Pro because it would be embarrassed by how similarly they perform. I say it's worse, because these bozos running Apple actually believe an emoji Touch Bar strip—cool though it may be—is actually a revolutionary reinvention of the laptop. They don't see this as the "B" level upgrade that it is. That's what's truly terrifying. These nimrods are actually pleased with themselves.
Had they just said, "Hey, here's a nice B-level upgrade," people would have taken it as such and moved on. That they have the gall to tout this as a revolution in light of the release of Surface Studio shows a Nero-like tone deafness, and evinces these people have lost the plot.
Let me count the ways:
They've lost the plot that we don't need thinner iPhones but more battery. 

They've lost the plot that we hate large bezels (because Jonny Ive's thin fetish has him making the lid taper in, which requires greater screen inset and bezels, and ironically results in greater dimensions and weight). 

They've lost the plot by believing you can do real work on an iPad Pro and ignoring the Mac (perhaps the 'review' and light edit work executives do on their iPads have them believing that's how real people work. But even the niche of artists using an iPad Pro to sketch things will eventually move that work to a desktop to create and finalize substantial work product). 

They've lost the plot thinking iTunes and Apple Music is in anyway acceptable as a product by anyone with even a modicum of self respect.
They've lost the plot that creative professionals don't need powerful Mac Pros with video cards, storage and other feature expansion abilities, and have fed them a disposable trash can. 
They've lost the plot believing that they are making tools for creative professionals (e.g., that a $5,000 MacBook Pro with only 16GB of memory and a Touch Bar is a reasonable creative professional offering). And that abandoning creative pro tools (Aperture, crippling Final Cut Pro, expandable Mac Pros, etc.) is a cogent strategy. 
They've lost the plot by not providing a first party display, and believing that referring us to a fugly LG monitor is somehow acceptable to users used to valuing attractive, well designed and complementary products.  
They've lost the plot by abandoning creative professionals and their needs when those users make Apple appear cool and are the people that dragged Apple's rotting corpse out of bankruptcy.

They've lost the plot by not recognizing that convergence into mixed-mode UIs is useful and the future (e.g. voice, touch, pen, traditional mouse/track pads; check out how useful mixed mode UIs can be in the video below or in any Star Trek episode/movie).
https://www.youtube.com/watch?v=dyz1n8OFkm0&feature=youtu.be
And by the way, in light of the Surface Studio release, Apple chose maybe the worst thing to demo the Touch Bar. DJ software.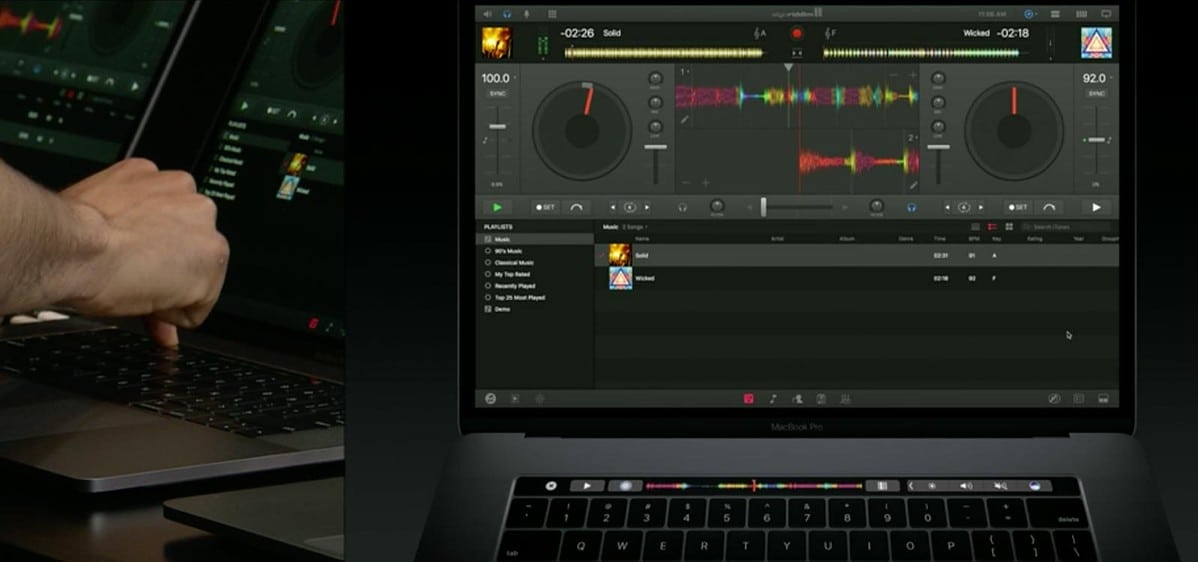 Anyone that watched the DJ scrubbing the Touch Bar and didn't think it would be 100 times more natural to scratch with the on screen turn tables on a the flat Surface Studio screen wasn't thinking too hard.
Next: Doing Less with More and Dodging a Bullet