Dr. Mac's Rants & Raves
Episode #293
As a touch-typist, the keyboard I use matters. My favorite Mac keyboard (for over a decade) is the humongous Microsoft Ergonomic Keyboard 4000. It's not really a Mac keyboard, but it works fine and feels fantastic. In fact, I just ordered a spare, in case it goes out of production anytime soon.
I have relatively large hands and fat fingers, which makes typing on many keyboards — laptops, flat desktop keyboards, and almost every iPad keyboard I've tried — slower and more difficult.
And don't get me started about typing on the iPad's virtual onscreen keyboard.
Which is why until recently my iPad was used for media consumption much more than media creation. I use it all the time to read books, watch videos, surf the web, and more. But, because I had yet to find a keyboard I liked well enough to use regularly, I rarely used it to compose anything longer than a reply to a text or email.
Brydge Keyboard: Functional, Usable, Durable, and Clever
Then I heard Dave Hamilton talk about the Brydge keyboard on Mac Geek Gab 719 podcast and was intrigued. I have been using a Brydge 9.7-inch keyboard ($99 on Amazon) with my 9.7-inch iPad Pro for a couple of weeks and I can already tell you that it's the most functional, usable, durable, and clever iPad keyboard I've tried.
The Brydge website boasts that these are the only keyboards that bring a MacBook like experience to the iPad and that's totally true. Engineered out of high-grade aluminum like a MacBook, it really does look and feel like the shrunken lower half of a miniature MacBook Pro.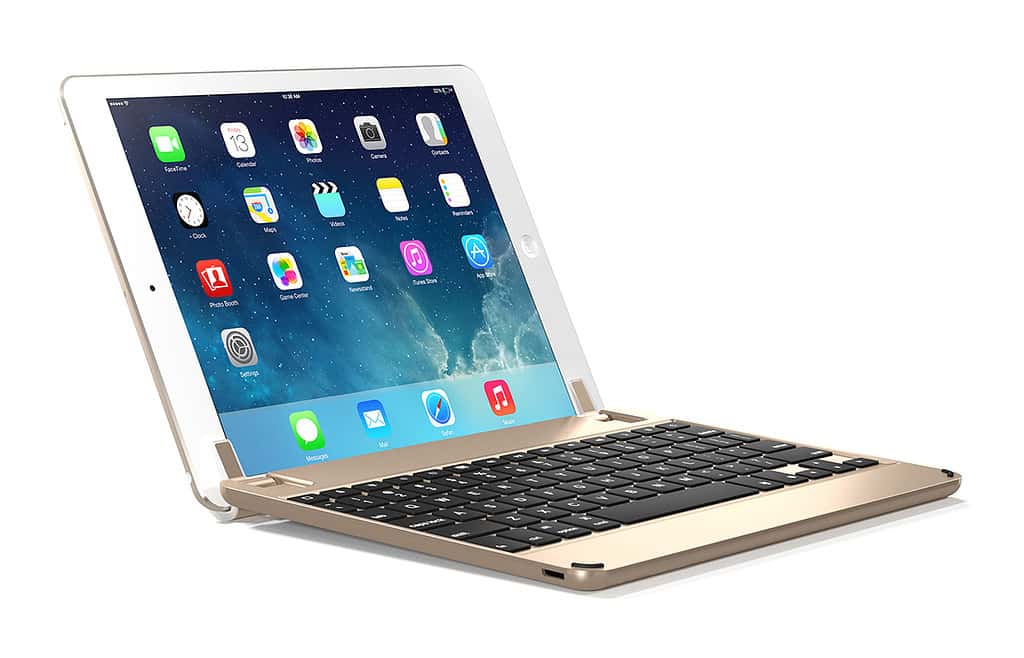 In fact, while I was writing this column on my iPad with the Brydge keyboard at Starbucks this morning, another patron walked up and asked if that was some kind of new miniature MacBook. Ha!
The Brydge has a pair of super-functional (patented) hinges that provide 180° of range for your iPad screen. That means it always stays at the perfect angle, which is a problem I had with other iPad keyboards — too few viewing angles (or only one). It's also one of a handful of iPad keyboards with backlit keys (and three levels of backlighting at that).
The Key to my Heart: Great Keys
I also like the top row of "function keys," which control common iOS tasks like volume up or down; play/pause, next track and previous track; screen brightness; and a Home button that mimics the Home button on your iPad.
Finally, the keys are among the best I've tried on a compact keyboard. The key travel is longer than most, and the amount of "bounce" suits me perfectly. I still can't type quite as fast as I can on the behemoth Microsoft Ergonomic Keyboard 4000 on my desk. But, I can type faster than on any other iPad keyboard I've tried.
In a nutshell, if you need an excellent, beautiful, and durable Bluetooth keyboard for your iPad, you need look no farther than Brydge.