Dr. Mac's Rants & Raves
Episode #286
I lusted for an iMac Pro from the moment I heard about it. According to Apple, "it's packed with the most powerful graphics and processors ever in a Mac, along with the most advanced storage, memory, and I/O — all behind a breathtaking Retina 5K display."
Alas, with prices ranging from $4,999 to more than $13,000 for a fully-equipped model, iMac Pro is not for everyone.
Though I can't justify a $5,000+ iMac Pro for writing columns and books right now, I've been doing a lot of long-form video lately (check out my 5-hour "Working Smarter" online course and "Drivin' with Dr. Mac" video series). Which got me to wondering just how much time I might save using an iMac Pro in lieu of my 2015 MacBook Pro.
Editing video on my MacBook Pro, even though it has 2.6GHz core Intel i7 processor, 16GB RAM and a big, external monitor, is a challenge. It seems I'm always waiting for Final Cut Pro to finish something—importing, rendering, or finalizing footage—all of which take longer than I'd like and leave me sitting around.
Darth iMac Pro
So, last month I borrowed an iMac Pro from Apple and performed some tests. The iMac Pro I used was the least-expensive configuration available ($4,999) with a 3.2GHz core Intel Xeon W processor; 32GB of RAM; a 1TB SSD; and Radeon Pro Vega 56 graphics with 8GB of memory.
My first observation out of the box was that the Space Gray finish on all components—the iMac itself, the keyboard, and the mouse, is stunning. (That was when I started calling it "Darth.")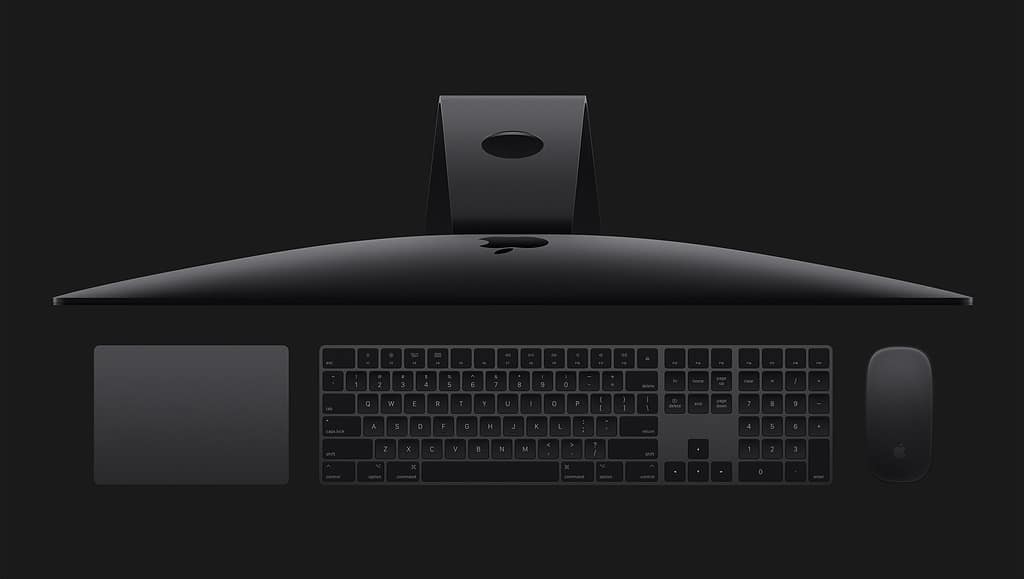 The next thing I noticed was that the Retina 5K display gave me more screen real estate than my two-monitor MacBook Pro setup. I didn't realize how much I liked having everything on one big screen instead of two medium-sized displays.
Test #1: Importing, Transcoding, and Analyzing Video
The first test was how much time I might save editing video in Final Cut Pro. I first tested importing, transcoding, and analyzing a 1.9GB video file. On my MacBook Pro, that took a little over 11 minutes; on the iMac Pro it only took 5 minutes and 10 seconds.
So, Darth iMac was more than twice as fast at bringing video into Final Cut Pro. And rendering effects was roughly twice as fast as well.
Test #2: Exporting Video
Another bottleneck is exporting finished videos for playback on the internet, so I tested that next. Not surprisingly, the iMac Pro was again more than twice as fast as the MacBook Pro regardless of file size or type.
Test #3: Converting Video
Finally, since I often have to use Handbrake to convert finished video from one file format or display size to another, I encoded a 3.28GB movie (.MOV) file, converting it from 1080p to 720p using H.264. The resulting file was less than half the size of the original—1.42GB—on both Macs. But the process was more than twice as fast on the iMac Pro, which was done in about 6 minutes. The MacBook Pro didn't finish for another 8 minutes.
If I ever make any money from my videos, the first thing I'm going to buy is an iMac Pro.