Dr. Mac's Rants & Raves
Episode #209
When I first saw the web page for Macphun's new Luminar photo editor, I was skeptical of its claims:
Meet the world's first photo editor that adapts to your style & skill level. Luminar is the supercharged photo software that makes complex editing easy & enjoyable. And it is as responsive and beautiful as your Mac.
But, having used Luminar for several months now, I'm no longer skeptical. Luminar does indeed make image editing easier and more enjoyable; its interface does indeed adapt easily to different styles and skill levels; and, while this part is strictly subjective, I find it both responsive and beautiful.
Nice Interface
The user interface is uncluttered and easy to understand, yet includes powerful tools for removing unwanted objects, fixing color casts, and reducing digital noise.
Another useful feature is an extensive collection of presets created by actual photographers. There are dozens included, and dozens more available for download on the Macphun web site. Each is a combination of effects, filters, and settings, and when you find one you like, you can tweak those settings quickly and easily if you like and then save it as a new preset.
Non-Destructive Editing
Edits are non-destructive, and there's a fantastic history feature that allows you to step backward through every change you've made, all the way back to the original, unedited photo. But the best part, at least for me, is that the history feature still works after saving the image! That's cool.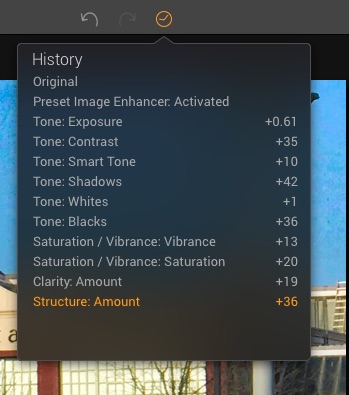 Caption: History lets you step backward through the adjustments you've made.
Another thing I like are the Before and After controls—a vertical line you can slide across your image and an eyeball icon that instantly displays the original, unedited image—make it easy to see what a filter or preset is doing your image as you zoom in and out on details.
A Bevy of Video Tutorials
And I'm impressed with the huge gallery of short, well-made video tutorials available on the Macphun web site, which cover almost every Luminar feature.
And Much More…
There's much more to Luminar, including fast, native support for RAW images; custom workspaces; image masking; layers; histograms; blend modes; brushes for selective editing; and much more. So much more, in fact, that the only thing it lacks are tools for adding text to your images, an inexplicable omission in what is otherwise such a comprehensive image editor.
Would You Like That With or Without the Plug-ins?
There is one more thing: You can get Luminar for $49.99 in the Mac App Store, but you might want to buy the $69.00 version direct from Macphun. See, both versions include the extension for Apple's Photos app, but because the Mac App Store prohibits third-party plug-ins, only the $69 version from Macphun includes plug-ins for Aperture, Photoshop, and Lightroom. So if you need 'em, you know what to do.
Luminar by Macphun
$49.99 from the Mac App Store (no plug-ins)
or
$69.00 from Macphun (with plug-ins for Aperture, Photoshop, and Lightroom) 
and that's all he wrote…