Dr. Mac's Rants & Raves
Episode #228
Spring has sprung, which means it's time for me to suggest some cool gifts for the Apple-lovin' dads and grads in your lives.
Great Gift for the Outdoors-Person
One of my favorite gadgets of the year so far is Ecoxgear's Sol Jam ($149.99). It's a compact, waterproof, shock-resistant Bluetooth speaker with a twist—a solar panel for its rechargeable battery.
The cool part is that you can use the Sol Jam's battery to recharge other devices, like iPhones and iPads.
It takes 2-3 hours to fully charge via USB. Charging via the solar panel takes significantly longer, but the Sol Jam can maintain its charge all day in decent sunlight.
Finally, it sounds pretty good for its size and price.
The Gifts of Protection (for Notebooks)
I'm kind of fanatic about keeping my laptop free of scratches and dents, so I've always enclosed them in protective cases. For years, my go-to case was the Speck Seethru ($49.95), a thin, transparent polycarbonate case that snaps on easily, doesn't add much bulk, and is available in five fun colors.
This year I tried something different: The ICE case ($79.95) from Urban Armor Gear. It's a little bulkier than the Speck Seethru due to its armor shell and impact-resistant bumpers, but it offers significantly better protection against impacts or drops and has become my new favorite.
The Gift of Stability (for an iPhone Camera)
One of the best ways to insure great-looking pictures is to keep your camera still. The Kenu Stance ($24.95) is an ingenious, tiny tripod that connects to your iPhone's Lightning port using MicroMount, a patent–pending attachment made of a durable, resilient resin called Grilamid. The Grilamid doohickey then connects to a small ball-and-socket mechanism, which allows precise positioning of your iPhone in either portrait or landscape modes.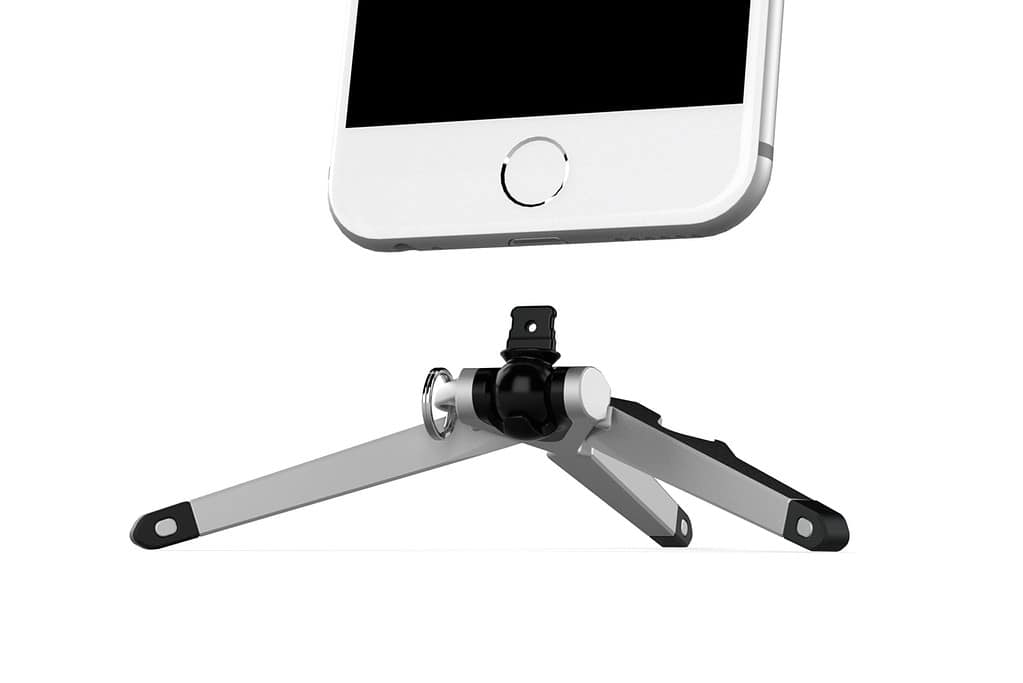 The rest of the device is heavy-duty zinc alloy, so it's as solid as a rock. And one of its legs doubles as a bottle opener, earning it a permanent spot on my keychain.
An Awesome Gift for a Guitarist
Last but not least, if your dad or grad plays guitar (like yours truly), check out Peavey's ReValver 4 Producer Pack ($99.99), one of the most realistic guitar amp modeling apps (if not the most realistic) I've ever used.
I love the way every module is totally tweakable, complete with schematics, right down to the individual components in the tube amp models.
So, on top of being a super-realistic guitar amp simulator, it's also super-geeky.
Another cool feature is ReValver's exclusive Audio Cloning Technology (ACT), which lets you sample your guitar and then apply different guitar profiles to make it sound like a different instrument entirely, which I find very cool.
It's like magic!
Resources
SolJam. Ecoxgear. $149.99. https://ecoxgear.com
Seethru MacBook Pro case. Speck. $49.95. http://www.speckproducts.com
ICE MacBook Pro case. Urban Armor Gear. $79.95. https://urbanarmorgear.com
Stance. Kenu. $24.95. https://www.kenu.com/products/stance
ReValver 4 Producer Pack. Peavey. $99.99. https://revalver.peavey.com