Dr. Mac's Rants & Raves
Episode #266
As I mentioned last week, I'm not a fan of the subscription software model. I am, however, a huge fan of all-you-can-slurp subscriptions for other things. For example, I've gladly paid for Netflix, Hulu, and HBO on-demand for years; I've been an Apple Music subscriber since day 1; and I expect to continue subscribing to all of them (except, perhaps, HBO) for the rest of my days.
Setapp: Netflix for Mac Apps
I was reminded this week of something I wrote about here on Valentine's Day 2017—a service called Setapp, which was brand new at the time. While I don't particularly care for the subscriptions model when applied to a single app or suite like Adobe Creative Cloud or Microsoft Office 360, I am a fan of Setapp, a subscription software service that gives you access to full versions of more than 100 high-quality Mac apps, all for just $9.99 a month. I'm a huge fan of the all-you-can-slurp subscription model as long as the content is compelling.
Last year I said the overall quality of the apps was high and it still is. Back then there were around 60 apps; a year later there are more than 100, with new apps added regularly.
In addition to nearly doubling the number of apps included in your $9.99 subscription, Setapp now includes a slick little file browser that breaks the apps into ten categories—lifestyle, creativity, developer tools, productivity, Mac hacks, writing and blogging, education and research, maintenance, task management, and personal finance.
With a comprehensive description of every app, and ultra-fast search, it's never been easier to find the appropriate app (or apps) for just about any task.
And, the Apps don't Suck…
Among the included apps is my favorite text editor, Ulysses (see Dr. Mac 5-31-16), and at least five utilities I already owned and love: iStat Menus, Screens, iMazing; Image2Icon, and Gemini. Other top-notch apps include the website building tool i used prior before I found Squarespace (RapidWeaver); a terrific folder synchronizer I already used (ChronoSync Express); and several useful network utilities including NetSpot and WiFi Explorer.
I've got more apps in my Applications folder than most people (600+), but even so I've discovered several cool apps I now use regularly: A slick little outline maker (Cloud Outliner); a nifty Pomodoro timer (Be Focused); a mind-mapping tool (XMind), an app that greys out everything except the app you're using (HazeOver); and a fantastic app for tracking your time and productivity automatically (Timing), to name a few.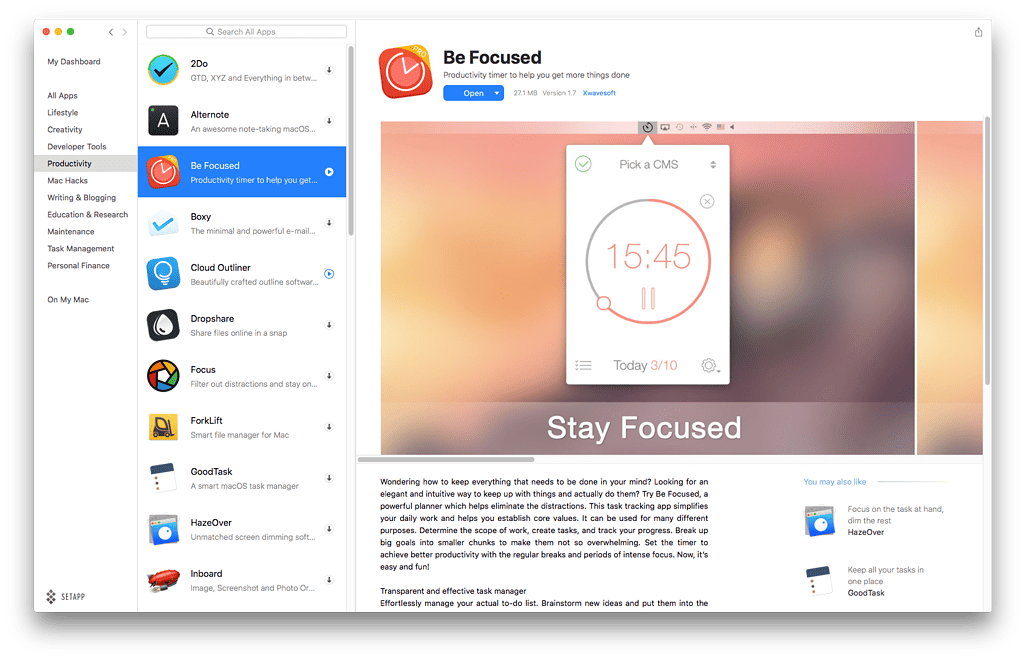 Check out the list of all currently included apps at www.setapp.com/apps. Then, download the 7-day free trial with no credit card required (click the button near the end of the page).
Setapp isn't for everyone, but, if you love checking out new apps (like I do), or you've considered buying one or more of the included apps (as I did), you're sure to find Setapp a bargain at $9.99 a month.