Dr. Mac's Rants & Raves
Episode #287
Most people think the prices on Apple products are pretty much fixed. A new Mac costs about the same regardless of whether you buy it directly from Apple, or from Best Buy, Fry's, Amazon.com, or any other retailer. That's mostly true, but did you know that Apple itself offers a way for you to pay as much as 30% less than SRP (Suggested Retail Price) for most current and some previous generations of Apple products?
What's that you say? You've never seen a MacBook Pro or iMac offered for less than list price? And you didn't know Apple even sold products at a discount?
Well, it's true. Other than a handful of iPhones I ordered for delivery on the first day they were available (don't judge me), I haven't paid retail for a Mac or iDevice in at least a decade.
If you're thinking my secret is the black (or even the gray) market, you're wrong.
And, if you think it's some shady Internet reseller, you're wrong, too.
Here's the Good News!
The good news is that Apple runs its own Refurbished and Clearance Store. To shop for your bargain on Apple gear, scroll to the bottom of any page on the Apple website and click the Refurbished and Clearance link.
You'll next see the Apple Certified Refurbished Products page with eight sections: Mac, iPad, iPhone, Apple Watch, iPod, Apple TV, Accessories, and Clearance.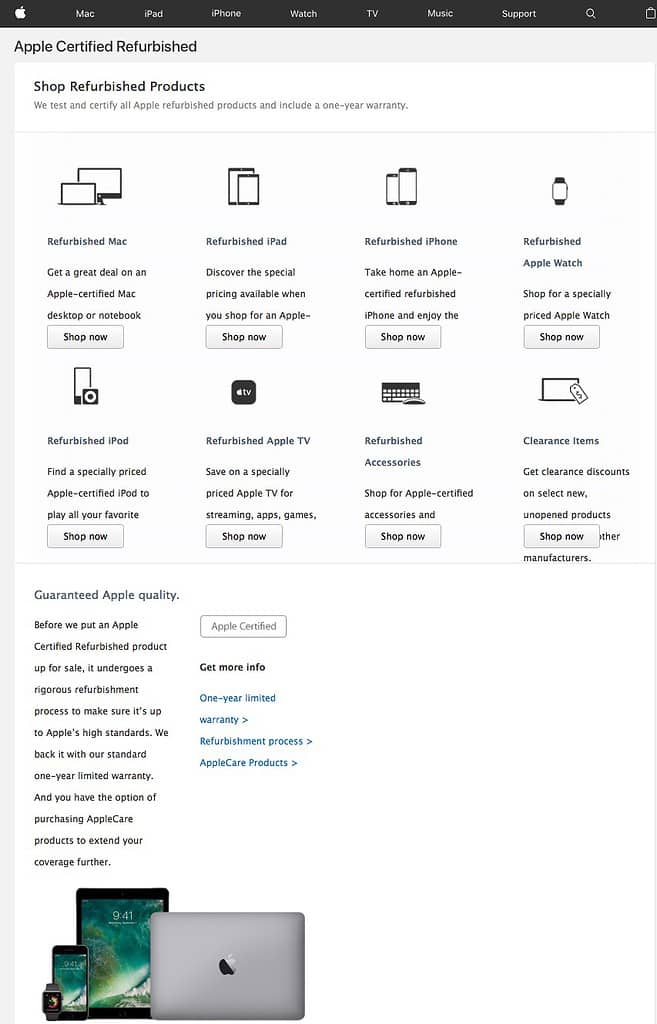 What Kind of Deals?
Here are several examples of the kinds of deals you will find:
Remember Darth, the iMac Pro I told you about last week? It lists for $4,999 but a refurbished unit goes for just $4,250—saving you 15% ($750).
How about a refurbished 15.4-inch MacBook Pro 2.9GHz Quad-core Intel Core i7 with Retina display (June 2017) for $2,249? Its SRP is $2,649, so, again you save 15% ($400).
Most of the refurbished iPhone 7s and 7 Pluses are discounted 9%.
Which brings up something you should know: Inventory changes, sometimes from hour to hour. So, if the particular model and configuration you're looking for isn't available today, try again tomorrow or the next day.
For example, there were no refurbished iPhone 8, 8 Plus, or X models available last Friday when I checked. But there were plenty of refurbished iPads—current and earlier generations—discounted by up to 29%! And current generation Series 3 Apple Watches are available in most configurations for 14-16% off SRP, with prices starting below $300.
Finally, don't forget to check out the Clearance section. The selection is often meager, but the discounts are better and you'll occasionally find a real bargain.
By the way, if you're worried about the quality of refurbished gear, it carries the same warranty as new products. You can even add AppleCare, just as you can with brand new products. Most significantly, though, every one of the refurbished products we've purchased over the past decade looked "good as new" when we received it.
There is one more thing: Because the inventory fluctuates, the configuration or model you're looking for may not be available when you shop. Never fear—there's a website for that. It's called Refurb-Tracker.com. Just tell it what you're looking for and (optionally), the minimum or maximum price you're looking for, and you'll receive an email as soon as the refurbished product you desire becomes available.