Dr. Mac's Rants & Raves
Episode #305
Apple's virtual digital assistant, Siri, was introduced in 2011 with the iPhone 4S and is now available on most Apple devices. It's been revised and improved by Apple in almost every operating system update over the ensuing years. And, since it relies upon machine learning to help it become even smarter, you might say it's been under continuous development for nearly a decade.
It seems to me Siri has become smarter in Apple's latest operating system updates including iOS 12, macOS 10.14 Mojave, and watchOS 5.
Smarter Siri?
For example, I needed to pay a parking ticket at any Austin Community College campus, so I got in my car and headed toward the campus where I attend classes. It occurred to me that ACC has like a dozen campuses spread around the region. While I only know the location of two (mine and the big one at Highland Mall), the ticket said I could pay it at any campus. So, I asked Siri for directions to the closest Austin Community College campus. Not only did she find a campus that was much closer, it was a campus I'd never heard of or seen before that was much closer. Bottom line: Siri saved me at least 30 minutes of unnecessary driving that day.
Here's another one I recently discovered: I can ask Siri to alert me when it's time to leave for an appointment based on current traffic conditions.
And another winner I discovered recently: "Hey Siri… Open the Keynote presentation I was working on yesterday."
One of my favorites these days is using Siri as a translator: "Hey Siri…  How do I say, 'I am allergic to peanuts' in Spanish?"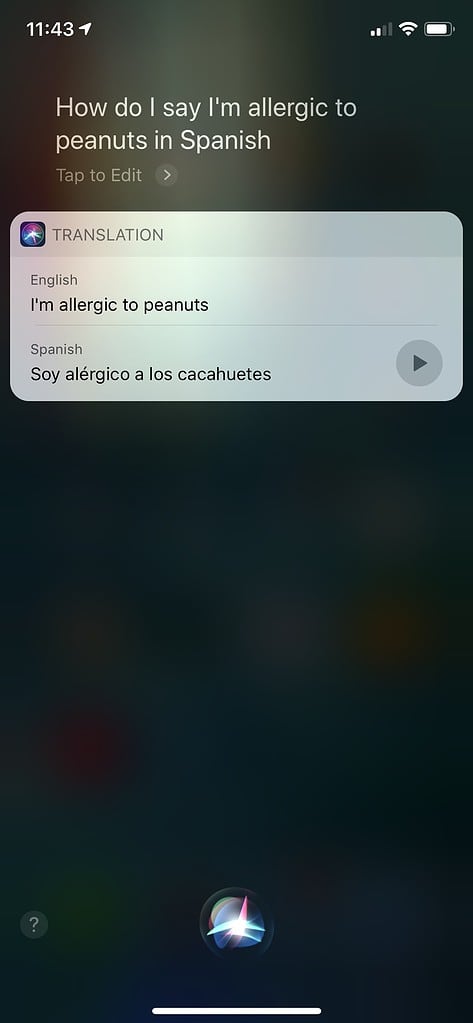 I also use Siri many times a day to augment my aging memory with location-based reminders like:
Remind me to call my mother when I get to the office.
Remind me to buy 3½-inch deck screws when I'm near Home Depot.
Remind me to get milk when I'm near HEB.
Better than Ever
I love using Siri when I'm in my car for hands-free calls or short text messages, and I've noticed a couple of less-obvious things lately. For one, Siri has gotten better at recognizing speech over Bluetooth in my car. Since the car hasn't changed, it must be that Siri is improving.
The second is even cooler—Siri can trigger Shortcuts on your iPhone or iPad. So, for example, whenever I see a web page I want to read later, I tell Siri to run "Message to me," which is a Shortcut I created that sends the URL to me in a text message with a single tap. Or, "Hey Siri. Read this," to run the Shortcut that instructs Siri to read text on the screen aloud.
The bottom line is that Siri is better than ever today. If you aren't using it because of its past foibles, you should definitely give it another try.