Dr. Mac's Rants & Raves
Episode #307
Here's a quick recap of.last week's column, followed by the thrilling conclusion (as promised):
I determined long ago that screen real estate is the biggest productivity booster for me, so I have used two displays with my desktop Mac for as long as I can remember. Alas, being restricted to a single screen when I'm out of the office slows me down. For the past couple of years, I've relied upon Duet Display, a $9.99 iOS app, to turn my iPad into a second display for my Mac. It works OK but was far from perfect.
For one thing, it's not wireless (it requires a standard USB-to-Lightning cable). Second, it doesn't support Retina resolutions on the iPad. And, finally, it doesn't support GPU acceleration, so some apps (graphics, video editing apps, and games in particular) feel sluggish on the Duet Display-enabled iPad.
Then Came Luna Display
I recently discovered a reasonably-priced ($79) hardware/software solution called Luna Display, which does what Duet Display does and more, but without cables, delays, or sluggishness.
Luna Display works with almost every Mac built since 2012 running macOS 10.11 El Capitan (or later), and any iPad 2 (or newer) running iOS 9.1 (or later). The tiny hardware dongle, which tricks your Mac into believing there is a physical display connected, is available in two flavors—one for Macs with a Mini DisplayPort, and the other for Macs with a USB-C port ($79.99 each). Just plug the dongle into the appropriate port on your Mac and launch the free Luna Display software on your Mac and iPad. After a few seconds, your iPad becomes a wireless second display for your Mac.
It behaves almost exactly like a real display. You use the Displays System Preferences pane on your Mac to extend the desktop across both screens; specify the iPad's resolution and spatial orientation relative to your main display; and to set the iPad screen to mirror what's on the main screen, which is great for controlling your Mac from across the room. And it works beautifully, even with higher-bandwidth tasks such as video playback or gaming.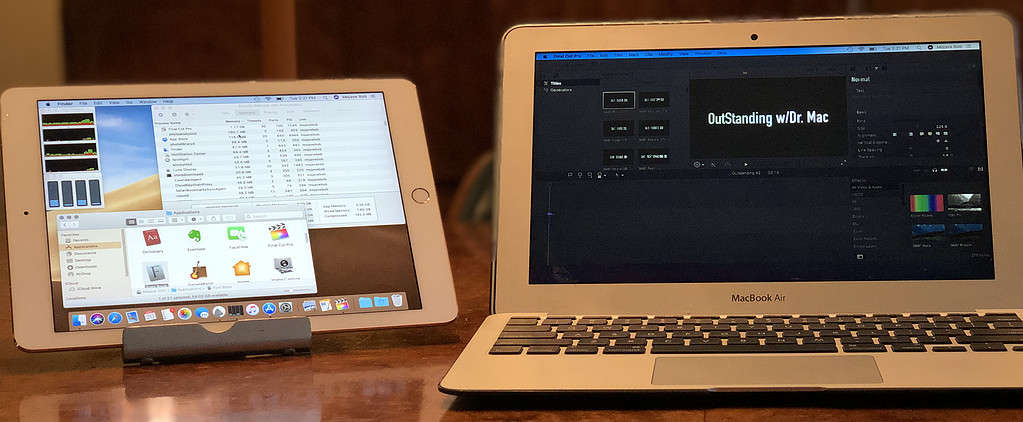 I've only found one shortcoming in Luna Display so far: It doesn't work with free Wi-Fi in public places such as Starbucks. This was almost a deal breaker, but, since my iPhone's data plan from T-Mobile includes a wireless hotspot, I gave it a try and was tickled to find that connecting both devices to the iPhone's Wi-Fi hotspot allowed Luna Display to work flawlessly almost anywhere. (For what it's worth, I could also have connected the iPad to the Mac with a USB-to-Lightning cable, but that kind of defeats Luna Display's best feature—lag-free wireless operation.)
The Bottom Line
The bottom line is that I now have my beloved dual-display setup available anywhere and everywhere I go. I've used Luna Display in coffee shops, hotel lobbies, airplanes, my mom's kitchen table, and even a local park… and I've never been more productive out of the office.
Duet Display. Software only. $9.99
Luna Display. Hardware + software. $79.99