Dr. Mac's Rants & Raves
Episode #213
I've tested a lot of products in the 20+ years I've been writing this column. Just when I thought I'd seen it all, a press release arrived touting something I'd never seen before:
The new Royole Moon is a virtual 3D mobile theater for movies, gaming, and more. It combines two Full HD AMOLED displays that simulate a giant, scalable 800" curved screen with stereoscopic 3D, and a professional-grade active noise cancelling system to deliver cinematic movie-watching and immersive-gaming experiences anywhere the user desires. 
Of course I had to try it, and while I might argue about the 800-inch part, the rest of the description is accurate.
Royole Moon: Close, but no Cigar
Available in black, gold, or white, the Royole Moon combines high-end headphones with goggles containing a pair of super-high resolution AMOLED displays with high contrast ratios (10,000:1), over 3,000 pixels per inch, and an ultra-speedy response rate (0.01ms).
I tested a white one, which looks a bit like an Imperial Stormtrooper's headpiece, and I was impressed. Wearing the Royole Moon is an immersive experience that simulates a giant, curved, high-definition screen that fills your field of vision while crystal-clear audio fills your ears.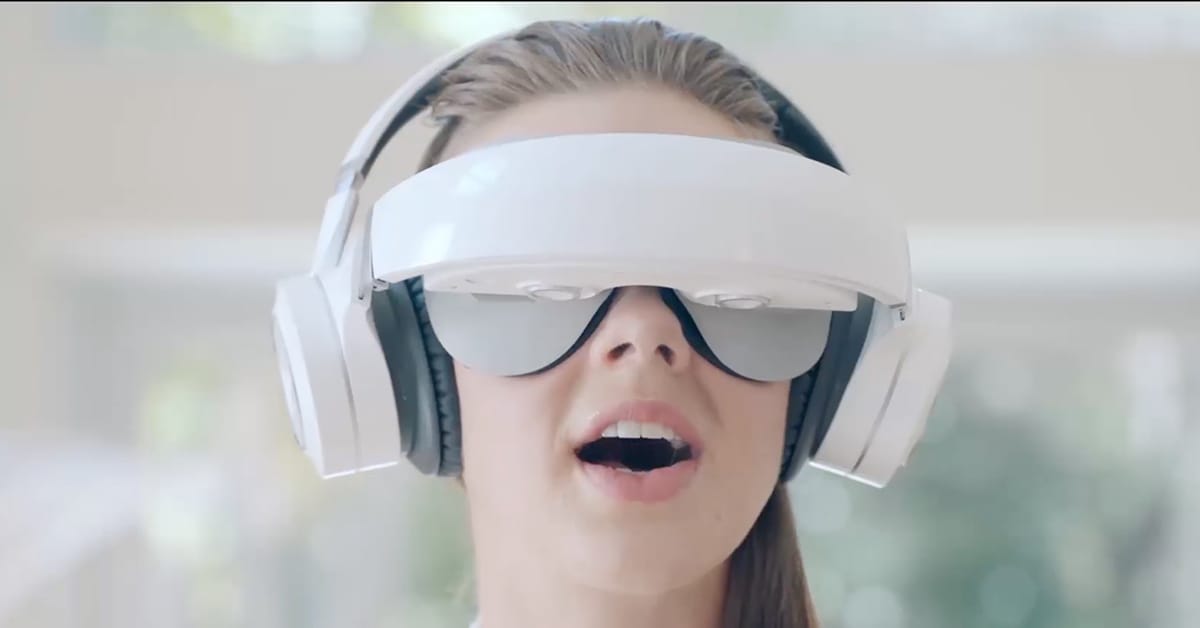 The headphones and goggles are covered in soft, padded leather (or leather-like) material. A cable comes out of the right earpiece and connects to a little silver box about the size of an iPhone. That houses the Moon's 5-hour battery, 32GB of storage, and an operating system complete with Bluetooth, Wi-Fi, and a built-in web browser.
Sounds good so far, don't you think? Everyone I tested it on agreed that 2D and 3D movies looked and sounded spectacular and I agree.
But… (there's always a "but…")
But…there are a few reasons I can't recommend the Royole Moon:
First, they're expensive ($799). And I had to provide my own Lightning Digital AV Adapter ($49) and HDMI cable to use it with my iPhone.
Second, although it's comfortable at first, at 1.5 pounds I couldn't make it through a whole movie before the bridge of my nose complained bitterly.
Third, the documentation is frustrating and woefully incomplete. For example, I connected the little silver box to my Mac, but nothing happened. I contacted tech support and discovered that Mac users need an application called Android File Transfer, which isn't included in the box or even mentioned in the User Manual or Quick Start Guide.
Finally, I was unable to test WiFi, its web browser, or any other feature that required data input. The Moon's navigational touchpad, located on the outside of the right earpiece, is maddeningly imprecise, making it nearly impossible to type passwords or URLs.
The bottom line is that the Royole Moon is a pretty cool concept, but far too flawed to recommend.
And that's all he wrote…
Resources:
Moon. 3D Virtual Mobile Theater. $799. Royole.
Lightning Digital AV Adapter. $49. Apple, Inc.