A bitter complaint about the Apple retail store notwithstanding, there's no better place to experience Apple, its products and service.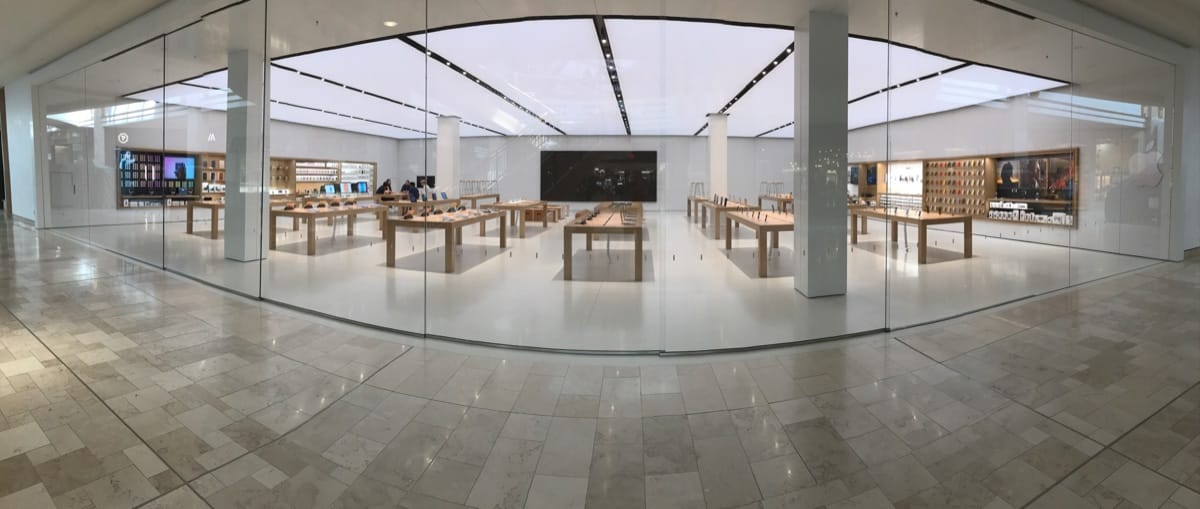 I'm referencing the following story I read on Monday.
I have to comment on this.
I visit my local Apple retail store often for various reasons. Sometimes it's as a customer and sometimes I just drop in to do some reconnaissance. The store is always packed with customers, and, yes, there a lot of Apple employees present. This is a Good Thing™.
In fact, I have never had a bad experience in any of the Denver Metro Apple stores. When I walk in, the concierge, with iPad in hand, asks me about the reason for my visit. After a short wait, he or she introduces me to a salesperson. The sales people are always attentive, friendly and focussed on my needs. I've never had a salesperson leave me alone or become engaged with another salesperson, leaving me unattended for any length of time.
Author Hartmans complained that the store seemed chaotic. There was no identifiable checkout station with a cash register. There were no signs directing the author where to stand. Oh my.
This brings me to the biggest issue I had: In Apple's world, every employee seems charged with helping every customer and every other employee, all at once.
Of all the times I've ever visited an Apple retail store, I've never had this experience.
It was as if author Hartmans wanted to superimpose a preconceived notion of how other (failed) retain chains work. And, like many others, I can testify about that. And if that store was especially busy, one can see how, occasionally, one employee may need to briefly concur with another. That's better than most other retail experiences I've had.
Contrast: Macy's
A few weeks ago, I was in the men's department at Macy's. I wanted to make a purchase, but there were precious few people around who could consult with me or take my money. I started at the shoe department sales desk where there was, mercifully, a lone sales clerk. But he was constantly interrupted by the need to help people by going into the back room for shoes. So I left and wandered to another station. I waited in a long line. It was a frustrating experience.
In the Apple store, there is never a problem paying. Any salesperson with that specially modified iPhone can take my money. I just touch my Apple Watch to the device, and "doink!" I'm all paid up. Out the door.
How the author concluded that there are "larger problems with Apple's retail presence" is a dramatic claim, guaranteed to elicit page views. But the claim is never substantiated by a research reference to a significant fraction of the customer population. A one-off experience doesn't constitute a global condemnation of Apple's retail business.
But it sure sounds authoritative.
A New iPhone
Another compliant from Hartmans is that the repaired iPhone 6s bricked the next day. That can happen. In-store repairs of displays can be a delicate operation. But when it was returned to Apple, a brand new iPhone 6s was provided fairly quickly—20 minutes. No bureaucracy.
Someone — still not my technician – came by my table to get more information, and finally, 20 minutes after I arrived for the second time, the technician I needed came over to look at my phone.

After all that, he tried all the things I had already tried, then gave up and handed me a new iPhone.
A question remains about that $150 for a repaired display. If the original, repaired 6s has worked perfectly, that would have justified the replacement cost based on Apple's policy for repairing displays and the state of its coverage. Having been provided a brand new iPhone and then asking for the $150 back is a stretch.
The Apple Experience
In the end, Apple is a big company. Millions of customers come to the retail stores every quarter. But the fact is, Apple stores have lots of employees, and that's good. I've never had an issue just walking up to a salesperson who wan't engaged with a customer and chatting with them.
Author Hartmans was dismayed by the controlled chaos of a busy Apple store and wanted a different, perhaps sedate experience. Organized. Signs. Checkout desks and registers. A solemn, quiet experience. Like buying a pair of shoes. That's just not how Apple stores operate. But it's hard to say how Apple needs to fundamentally alter that experience in this modern era. I'm open to suggestions. So is, I presume, SVP Angela Ahrendts.
Indeed, a bricked iPhone is no fun, and that entails returning to the store. But to suggest that this single experience proves that there is something fundamentally wrong with how Apple treats its customers goes too far in my opinion and my experience.