Apple creates finely crafted hardware that protects our privacy. Why shouldn't all Apple services preserve that standard?
One might mistake Apple's March 25 event for a technology event alone. After all, we were introduced to news, gaming, financial and entertainment services. But two overall themes stood out.
Technology With Underlying Values
One theme is derived from the the fact that we are awash in technology that has little or no ethical compass. Our privacy, habits, and preferences are stolen, then sold for profit. Apple management and staff live in the same world, and I imagine they suffer too and wish things were different.
Building great hardware and software that inspires us, brings out the best in us, nourishes our creativity, and is deemed to have quality has always been a theme at Apple. It was first instilled in the company by Steve Jobs.
In this event, we saw that theme extended to some major new services. As Tim Cook put it, Apple services are easy to use, show attention to detail, are private and secure, curated, and sharable with the whole family.
With Apple News+, advertisers can't track you. In addition, I was particularly pleased with the design of Apple's new credit card, called Apple Card. Aside from the technical implementation, this card is a shot across the bow of the financial industry. Apple won't know what you bought or what you paid. People like their privacy.
Social Values
Another social value was highlighted in the comments by Zack Van Amburg and Jamie Erlicht. (As well as Oprah.) Apple isn't just throwing out salacious and brutal TV content to make a buck. Quite the contrary, in Apple's view, story telling has positive social values that involve a sense of shared community, a sense of "us," opening us up to other points of view, a seeing how other people either choose to live or what they must endure.
Good story telling reveals the best in us and brings us together. "Great stories can change the world," CEO Cook said. And isn't that Apple's mission as well?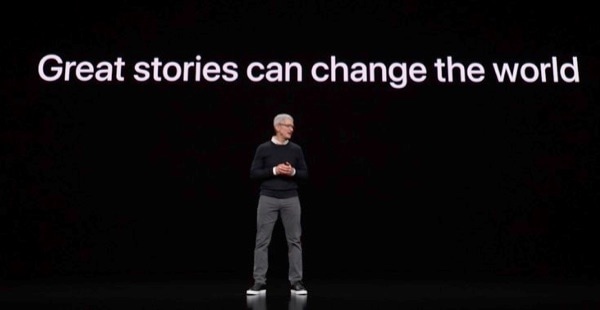 Moreover, in a sense, Apple seeks to be an antidote. An antidote to bad hardware. An antidote to spying. An antidote to financial deception and exploitation. An antidote to so-called entertainment that seeks to exploit the worst in us and cannot be shared with the whole family. An antidote to fake news.
Tim Cook also said that Apple wants to "make the world a better place." Technology alone cannot achieve that. It requires character, balance, and a strong understanding of the greatest of human values by executives to deliver technology that brings out the best is us. Whether it's a Mac, iPhone, or a new service.
So many other so-called services actually exploit is. Harm us. As Tim Cook said in his introduction, a service is supposed to help us.
What a refreshing concept.