For several years now, Apple's iPad sales have been in general decline, but the introduction of new iPad Pros seems to have put a stop to that. Can Apple keep it up?
Awhile back, I wrote that a rough, eyeballing of the iPad sales curve would lead to zero sales at some point in the future, perhaps 2021. Unless Apple could figure out how to reignite sales soon.
That appears to have happened as of Q3 2017, See the unit sales chart below.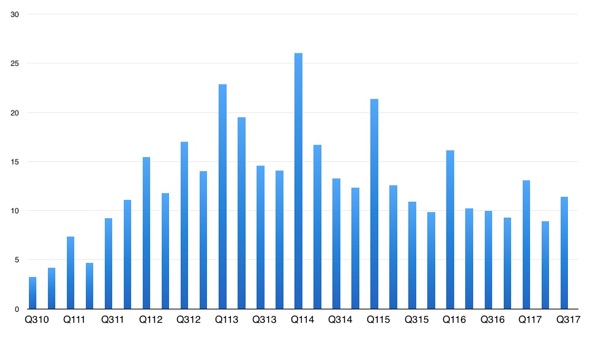 Of course, no one can reliably predict the future, but I think there are several reasons why we may have hit bottom.
First, Apple has breathed some serious new power and display capability into the new iPad Pros announced at WWDC. These new iPads are brighter (600 nits) have a wider color gamut (DCI-P3), True Tone displays (12.9-inch gets it), and ProMotion (120 Hz refresh).
The A10X Fusion is several times faster than the A8 in the iPad Air 2 and looks to be able to support the significant improvements in iOS 11 geared to productivity. And even though iOS 11 is compatible with iPads as old as iPad Air, my surmise is that customers finally felt that their iPad Airs (and older), nearly four years old now, really did need an upgrade. Finally.
I should also note that Apple didn't have anywhere near the full quarter to sell these new iPads. That bodes well for Q4 as well.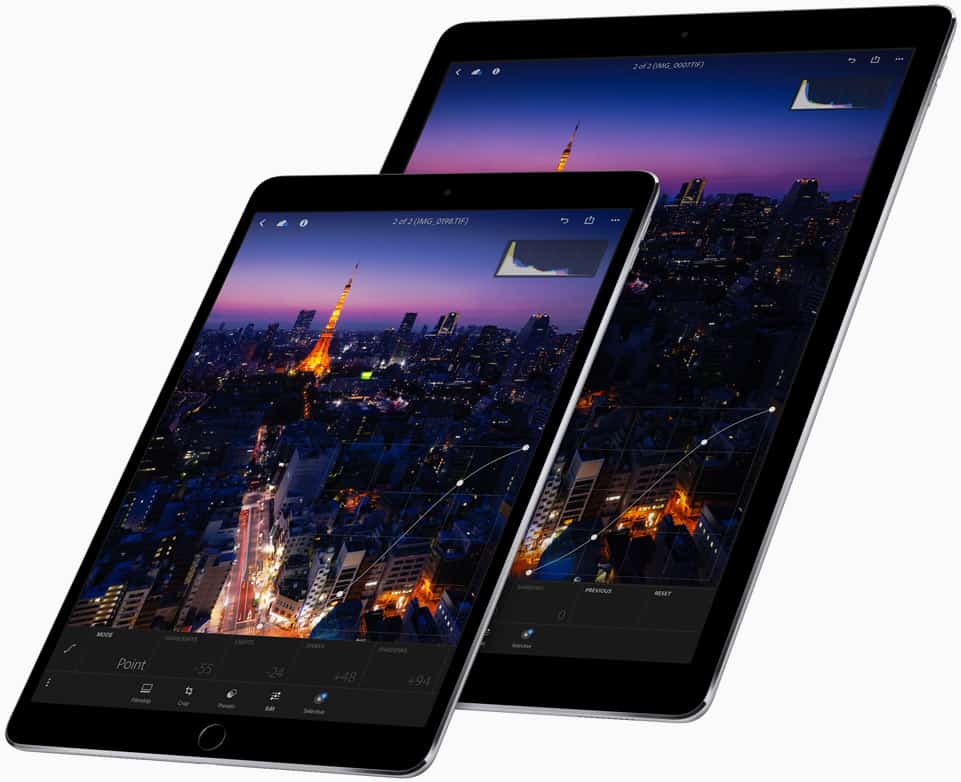 Finally, my readings and the decisions by our TMO staff suggest that the 10.5-inch iPad Pro introduced at WWDC is a hit. I have one myself, (replaced the iPad Air) and it's amazing. It will be more so with iOS 11.
Back on Growth Path
What will Apple have to do to make sure it doesn't fall into another three year slump as customers find that their 2017 model is just fine. I think Apple will have to continue its dramatic infusion of hardware technology and iOS developments. The announcements at WWDC suggest that there's a new energy and new enthusiasm in the product teams.
That's resulted in a renewed discussion about the power of the iPad. (Faster than many PCs, according to Tim Cook.) Our David Chartier provided a glimpse of the iPad's future prospects and potential. "With iOS 11, Apple's iPad Really Could Be Your Next Computer."
Let's admit it. The iPad languished for too long, and IOS couldn't leap forward until the iPad hardware did. To the extent that customers feel that the iPad is more and more capable when it comes to taking on the role as their primary computational device, iPad sales will remain resurgent.
Plus the hardware demands of 4K/UHD and Augmented Reality may mean that all those older iPads will no longer be considered "good enough" by most customers.
But if Apple stops pouring on the coals, in both hardware and iOS, in light of the re-ignition of the Mac at WWDC, the iPad slump could return. Somehow, I don't think it will.