Greenpeace released its 2017 Guide to Greener Electronics on Tuesday, and the organization's publicity lead is that Samsung needs to copy Apple. The report simultaneously praises Apple's efforts on green energy (which it graded an A), while shaming Samsung for its dismal efforts to be environmentally responsible.
"Samsung is both the largest manufacturer of smartphones worldwide and a supplier of key components to many of the other brands in the Guide," Greenpeace wrote in its report, "yet the company is holding the sector back by failing to tackle its climate change responsibility by committing to 100% renewable energy for its operations. The company used more than 16,000 GWh of energy in 2016, with just 1% coming from renewables."
Samsung was also criticized for its stalled commitment to product detox, reducing greenhouse emissions, poorly engineered products (breakable), transparency, and other areas examined by Greenpeace. Apple got high marks in most of those areas, though both companies were dinged for planned obsolescence and repairability of consumer devices.
The report wasn't only about Apple and Samsung, however. All told, some 17 companies were graded, as shown below. Apple got the second highest overall grade, a B-, with Fairphone getting the highest Grade, a B. Though Google got some praise for its Data Center renewable energy efforts, overall Google got a D+ and Samsung got a D-. Amazon and Apple-wannabe Xiaomi got an F.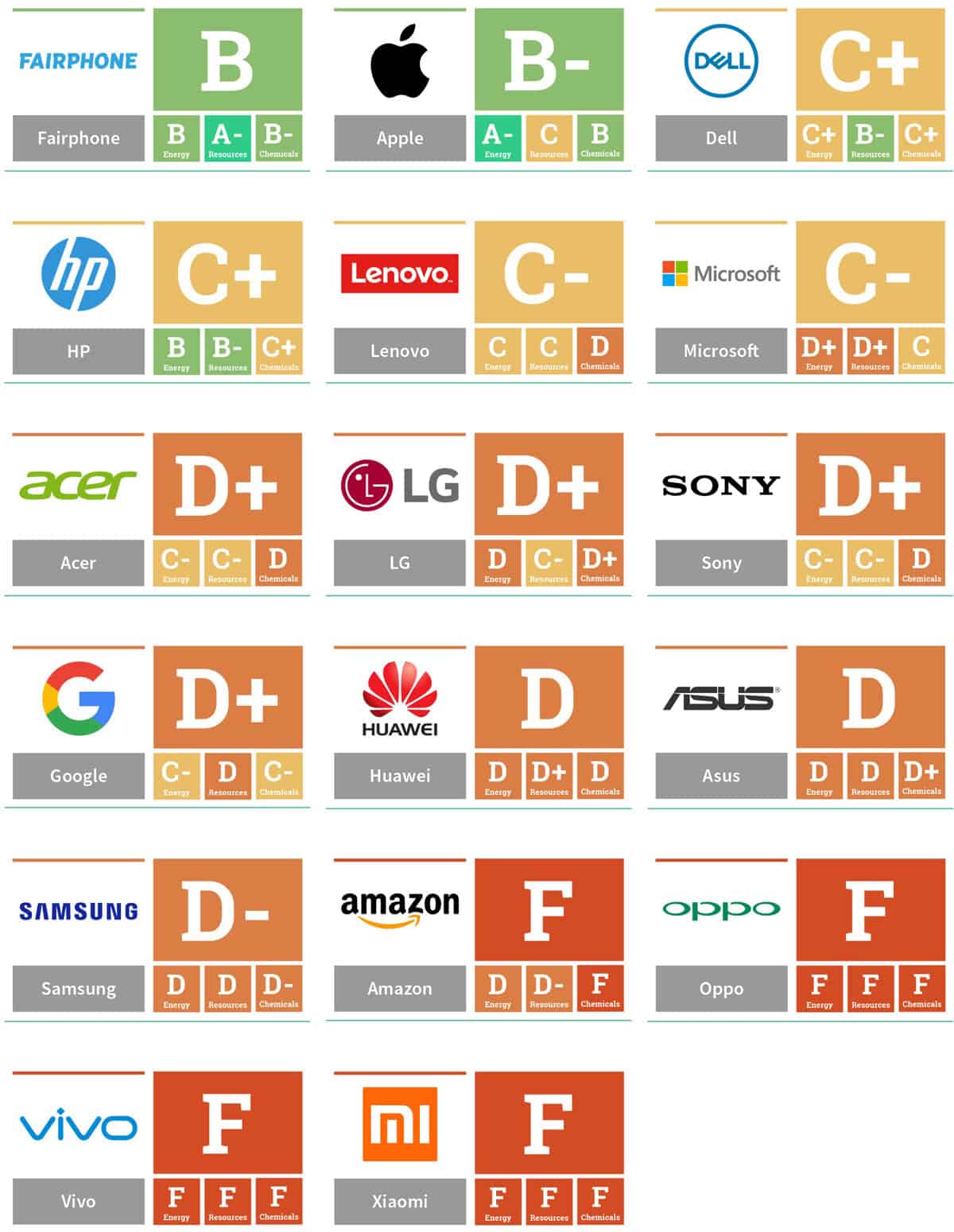 Greenpeace's 2017 Guide to Greener Electronics Report Cards
Greenpeace Praises Apple
Apple wasn't seen as perfect in this report, just the company that's setting the bar for everyone else. Resource consumption and planned obsolescence were two of the biggest complaints, though Greenpeace acknowledged and praised Apple's efforts to move to a closed-loop supply chain.
"Despite impressive progress a number of companies have made in starting the transition of their offices and data centers to renewable energy," Greenpeace wrote, "nearly all of the companies have yet to address the rapidly growing carbon footprint and dependence on dirty energy in their supply chains. Apple is the only company thus far that has committed to 100% renewable power for its supply chain."
The report also said, "Apple's April 2017 goal to move toward a closed-loop supply chain for all its products established a new high bar for the whole sector to work towards. Apple's goal does not include a timeline at this point or details on how the company will achieve this goal in spite of metallurgy constraints, but the company has privately analyzed 44 different materials it sources considering environmental and human rights issues to determine which would be priority to source closed-loop."
Copy This, Please
Wittingly or unwittingly, Greenpeace is subtly echoing something Apple CEO Tim Cook has said. On more than one occasion, Mr. Cook has said he hoped Apple's competitors would follow in Apple's footsteps in the environment. The reality is that while every company on the planet seems to want to copy in design, feature, and style, few have come even close to matching Apple's aggressive policies in the environment.
That's especially true of its chief copier, Samsung.
There's a lot more in the full report.