On March 31 of this year (2016), Apple solved the problem that existed since September of 2014: Power users who wanted an iPhone with the latest CPU but preferred the 4″ form factor could have their cake and eat it, too – again – with the introduction of the iPhone SE.
Yes, the iPhone SE was built to serve demographics other than power users, of course. Today it remains the only iPhone that's offered in a 16GB size, and that's undoubtedly because it allows Apple to keep the price at a minimum for markets where that matters.
Still, there's a group of power users that enjoy the iPhone SE's 4″ size, me included among them. Now, though, I'm faced with the same decision I had at the Apple Event back in September, 2014: if I want an iPhone with the latest-and-greatest CPU I have to choose bigger or biggest. I cannot stay with the size I desire.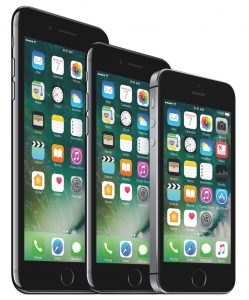 Last time I was faced with this choice I chose 'biggest.' Both the 4.7″ and 5.5″ iPhones fit just fine in my pockets. Being 6'3″ has some advantages, at least when I'm not trying to cram myself into an airplane seat. But "fit just fine" and "fit comfortably" are two different things and, frankly, I find the 4″ iPhone the most comfortable. I also find its screen is perfectly adequate for the tasks I care to accomplish on such a device. I lived with the 5.5″ iPhone for 18 months: first an iPhone 6 Plus, then a 6s Plus. I know what the difference is and I don't need it.
I'm now left with a choice when pre-orders start tomorrow: bigger, biggest, or wait it out. One could assume the iPhone SE will eventually see an update. That might be a false assumption, or it might take a year. By the time Apple released the iPhone SE back in March it's safe to assume the iPhone 7 series was already deep into the design phase. That would have left Apple with little time to engineer and produce a 4″ version of the new 7-series phones. As much as I hoped to see a 4″ iPhone 7 released at this week's event, I did not expect it. There just hasn't been enough time.
Maybe the 4″ iPhone 7 will see the light of day in the spring of 2017, or maybe it will be the fall of 2017 when the next (7s-series?) iPhone is released. It's possible that the iPhone SE will never be updated, too, but I think that's the least likely scenario. Apple clearly found a market – perhaps several markets – for a 4″ iPhone in today's world. I think they'll keep that going, but perhaps not with the same update frequency as the two larger sizes.
Time will tell. For now, tell us your thoughts in the comments below.