Inside Apple Park Visitor Center
Stepping inside the Visitor Center is similar to stepping into many of the flagship Apple retail stores. It's vast, open. Massive glass panels look out on rows of young trees that will grow into wonderful, leafy avenues. To the right is a demo room with the augmented reality (AR) demonstration I mentioned above. Straight ahead are elevators down to the three levels of underground parking and stairs to the observation deck above. To the left is the retail portion of the building, and further to the left is the cafe.

The cafe is less a cafe than it is an espresso bar—no syrups and no iced drinks, however. There are also snacks on the menu, but no meals. The menus are offered on dedicated iPads handed out by staff. Other staff members will take your order and your payment. If you give them your phone number, they'll text you when your order is ready. I ordered a mocha (the only flavored drink on the menu), and it was super tasty. The espresso machines are top of the line.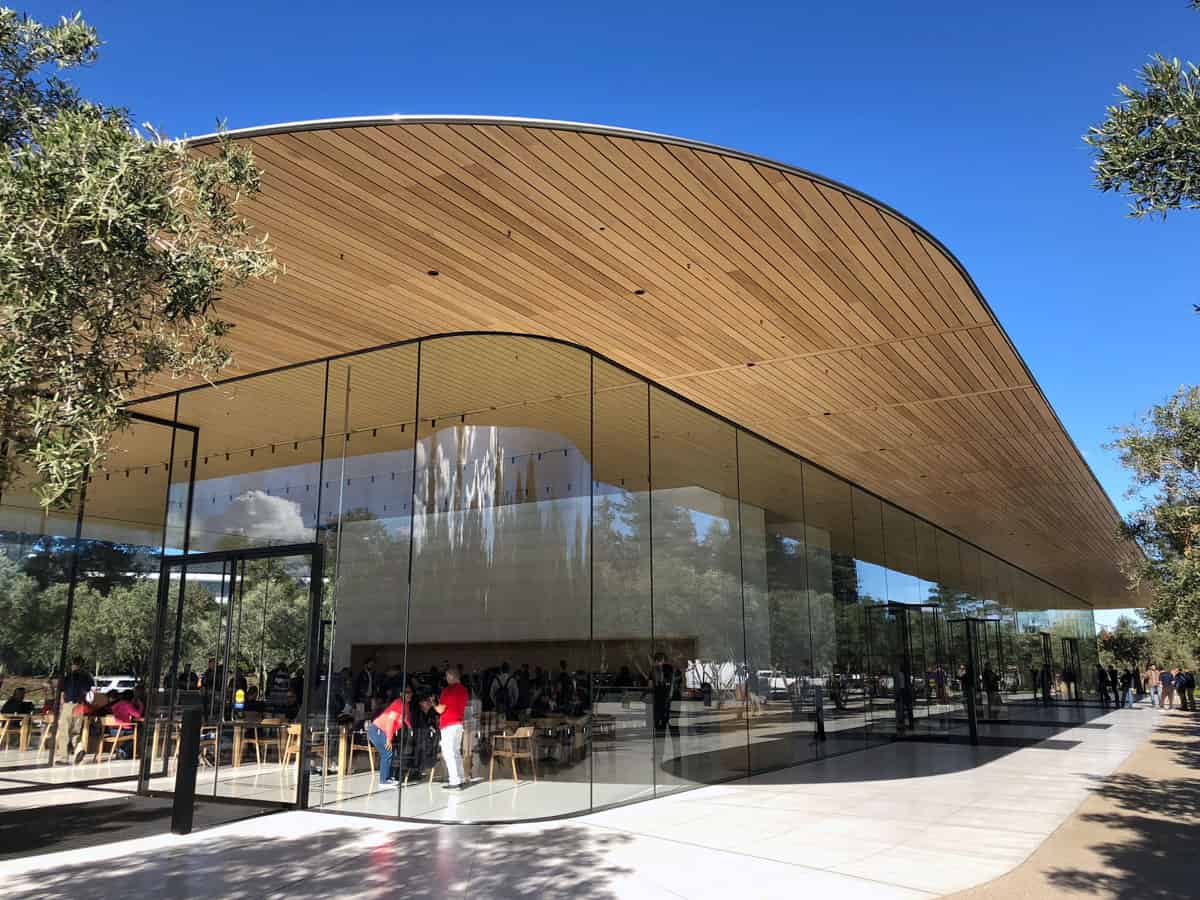 Overall Thoughts
Apple does architecture better than most, and the Visitor Center is truly something special. If it wasn't for Apple Park on the other side of the road—including the Steve Jobs Theater—the Visitor Center would be a thing in and of itself. As an Apple Store, it's spacious, and for many, the chance to get Apple-branded shirts will be irresistible. I wrote about the merchandise separately. There's no Genius Bar/Grove and there are no community events, but I don't see that as an issue.
The cafe is serving delicious espresso, despite my fondness for flavored syrups and ice. If you could get full meals, I'd probably make regular trips there.
The observation deck is truly a lovely spot. It's peaceful, with a nice breeze. Silicon Valley can be beautiful, and the placement of the Visitor Center really accents some of that beauty.
Lastly, the augmented reality demo is just something else again.
In short, Apple Park Visitor Center is worth the trip, even though you can't see much of the even more amazing Apple Park. If you're an Apple fan in the area, you simply have to stop by.
I'll leave you with an iPhone X Portrait Mode selfie with Apple Park in the background because [Bryan].