Yes, Apple's iPad sales are up year over year for the second fiscal quarter. But there's much more to the story.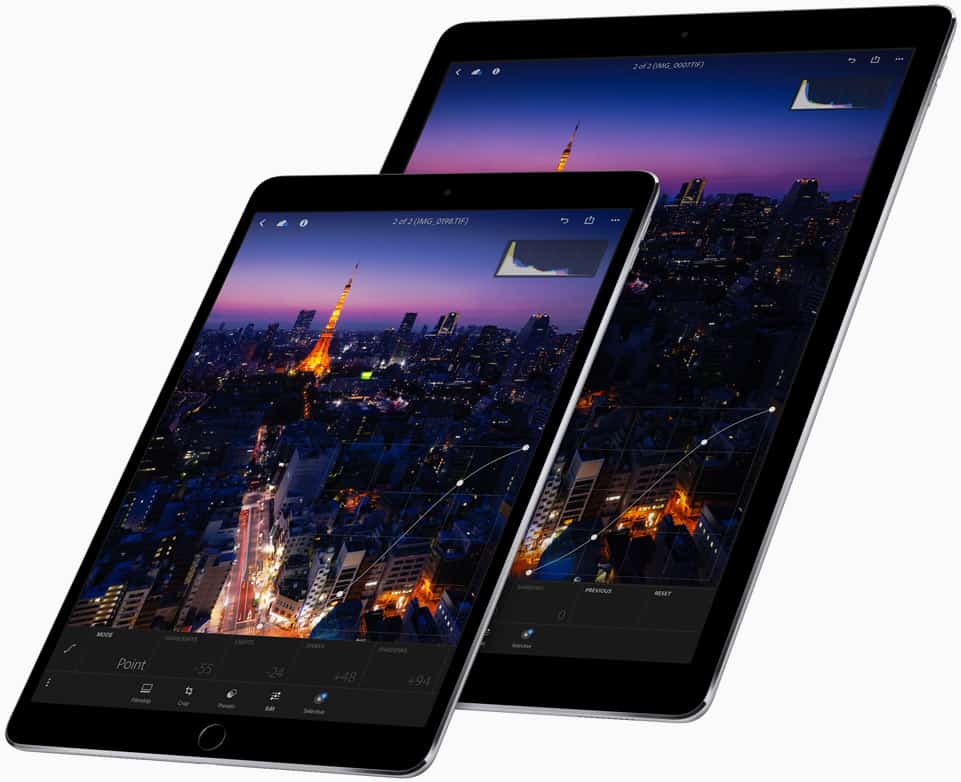 There's an emerging problem with the iPad that's hard to assess. Every quarter, there's a bit of good iPad news, and during every Apple Earnings Report, Tim Cook points to it.
For example, comparing Q2 2018 to Q2 2017, iPad unit sales were up 2% and revenue was up 6%. That sounds good in isolation. But a notable problem is this: the unit sales were 9.113 million and 8.922 millon respectively. Looking at Q2, 2016 and Q2 2015, the unit sales were 10.25 million and 12.6 million. So, from 2015 to 2018, Q2 unit sales were down about 27%.
So this year's small year over year gain doesn't mean much.
Long Term Trend
The following chart shows iPad sales since the beginning, 2010. After a slight general decline starting in 2014, unit sales seem to have stabilized somewhat.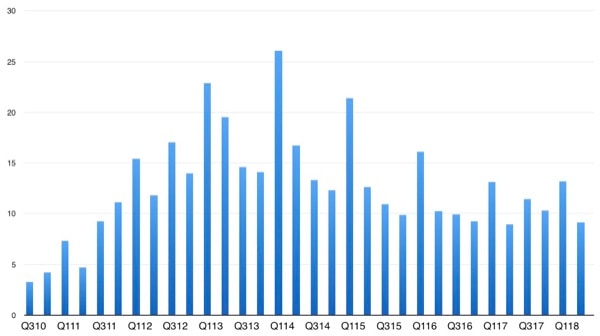 That's good in one sense, but raises the question. Why aren't the sales numbers returning to growth? Apple has, since 2015:
Introduced an excellent 12.9-inch iPad Pro
Introduced an excellent 10.5-inch iPad Pro
Introduced a lower cost 9.7-inch iPad for education
These initiatives have served only to stem the decline.
One factor that's been discussed is that as iPhone screen sizes grow, customers find iPads less and less compelling financially. That's probably why the iPad mini is a dying product. Another factor may be that iPads last a long time. The need to replace an iPad isn't as urgent as a new iPhone, especially one like the iPhone X. There's no "boastful-look-at-me-factor" with an iPad.
Another positive aspect is that, because iPads are so durable, the installed base of iPads is likely growing. My (Numbers) spreadsheet says that Apple has sold 404 million iPads to date. I'd bet that over 300 million are still in use. Like the Mac, as the population grows, the product obtains a more compelling market status.
And yet. And yet. I am always troubled by the unspectacular growth from year to year, in the long run. In 2016, Tim Cook said,
The iPad is the clearest expression of our vision of the future of personal computing.
In fact, it turns out that the iPhone may hold that distinction, given its contribution to Apple's overall revenue. That was US$38 billion in 2018 Q2 compared to 4.1 billion for the iPad. That's a factor of over 9.
I suppose it's both pleasing to Apple that the installed base is probably increasing and the long-term decline in unit sales has been halted. On the other hand, Apple makes significantly more money from far fewer Macs sold. Anyone who thought the iPad would eventually replace the Mac thinks so no more.
One might surmise that some kind of fundamental change is coming. Disruptive change will include: Bigger and bigger iPhone displays. The demise of the iPad mini. The ability, in 2019, to run iOS apps on a Mac, most notably MacBooks. The handwriting is on the wall. The iPad isn't going to obliterate the Mac (or PCs), and it may end up being a niche, special purpose product that lingers on, waiting for something to radically change its status quo.
And that's just fine, for now, in the sense that the basic triad of iPhone, iPad and Mac are in a prospering ecosystem of interoperable tools and generating handsome revenues. But change is coming.