So there I was. I had my printed email for an iPhone 7 that I pre-ordered on September 9th. It said to be at the Park Meadows Mall Apple store between 0900 and 0930 on September 16th.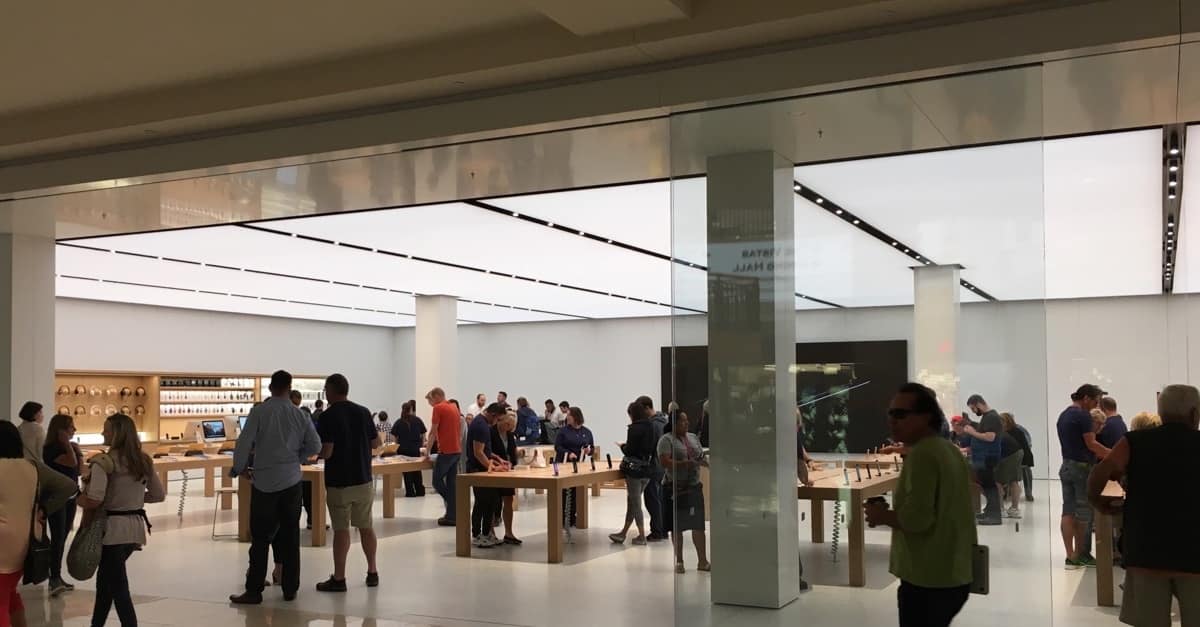 What I expected, based on last year's experience, was to be invited into the store on arrival and shortly assigned a sales person who would conduct the transactions: trading in an old iPhone 6s for store credit and doing all those administrative things for the new iPhone 7. That includes a final test of calling my wife's iPhone to make sure the AT&T deactivation of the 6s and activation all went smoothly on the new iPhone.
Last year, as I recall, I had to wait briefly in a short line outside the store at my scheduled arrival time. After I met my sales agent, it took about 30 minutes and I was out the door.
This Year's Experience
I arrived at 0901 and quickly found the Apple concierge standing in the concourse. I showed him my printed email, but instead of directing me to a line in front of the store, I had to wait in a side concourse, about 75 meters from the (new) store, just opened, further down the concourse. There were two lines.
My line had seven people in front of me, the pre-order line. Next to us, separated by banker's ropes were the walk-ins. All of us in the pre-order line, which grew to about 10, waited about 40 minutes before anything happened. I asked about that.
It turns out, according to a manager, that customers who were in the iPhone Upgrade Program were invited in early, and those transactions were taking a lot longer than expected. It produced a slow-down.
Disneyland Line
But once a group of five in front of me had been moved to the front of the store, it was time for three more of us to move to that second line right in front of (the glorious, new) store. A second line! There, we waited another 15 minutes or so. About 10:05 am, I was greeted by my sales agent and escorted into the store. I have to say, this woman was amazing, well trained, courteous and efficient. It was a joy to work with her.
Activation
Once we started working with each other, things went smoothly. But there was an awful lot of administrative detail and multiple presentations of my driver's license.
Find my order in the system.
Verify my identity with driver's license.
Scan the 6s IMEI and verify that I'm the owner.
Deactivate Find my iPhone.
Inspection of the 6s exterior. (Memory doesn't play into the value.)
Determine that I got full trade-in value. US$275.
Deactivate the 6s on AT&T.
Buy Apple Care Plus.
Credit the balance (Trade-in less AppleCare) back to my credit card. Apple Pay worked on my Apple Watch!
Master Reset that erases the 6s. (Actually makes all the encrypted data useless by erasing the master password from effaceable memory.)
Open the new iPhone 7 box.
Register it by scanning the new IMEI.  More inspection of driver's license.
Turn on the 7. Activate on AT&T. Step though a minimal setup, pending restore from backup when I return home. (That took the longest.)
Make that test phone call.
Everything went smoothly, but as you can see there are a lot of steps. ( I don't think I even listed them all from memory.) My salesperson, however, was remarkably efficient and experienced with her handset. There was no pain here, just steady progression in a fixed sequence.
I was out of the Apple store at about 10:45. In chatting with one of the store managers on the concourse, I could see that they were all doing everything possible to get us moved through, but the process was initially a bit delayed. I was somewhat annoyed that this process took a total of 1h:45m, but at least it was a fun, pleasant and well-managed transaction. I had a chance to chat with lots of customers.
Notes on the Line
When I arrived at 0901, there were eight of us in the pre-order line and about 50 in the walk-in line. I've seen much longer lines for iPhone launches.
When I left at 10:45, things had reversed. The line for those who had pre-ordered was about 50, thanks to the earlier delays, but the walk-in line was only about a dozen. I concluded that people learned quickly that they wouldn't be able buy the iPhone they wanted and went home or back to work.
Another thing I learned from a manager is that early arriving walk-ins were given a selection sheet. They could reserve an iPhone right there and then from available stock. If they stayed there and didn't leave the line, that selected iPhone would be guaranteed. I think some people didn't see what they wanted on that "pick from today's inventory" list and left.
In my discussions with people in line, the two blacks were the most popular color.
On my way out, I asked some of the people in the walk-in line why they didn't pre-order. I was expecting most to say that they weren't aware of that option. I was wrong. Everyone I talked to knew about the pre-order opportunity on the 9th. The reasons I got were 1) I wanted to come to the store myself 2) I was out of the country last week, 3) I had to work, 4) I had something to do that morning and didn't want to be up late and 5) I had some finances to work out and had to be here in person.
Recommendation
The process of certifying that you're the legitimate owner of the trade-in, all the "paperwork" and the activation of a new phone by the identified purchase/Apple ID takes a lot of time. I know Apple thinks about this, and I'd be pleased if the process could be sped up.
Alert readers will note that I forgot to include AppleCare Plus in my initial pre-order, but that didn't take long to complete in the store. 30 seconds. Laser scan the barcode on the box. Done.
I think that the biggest annoyance was that I was given a time window to arrive and expected to be ushered into the store in that window. Logistics and unexpected delays in the Upgrade Program foiled that plan, delaying me by about an hour. My wife was with me, for fun, but she was visibly annoyed by the delay. She wandered off to have coffee and shop.
I hope next year goes as quickly as 2015 did.
Next page: The Tech News Debris for the Week of September 12th. The computational dominance of mobility.