Page 2 – The Tech News Debris for the Week of August 8th
Here's the Not So Secret Roadmap for 4K UHD TVs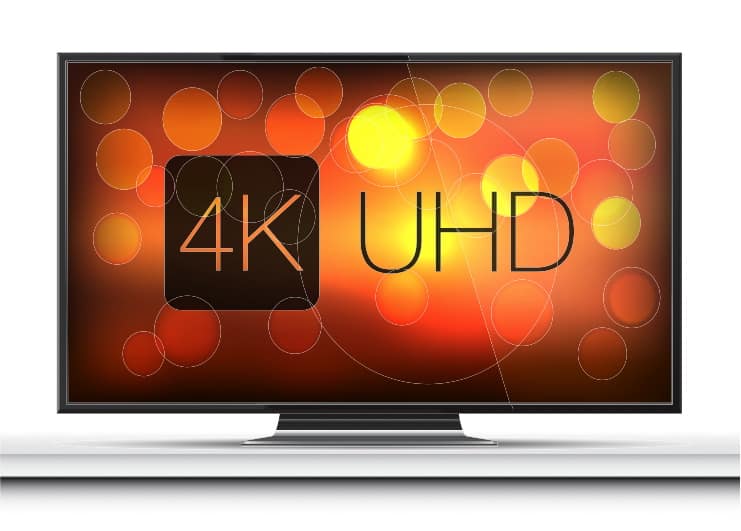 The old, unconsidered notion of 4K UHD TV is that this is a gimmick by the TV industry. The assumption has been that 4K resolution can't be utilized unless one sits really close, and HDTV is good enough.
In fact, there are many more technologies associated with 4K UHD television than widely known. That hasn't been apparent because the early 4K UHD TVs were modest in capability: all they featured was higher resolution at the same old 60 Hz frame rates. And that made them a target for criticism about whether the viewer could actually see any improvement at typical viewing distances. That criticism was generally valid.
However, beyond those first generation 4K TVs, the planned evolution of our TV hardware is nicely outlined in this slightly older article at Reviewed.com: "The Ultimate Guide to Ultra High Definition TV." Particularly interesting to me is the following chart that lays out the 4K UHD TV roadmap.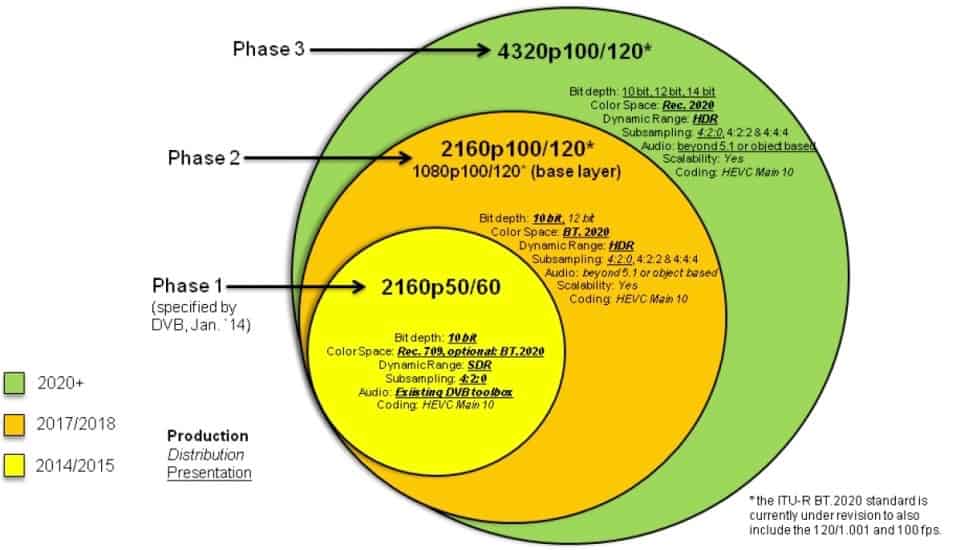 If you can't see the fine print, I'll summarize the roadmap's (tentative) migrations.
From standard HD contrast to HDR10 and Dolby Vision.
From Rec. 709 color space to BT.2020.
From 60 Hz to 120 Hz frame rates.
From subsampling of 4:2:0 to 4:4:2 and then 4:4:4.
From 10-bit color to 12, then 14 bits.
From 4K to 8K.
For example, this excellent article, just published, should go a long way towards opening your eyes about the 2nd generation 4K UHD TVs now shipping. "HDR10 vs. Dolby Vision." These improvements will radically improve the images in ways that extra resolution cannot, and that's important.
Case in point. In doing some research for a new 4K UHD AV receiver, I noticed that, at least in the case of Denon, even the most expensive AV receivers only pass through 60 Hz frame rates, even though they have the capability of HDMI 2.0a and HDCP 2.2. And so, if one were to purchase one of these receivers in 2016, it wouldn't be able to pass 120 Hz frame rates for 4K UHD TVs made in 2017 and 2018. (Or so I believe.)
Modern TV technology is a complicated mixture of technology and marketing. Technical specifications are often full of special nomenclature that masks technical reality for the sake of marketing and seeks to entice the customer into a purchase. It takes some digging to find the important details.
Plus, the technical relationships that are formed between the content providers, like Amazon and Netflix, and the specific capabilities of a given modern TV is usually hard to decipher without a lot of research. For example, this article on frame rates is old but still very enlightening.
As an aside, Apple was probably asking itself some tough questions about plans for the 4th generation Apple TV early in 2015. When the product finally shipped in October, everyone asked, "where's the 4K support?" But if you've read all the articles above, it's a little more obvious why Apple decided to deliver a 1080p/60 device at that point in time.
Like the computer industry, TV is now constantly changing as new technologies are introduced and made affordable. It's like the Mac and PC world. Do a lot of reading. Buy what you need, when you need it. Don't fret.  Plan to upgrade components.
____________________________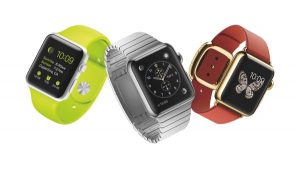 Here's the latest scoop from Macworld on what the Apple Watch 2 might have to offer. Notable is this opinion from KGI analyst Ming-Chi Kuo.
The new hardware will have a GPS, improved water resistance, a faster processor, and a barometer. Kuo is pretty certain that Apple will keep the watch's existing design for the new release, but you can bet on a dramatic exterior overhaul for Apple Watch 3.
One of the things Apple would like to do, to increase the sales potential of the Apple Watch, is sever its linkage to the iPhone. But that may have to wait. "Apple Hits Roadblocks in Cutting Watch Ties to iPhone."
While the plist reference to a possible new Mac Pro in El Capitan was discovered in late 2015, hope springs eternal. This essay suggests that Apple has an opportunity to release the new machine in concert with the FCPX Creative Summit, 28-30 October. The article is hopeful and sarcastic at the same time
'This is without a doubt the future of the pro desktop,' Phil Schiller said when announcing the Mac Pro on stage in 2013. Did he mean that this was the precise model Apple expects professional users to use literally forever?
Finally, I'm out of room, but I'll squeeze in this alert. "… New, Convincing Malware Wants to Trick You Into Clicking."
As Sgt. Esterhaus used to say on Hill Street Blues, "Let's be careful out there."
____________________________
Machine intelligence teaser and 4K TV images via Sutterstock
Particle Debris is a generally a mix of John Martellaro's observations and opinions about a standout event or article of the week (preamble on page one) followed on page two by a discussion of articles that didn't make the TMO headlines, the technical news debris. The column is published most every Friday except for holidays.