Page 2 – The Tech News Debris for the Week of June 20th
Has Apple Gone Too Far This Time?
Well founded rumors are that the next iPhone won't have a 3.5 mm analog audio jack. See: "Apple Should just Confirm the iPhone 7 Headphone Jack is Gone."
There are two stark and contrasting camps about Apple's (supposed) abandonment of this port. In one camp, we have those who claim that this is Apple. Prepare to move relentlessly forward. Changes are made to enable new technologies. And they'll point to howls of outrage when Apple dropped the 3.5-inch floppy from the 1998 iMac. One reference I saw was a friendly reminder from May, 1998, of how we've been through this before." Back To The Future At Apple."
But then that change didn't require music lovers to carry around a dongle for their expensive, wired headphones.
The other camp says, "Taking the headphone jack off phones is user-hostile and stupid." Nilay Patel opines that nothing good can come from taking away this universally accepted and utilized audio port. He lists six really good reasons why Apple is wrong to do this, and they're really well thought out..
Tell me what you think.
Moving on….
There are two ways to think about popular programming languages. There is the professional arena of business and government/military with its need for server-based web and database driven solutions. That's where we see Java, Javscript, C/C++, Python, PHP and so on. The second is Android and iOS apps where the code is more isolated and developed in house or by indie developers. That's where Java on Android and Objective-C and now Swift for iOS tend to be isolated.
With that in mind, if you've been thinking about which computer languages to study, here are two good resources. "The 9 most popular computer languages…" and this Google search I was alerted to..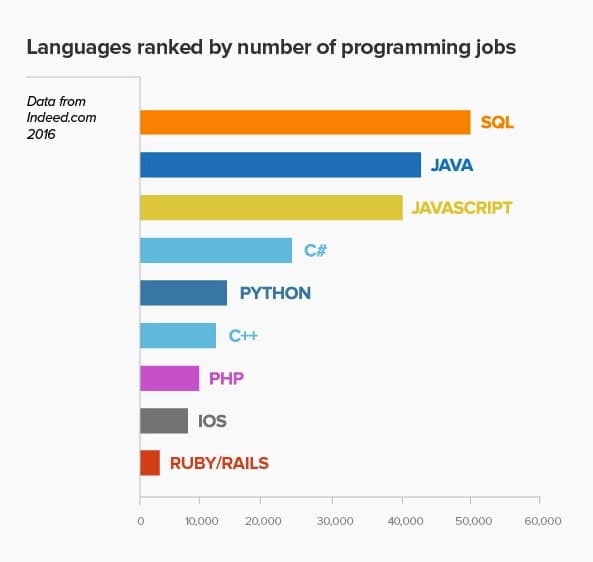 Those who think that macOS will go away someday will feel better after reading the Above Avalon article on page 1. This will help too, as Macworld's Dan Moren explains: "With Sierra, Apple lets the Mac be the Mac."
Here's another feather in the cap of Microsoft. The company is being even more aggressive than Sony in supporting 4K Blu-ray. "Blu-ray: Microsoft Turns the Tables On Sony." WooHoo….
If you've been wondering why it's been taking so long for your favorite merchant to implement chipped credit cards and (perhaps) Apple Pay, help is on the way. "MasterCard unveils simpler EMV process,"
Despite the above, (or perhaps because of it) the foot dragging by many merchants over Apple Pay seems to be providing an opportunity for Samsung and its Magnetic Secure Transmission (MST) technology. This is not NFC, but rather a technique that uses an electromagnetic field to trick the card reader into thinking that a conventional magnetic strip has been swiped. As I understand it, it's not as secure as the NFC method which is encrypted end-to-end. But such is the nature of business and technology. Read more at "Samsung takes fight to Apple with mobile wallet strategy."
Finally, have you found the recent changes to iTunes confusing. Kirk McElhearn clears up a lot with a Q&A at Macworld. "Ask the iTunes Guy: Changes in iTunes 12.4." Frankly, I don't know what the Mac community would do without Kirk's insights and help with iTunes.
____________________________
Particle Debris is a generally a mix of John Martellaro's observations and opinions about a standout event or article of the week (preamble on page one) followed on page two by a discussion of articles that didn't make the TMO headlines, the technical news debris. The column is published most every Friday except for holidays.