The battlefield amongst the tech giants is constantly shifting. Each is innovating while looking for weaknesses in the competitors and seizing new ground. A formal Apple partnership with Microsoft would change the balance of power.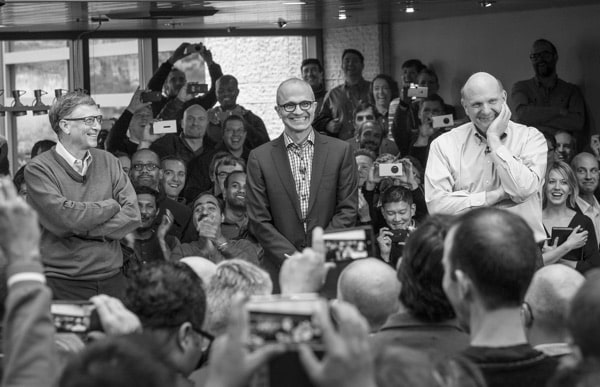 Several articles this week suggest that the atmosphere and leadership at Microsoft is ripe for an Apple business opportunity.
The immediate take on these articles is that Microsoft's vision, driven by CEO Satya Nadella, is now much broader than mere Windows. From the third article:
…of course Windows isn't going away — but he [Nadella] also wanted to explain his latest buzzwordy vision for the future of the Microsoft: AI, Intelligent Cloud, and Intelligent Edge.
That's because, of course, the OS in front of us has always been the customary interface to the world. Today, internet speeds, mobility, the cloud, and AI technology, have become dominant factors. It makes sense to think more broadly about how a local OS interfaces outside itself. That's why we've seen Microsoft lean more towards interoperability and away from Windows-first, Windows-only.
Remember, one of the first things Sata Nadella did was to release Microsoft Office for iPad. That was something Steve Ballmer held back.
Similar Visions: Apple & Microsoft
More broadly, Apple and Microsoft complement each other. The pre-iPhone PC wars are over. Apple and Microsoft are like-minded when it comes to the privacy and security of their customers. Each has a common heritage in the PC/Mac world. Microsoft's Windows phone failed, but the company can benefit by making its pervasive Windows OS work better with other company's smartphones.
Amazon's Alexa is poised to seize control of the home automation and AI market, something that could hasten the obsolescence of the traditional OSes. Family service robots are on Amazon's (and probably Google's) radar.
Apple could use help with Siri, robotics and business cloud expertise. Microsoft could use help with the adoption of a more pervasive, widely accepted, encrypted communication service like Apple's Messages. And mobility in general.
While Apple and Microsoft will never merge, working more closely together on certain new projects could shift the balance of power in the high tech world in their favor. This never could have happened under Microsoft's Steve Ballmer. The current Microsoft CEO is smart, self-confident and open to new ideas that go beyond the old, limited Windows-centric vision.
The first article above goes into some detail about the new overture Microsoft has made to Apple. Sooner or later, one of these companies, Amazon, Apple, Google and Microsoft is going to figure out how to join forces with a competitor with whom they have a lot in common and, then, better secure the battlefield. It's only a matter of time. Apple and Microsoft, working together, in new, smart ways would be a force to be reckoned with.
Next Page: The News Debris for the week of May 7th. Getting very creeped out.