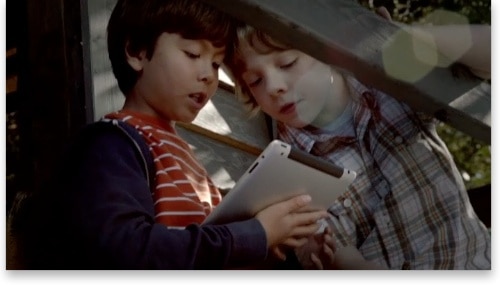 The Particle Debris article of the week is by the awesome Shara Tibken at CNET.
This tour de force article explains, chapter and verse, how Apple lost the major part the education market through neglect, incorrect product design and pricing, and failure to address the smart competition from Google. Apple was outmaneuvered and out hustled.
If you doubt the scope of the problem, listen to this Colorado academic director of a charter school explain how schools are thinking. Or this: "A Maine School District Struggles with Apple's Notebook Pricing."
Now, Apple's "Field Event" is Apple's first salvo in its return fight for the education market. Author Tibken writes:
Bloomberg reported Friday that Apple will show off a new version of its cheapest iPad that's likely to draw attention from the education market, plus some new software for the classroom. It also said that Apple has a new, cheaper MacBook in the works, along with a revamp of its iBooks app, but that it probably won't be ready in time for Tuesday's event
The real question in my mind is whether this event is merely the opening salvo in a concerted, deeply thought out, all embracing plan. That would entail not only a less expensive iPad and MacBook Air for schools, but also a plan to identify what schools really need in terms of hardware (including real keyboards), maintenance support, cloud support, networking, pedagogical tools, iBooks, teaching aids and, perhaps most importantly, pricing. It also involves abandoning the religion that the iPad is the only, modern path forward for students. Author Tibken points out:
Despite all of Apple's efforts, Google and its Chromebook momentum will be tough to slow down. Even if Apple drops iPad pricing further, makes the Apple Pencil cheaper and introduces other changes, it could be hard to convince some schools to give its products another try. That's especially true as teachers and students become more used to the Google technology they already have.
In other words, education (just as with technical professionals) is a market that requires constant attention, SVP authority to act, ongoing initiatives, frequent product updates, sensitivity to the competition's evolving tactics, smart product design to support pedagogical needs and pricing that may not be reflected in the primary product lines. What won't work is hubris and an ill-conceived effort to force fit some of Apple's other products, like the Apple Pencil, into service as glitz factor. That leaves educators unimpressed.
This analysis by author Tibken is the best diagnosis I've seen of Apple's education problem. The prognosis has yet to be written.
Next Page: The News Debris For The Week of March 19th. Facebook loses face.