The Particle Debris article of the week comes from Neil Cybart at Above Avalon.
Author Cybart had a close-up look at the Steve Jobs Theater when he attended Apple's September 12 event. His very detailed and revealing article includes photos from Apple and himself as well as a side-view schematic of the underground layout.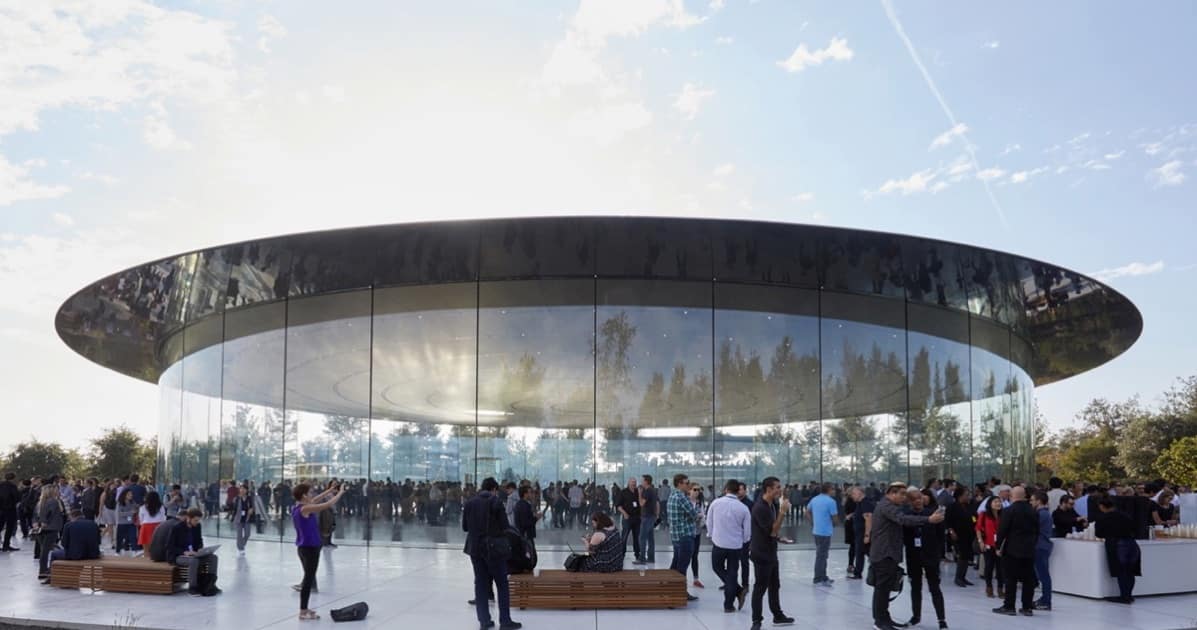 More importantly, the author analyzes the art, the function and the psychology of the theater on the inside and even the surroundings leading into the theater that reminded him of the aesthetics of a theme park.
The entire experience is reminiscent of Disney World as it becomes clear that someone has created this specific experience to be consumed at this particular location. The lobby, the only part of Steve Jobs Theater that is above ground, is massive, intriguing, and even magical.
One may question whether so much money and effort went in to the construction of this theater, designed to showcase Apple products. But it's immediately clear that there is much more at stake here than an attractive theater. Namely, it's not, anymore, exclusively about Apple products but rather Apple as a product. From the article:
Apple is no longer a company that just ships consumer hardware powered by differentiated software. The unveiling of Steve Jobs Theater is the latest sign of this reality. The theater is an Apple product, in the same vein as Apple's redesigned Retail stores. Apple approached Steve Jobs Theater and the broader Apple Park headquarters in the same way that it would any other product.
Understanding that is key to understanding the company itself as a brand and a product, and that leads to a better understanding of what Apple is all about. This is an excellent article, full of insights.
That's not to say that everything is perfect. Author Cybart as well as John Gruber made some critical observations. I have no doubt these tactile observations of the restrooms, hands-on area, and rain soaked pathways will be addressed in time. That's the easy part.
What's really important about the essay by author Cybart is the analysis of the facility's design, comparisons to the competition and Apple's state of mind. These are all part of the legacy of Steve Jobs, and nowhere has that been more poignant than in the opening video and site dedication to Mr. Jobs at the beginning of the September 12 event.
Next Page: The News Debris For The Week Of September 18th. A magnificent review of the Apple TV 4K.