Page 2 – News Debris For The Week of February 19th
Apple's Annoying OS Antics
• One of the annoying things that Apple does is to introduce new features in its OSes that look attractive for many but don't meet the needs of many others. Or have implications that are problematic. And that feature is turned on by default in a fit of naive glee (with implicit psychological pressure) that everyone both understands and needs this glitzy feature. Here's just one more example I ran across this week from Kirk McElhearn. "The Latest macOS Update Does This, and It's Not a Good Idea."
In other cases, Apple could build in warnings not to do certain things, (or just block dangerous actions) but instead lets the user make a bad mistake because the structure of the human interface doesn't suggest a red alert or natural kind of warning. Here's an example of that by Glenn Fleishman. "Another warning: Don't convert your Time Machine volume from HFS+ to APFS."
These two examples help explain why there is often a feeling of mild, seething frustration and disappointment with the latest versions of macOS.
My own constant disappointment is the silly, pointless, animated, graphic that macOS shows as it finishes stetting up an upgraded OS. How about actually telling us something useful? It's insulting in the extreme.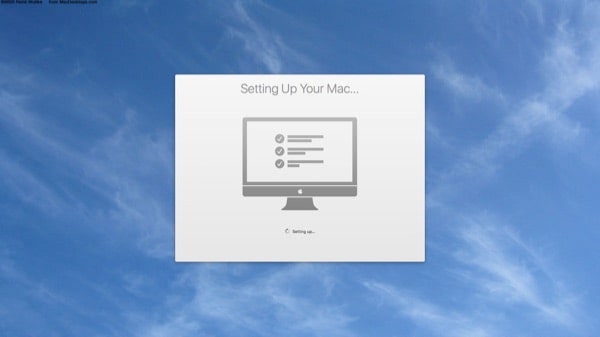 More Debris
• Two weeks ago, I wrote: "The Fight For Net Neutrality Accelerates, Invokes New Tactics." Later, on TMO Daily, I surmised that the Telecom giants probably wouldn't rush into violations of the spirit of neutrality for legal reasons and public relations considerations. That prediction looks like a good one. "The FCC's net neutrality rules end in April, but 18 ISPs promise to stay honest."
• In the past, there was a lot of discussion about Apple's entry into both eBooks and autonomous cars. In time, we moved on to other topics, but these industries have continued on, under our radar. Here's a quick update on how those two industries are faring from the perspective of the survivability of Barnes & Noble and the ability of Tesla to meet its massive backlog for the Model 3. (Did you plunk down a $1,000 deposit on March 31, 2016?)
• Just how well is Apple Pay doing? Loup Ventures has just published a report that tells an interesting story of mixed success. "Annual Apple Pay Review: Adoption Jumps, But Still A Long Way To Go."
• Finally, what might be in store for us in iOS 12? Jonny Evans at Apple Must has some interesting ideas. See: "What are we expecting (and not expecting) in iOS 12?" He even extends his crystal ball to a few tantalizing items for iOS 13.
As Stephen Bishop sang, "On and On."
---
Particle Debris is a generally a mix of John Martellaro's observations and opinions about a standout event or article of the week (preamble on page one) followed on page two by a discussion of articles that didn't make the TMO headlines, the technical news debris. The column is published most every Friday except for holiday weeks.