Page 2 – News Debris For The Week of September 17th
Siri Shortcuts Will be Big
• Dan Moren at Macworld has written a very nicely balanced, introductory article on iOS 12's Siri Shortcuts. It's not a tutorial; rather, it's a tour of Siri, its storied past, its frustrations and limitations, and how Siri Shortcuts attempts to create a better bridge between us and our devices. This is must reading before you dig in. "Siri Shortcuts: Opening up Siri's next chapter."
Here's more detail: "iOS 12: What to know about Siri's new Shortcuts feature."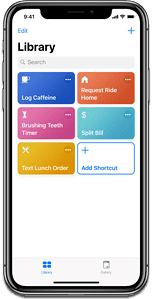 My prediction is that Siri Shortcuts is going to be Big. However, iOS 12 users will have to learn to be very circumspect in public. Saying the wrong thing outloud in the wrong place could be ill-advised. As always, "Let's be very careful out there."
More Debris
• It's going to be awhile before the 5G wireless system is pervasive. But one thing that's being talked about is the unexpected, positive consequences of this kind of speed. I discussed this in my own 5G article, "Everything iPhone Users Need to Know About 5G Wireless." And now, even though 5G is in its infancy, we're seeing great prospects. For example, see: "Hologram phone calls – sci-fi or serious possibility?" This article has a great Star Wars angle.
• One reason wireless carriers, I am told, don't push more frequent OS updates to Android smartphones is that there's no money in it. And so customers are left with security vulnerabilities. Here's another insidious example of that kind of thinking. That is, for the sake of saving fuel costs, and being "green," compromises may be made when it comes to common sense safety. That's the nature of high technology. See, for example, "What will stop these self-driving lorries colliding?" It would give me pause to encounter one of these monstrous, fast-moving trains of vehicles.
• VR is for gamers, right? Not so fast. "Walmart is putting 17,000 VR headsets in its US stores for training."
Walmart already uses VR in its 200 Academy training centers, thanks to a partnership with a company called Strivr ….It runs more than 45 modules, simulating events that would be difficult to run as physical training scenarios, like a Black Friday shopping rush. It also lets employees learn how to use new technology.
• Every company has an app. Every company wants to have your credit card number on file with the app. Then you can buy their stuff. Like coffee. Sigh. I liked this very human story about trying to buy coffee with, um, money when the app acted up. "I want to buy a coffee with an app – how hard can it be?" You'll be ROTFL. But the trend is dangerous. Can we all just use Apple Pay please?
• Here's the best review I've found of the Apple Watch Series 4, over at The Verge. If you don't want one yet, you will after reading this. "Apple Watch Series 4 Review: The Best Gets Better."
• Ben Bajarin has published an interesting analysis of Apple's client-side power of machine learning (ML) in your iPhone. "Apple's Neural Engine = Pocket Machine Learning Platform."
… competing with Apple's silicon team is becoming increasingly difficult…. No company will be able to keep up with Apple in client/device side computing but they can if they can utilize the monster computing power in the cloud. This to me is one of the more interesting battles that will come over the next decade. Apple's client-side computing prowess vs. the cloud computing software prowess of those looking to compete.
However, local ML is the key to privacy and security. So pick your horse to bet on now.
---
Particle Debris is a generally a mix of John Martellaro's observations and opinions about a standout event or article of the week (preamble on page one) followed on page two by a discussion of articles that didn't make the TMO headlines, the technical news debris. The column is published most every Friday except for holiday weeks.