A deep look at the public beta of macOS Mojave reveals that there's a lot going on. It represents a genuine Mac makeover.
That verdict comes from the Particle Debris article of the week via Jason Snell at Six Colors.
Here's how author Snell launches the discusion:
macOS Mojave feels like a macOS update that's truly about the Mac, extending features that are at the core of the Mac's identity. At the same time, macOS Mojave represents the end of a long era (of stability or, less charitably, stagnation) and the beginning of a period that could completely redefine what it means to use a Mac.
For openers, Snell discusses dark mode. While it may seem that this is just cosmetic glitz, dark mode is something pros have wanted very much.
Apple's pro apps, Final Cut and Logic, both received dark-interface updates in the past few years.
Just as significant is the new view mode in the Finder, called gallery. What's happening here is that Apple recognized that the Finder had become somewhat tame in it's functionality. You can do Finder-like things with files, but when it comes to common operations on files, (or viewing metadata) features were weither disjointed or subsumed by a suite of apps, Apple's and third party. Mojave's Finder begins to fix all that. In his gallery section, author Snell goes into considerable detail on the new Finder, editing files, the desktop and stacks.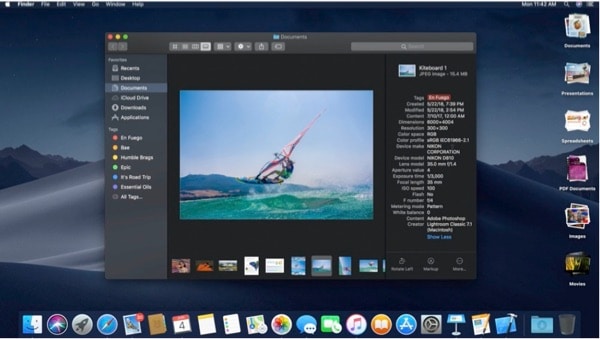 There's a whole lot more. iOS apps. Screenshots. Continuity camera. The new Mac App store. I could go on, but I need not provide a detailed outline before encouraging you to just go read this comprehensive, indeed, inspiring grand tour of the Mojave public beta.
As a side note, I can't help thinking that Mojave would become even more exciting, if that's possible, if there were a Mac event in July/August launching a suite of new, exciting Macs to whet our appetite. The combination of Mojave and some new, powerful, well-designed Macs could wow us and set the Mac back on a solid growth path. The complaints of the creative and technical professionals would be silenced, and we'd once again be Mac users who are surprised and delighted instead of beleaguered.
My gut says that event is coming.
Next Page: The News Debris for the week of June 25th. Loving the Apple TV.