Roku is consciously working to remain one step ahead of the Apple TV 4K. On October 2nd, Roku unveiled five new streaming boxes, with the lowest cost one at US$29.99. They're available at Walmart starting October 8th. You can read about them here: "Roku Bows New Devices, Upgraded Operating System."
That's the news that got me thinking about how Roku competes in this market.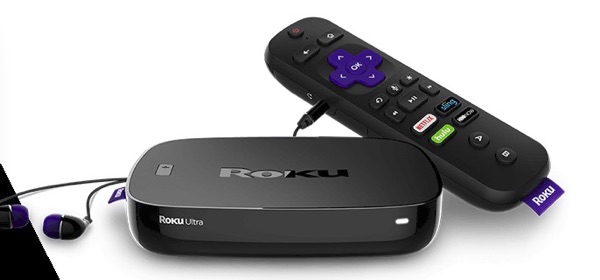 First of all, Roku keeps its prices down. The Roku Ultra with 4K/UHD at 60 fps and HDR10 sells for US$99.99. Reviews of the new Apple TV 4K consistently point out how expensive Apple's product is in comparison ($179-$199). Of course, the Apple TV 4K includes a scaler and support for Dolby Vision, but all modern TVs have their own scaler. For some reason, Apple declines to tell the consumer, in this market, why they ought to pay more. That leads to the next item.
Roku has six products to chose from (seven if you include the Roku TV) and presents a very useful product comparison chart on its website. Customers can match their needs to their budget. Apple has one choice.
Roku sells its products online and at Amazon, Best Buy, Target and Walmart. Apple has a lot of retail stores, but not that many.
Roku has a keen sense of timing. The company comes out with its latest and greatest products about the time Apple does, both leveraging from customer awareness of Apple's new products yet always one-upping Apple.
Roku devices are fine looking devices and have extraordinarily well designed remotes. When customers find that two competing products have almost the same features, the one that costs less and looks and feels better is going to win.
The car makers figured this out years ago. All cars operate the same, are subject to the same federal regulations, and typically have similar features. The cars that win on the low end win on price. On the higher end, they win, at equal performance, on the design language. Yet Apple charges more for a plain black brick and a problematic remote without a convincing rationale.
Apple's strategy doesn't seem designed to compete and win. Instead, Apple seems happy to go its own way and remain comfortable with its declining market share of Apple TV brand loyalists. That's an odd stance to take in the home entertainment market where the company has always shown a strong interest.
Next Page: The News Debris For The Week Of October 2nd. The automotive pros assess the future of autonomous cars.