Our artificial intelligence agents can either be embedded in our computers and/or mobile devices. Or they can reside in a cute little cyhlinder that sits on a table. Which is better? Which is the future? Which should you invest in? Maybe Siri knows.
_______________________
Apple's CEO Tim Cook has said that our AI's should always be with us. During Apple's 2016 Q4 Earnings Call, he said:
I think that most people would like an assistant with them all the time. I think the advantage of one on the phone will likely be much greater… we've shipped more assistant-enabled devices than probably anyone out there.
And it's true. In the 2016 holiday quarter, Apple shipped 78 million iPhones, 13 million iPads, and 5.4 million Macs. All of them have Siri. This doesn't even include Apple Watches. The research firm Canalys estimates Apple sold 6 million of those last quarter. All in all, that's over 100 million Siri enabled devices in one quarter.
Meanwhile, how many Amazon Echos were sold? Consumer Intelligence Research estimates Amazon sold 5.2 million for all of 2016. Ouch. (Although I did see this fantasy just as I started to publish. I don't believe it.)
Why The Big Fuss?
So why has the Echo made such a big splash? First, Amazon doesn't make its own computers as Apple does. So Amazon, if it's going to make its first break into the AI market, has to build those cute little stand-alone cylinders that sit on a table. And to sell a lot of them, the company's ads have to be spectacularly good at explaining the benefits. By example. Apple, in contrast, isn't doing much of that.
Amazon has indeed done a good job of explaining and celebrating the Echo in its TV ads. Plus, the Echo and Echo Dot are good looking pieces of hardware bringing forth a tangible physical manifestation. However, the downside of these cute little cylinders is that when you leave the room, you're out of contact. One solution is to buy a lot of them and spread them around the house. Unsavory. Or one can use some ingenious technology, like the Ninety7Life Vaux, a battery powered speaker system that cradles the Dot and allows you to move the pair from room to room.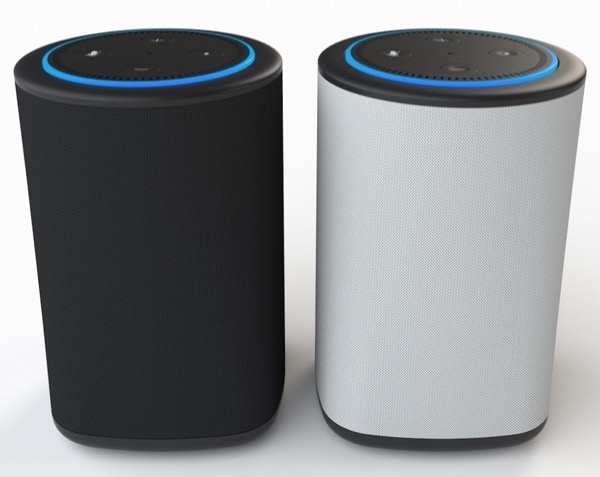 But that seems so awkward. Will the users really remember to grab the Vaux and Dot pair every time they leave the room? Meanwhile, if your iPhone isn't in your pocket, your Apple Watch certainly is on your wrist. Everywhere. Even the bathroom.
Pros and Cons
Recently, I spoke with Microsoft about this. Microsoft's Ben Rudolph explained that Cortana is always with him, either in his office or in the Surface that he carries with him. Within the constraints of privacy, Cortana (and Siri) are embedded in your computing environment—which for many people is in their face all day long.
The way Echo (and Google Home) work is to operate remotely and provide services (or Echo "skills") via IoT, and that's noted for not being particularly secure.
And so, while the Amazon Echo and Echo Dot get a lot of attention, it's primarily because they have the virtue of having a "face," not being tied to a computer and exemplified by simple understandable features that are easily advertised. But, after all, they come from a company that doesn't have Apple's and Microsoft's OS and computer expertise. The choice is made for Amazon.
In the long run, I think there will be a small and stable market for these table-top AIs, but I like the way Apple and Microsoft think about the problem. With many hundreds of millions of Windows and iOS devices out there, the modern AI agent is going to manifest itself best in our mobile life. The numbers already prove it.
Of course, when our family robots in 2022 start to follow us around, like puppies, all that could change.
Next page: The news debris for the week of March 6th. The future of the Mac.