Apple's shareholder return programs will surely be studied in business courses for years to come, and that includes the company's most recent $100 billion plan. Announced during the company's March quarter results, Apple described an aggressive plan for what is the single largest share buyback in history. That aggression says Apple believes it will be valued more highly in the near future, and here's what I think that means.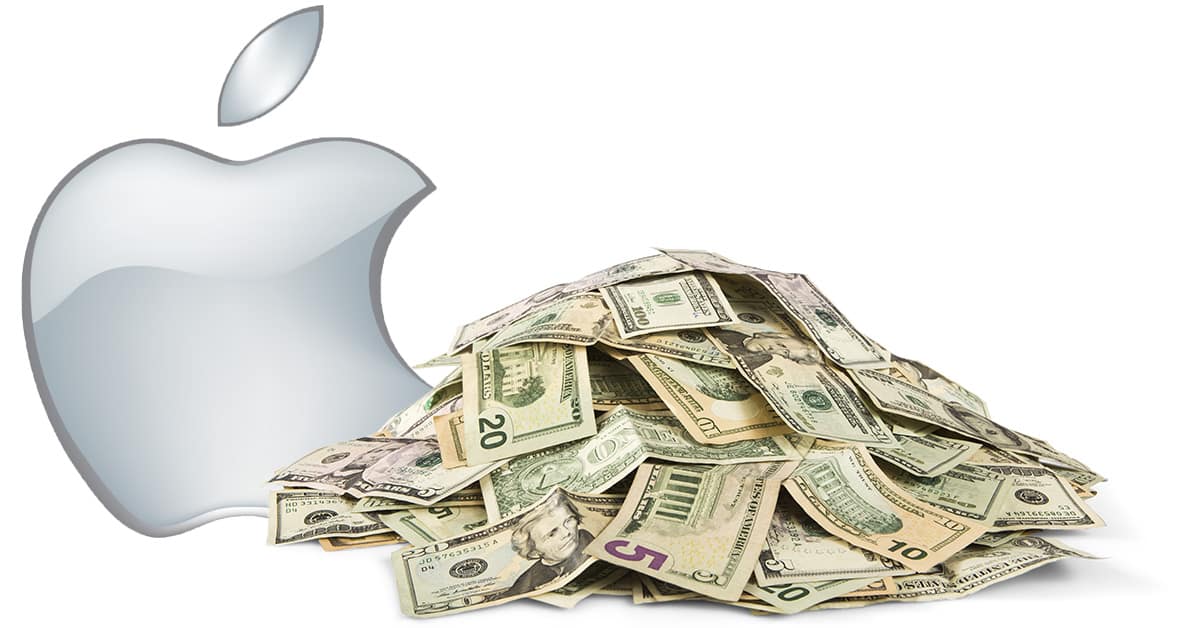 Apple $100 Billion Share Buyback Plan
Apple has already executed a staggering $225 billion in share buybacks in the last few years. Those plans were announced in smaller chunks that only combined to such a grand total. On May 1st, Apple announced a $100 billion buyback plan, the single largest plan ever announced, and Apple CFO Luca Maestri said he would "execute our program at a fast pace."
Here's the full statement from Apple's quarterly conference call with analysts [emphasis added]:
Given our strong confidence in Apple's future and the value that we see in our stock, our board has authorized a new $100 billion share repurchase program which we will start executing during the June quarter. Considering the unprecedented size of this new authorization, we want to be particularly thoughtful and flexible in our approach to repurchasing shares. Our intention is to execute our program efficiently and at a fast pace. As in the past, we will provide regular updates on our capital return activities at the end of every quarter.
That plan starts in the June quarter (i.e. right about now), but Apple also said it would complete its previous buyback plan this quarter, too, a full three quarters earlier than originally planned. To make all this happen, Apple repurchased $23 billion of its own stock during the March quarter, a sign of just what Mr. Maestri means when he said "a fast pace." Apple could well complete this next $100 billion plan in as little as a year.
Buy Low
Warren Buffett is one of the most successful proponents of the idea behind share buybacks: if management believes its company is undervalued, it should use excess cash to buy back shares. In other words, buy low. It's sort of investing 101, but applied to the company itself. Doing so pushes up the value of the remaining shares and increases earnings per share, making the company look better to more investors.
Mr. Buffet has said the late Steve Jobs asked him what Apple should do with all its money. "I would use it for buybacks if I thought my stock was undervalued," we reported he said way back in 2003. He has long since repeated this wisdom many times for a variety of companies.
[Buffett: I Told Jobs to Buy Back Apple Stock]
All that AAPL Money
While Mr. Jobs didn't act on that advice, it's what Apple has been doing in the years since he passed away. But under Steve Jobs and Tim Cook, both, Apple has been very deliberate, conservative, and careful in managing its money. Sitting on one of the largest fortunes in the history of humanity, Apple has managed its money to emphasize wealth preservation, rather than growth.
So why get aggressive now? That's the question. It's a huge change in behavior, and changes in behavior always have some reason behind them.
Be Aggressive. B-E Aggressive
Part of it is simply that AAPL is undervalued. Wall Street just hasn't seen where future growth might come from, and the Apple's P/E has languished at 12/1 to 16/1 for a long time, the range of staid and boring companies like HP and Intel. Just look at the March quarter, when Apple poured $23 billion into its own stock, and it hardly budged on price. Had Apple not poured in that money, the stock would almost certainly have fallen. Even since Apple announced its aggressive plan, the stock has only risen about $10, and this while Apple continues to pour even money into its own stock.
In other words, Wall Street continues to undervalue AAPL, and Apple is, accordingly, snapping it up.
But why now?
Well, Apple knows things we don't. Apple knows what it will be releasing in a year, 2 years, 3 years, and 5. In my mind, Apple's aggressive plans can only mean that Apple will be releasing something management believes will drive up its price, that it will have a profound enough effect on the company's top and bottom lines to justify being so aggressive with its buybacks.
Furthermore, I'd argue the specifics of its aggression indicates this new thing will happen in the next 24 months. There is simply no other course of action that would justify pumping so much money into its stock. A new iPhone model, new Macs, and ever-growing services revenue combined aren't going to move the needle enough to make this use of capital the wise and deliberate move that has otherwise been the hallmark of Apple's cash management.
We've long known Apple was working on medical technology, including data management and a noninvasive glucose monitoring solution. We've long known Apple was working on autonomous vehicles, and that its fleet of test vehicles has been growing. There could be other product categories in the works, too, and it's my belief these products are what CEO Tim Cook is referring to when he talks about Apple's "deep pipeline."
[Apple Nearly Doubles Autonomous Car Test Fleet to 45 Just Since January]
To me, Apple's aggressive share buyback plan says we're going to see something from that deep pipeline within the next 24 months.
*In the interest of full disclosure, the author holds a tiny, almost insignificant share in AAPL stock that was not an influence in the creation of this article.