Where Shall Apple Take the Mac Next?
June 13, 2018 4:46 EDT PM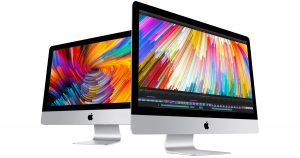 The Macverse is bursting at the seams waiting for new Macs. A Mac specific event seems called for. Here's what I would like to see. Apple iMac (2017) It almost seems as if Apple is sitting on a timebomb. There is so much to do with the Mac, and the list keeps getting longer. Let's…
June 13, 2018 8:32 EDT PM
What I would like to see is an iMac cluster, connected via Thunderbolt 3. The transport should be fast enough to permit process migration between the node, including graphics. A regular iMac would permit a dual version, leaving one open Thunderbolt port on each. iMac pro could have a fully connected quad cluster, still leaving one extra T-bolt port on each.
I'd also like to see the Mach microkernal replaced by a next generation one, like the L4 series from the late Prof. Liedtke, that was developed using the Apple developed mklinux (microkernal Linux).
June 14, 2018 5:25 EDT AM
iMac needs s slight thinner bezel. The Bezel looks fine on 27", it looks a little dated on the 21".
We need better Keyboard. I think most people, especially developers could hand on for 32GB Memory, but Keyboard needs a total rethink.
June 14, 2018 2:44 EDT PM
I'd love to see a new iMac 27" with Target Display Mode. It's sad that this functionality has been MIA since 2011. Thunderbolt has enough bandwidth to support it now (TB3).
June 14, 2018 3:08 EDT PM
Fix the keyboard, ditch the useless touch bar, and stop raising prices. Anything beyond that is gravy...
Old UNIX Guy
June 15, 2018 9:33 EDT AM
June 17, 2018 10:26 EDT PM
Heard the podcast discussion, too - there's too much difference between Pro and Mini to make a single product. Minis get used as servers, but in a lot of applications servers don't need to be all powerful, and that's their use case.
I'm trying to frighten people with the prospect of a Mini with a single USB-C port, which on past actions, seems the most likely outcome. Sadly.
Could even be old tv sized puck/NUC and might just be a viable Mac - I recommend a lot of non-fussy people get a Mini and a cheap screen, so they get Mac, without too much price pain. I love Minis and wish they'd kept going down the quad-core path.
Love to see a 6 core Mini this year, or next. But Apple's pricing is putting their products beyond the market for a reasonable-power Mac. Sad really.
Still believe Apple's definition of Modular means E-GPU for Mac Pro, and that's worse than sad!