And I Shall Call It… 'Darth iMac Pro'
July 11, 2018 5:53 EDT PM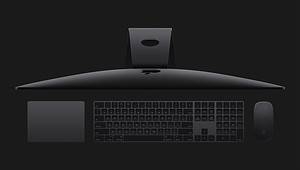 Dr. Mac's Rants & Raves
Episode #286
I lusted for an iMac Pro from the moment I heard about it. According to Apple, "it's packed with the most powerful graphics and processors ever in a Mac, along with the most advanced storage, memory, and I/O — all behind a breathtaking Retina 5K display."
Alas, with prices ranging from $4,999 to more than $13,000 for a fully-equipped model, iMac Pro is not for everyone.
Though I can't justify a $5,000+ iMac Pro for writing columns and books right now, I've been doing a lot of long-form video lately (check out my 5-hour "Working Smarter" online course and "Drivin' with Dr. Mac" video series). Which got me to wondering just how much time I might save using an iMac Pro in lieu of my 2015 MacBook Pro.
Editing video on my MacBook Pro, even though it has 2.6GHz core Intel i7 processor, 16GB RAM and a big, external monitor, is a challenge. It seems I'm always waiting for Final Cut Pro to finish something—importing, rendering, or finalizing footage—all of which take longer than I'd like and leave me sitting around.
Darth iMac Pro
So, last month I borrowed an iMac Pro from Apple and performed some tests. The iMac Pro I used was the least-expensive configuration available ($4,999) with a 3.2GHz core Intel Xeon W processor; 32GB of RAM; a 1TB SSD; and Radeon Pro Vega 56 graphics with 8GB of memory.
My first observation out of the box was that the Space Gray finish on all components—the iMac itself, the keyboard, and the mouse, is stunning. (That was when I started calling it "Darth.")
[caption id="attachment_44065" align="aligncenter" width="1024"]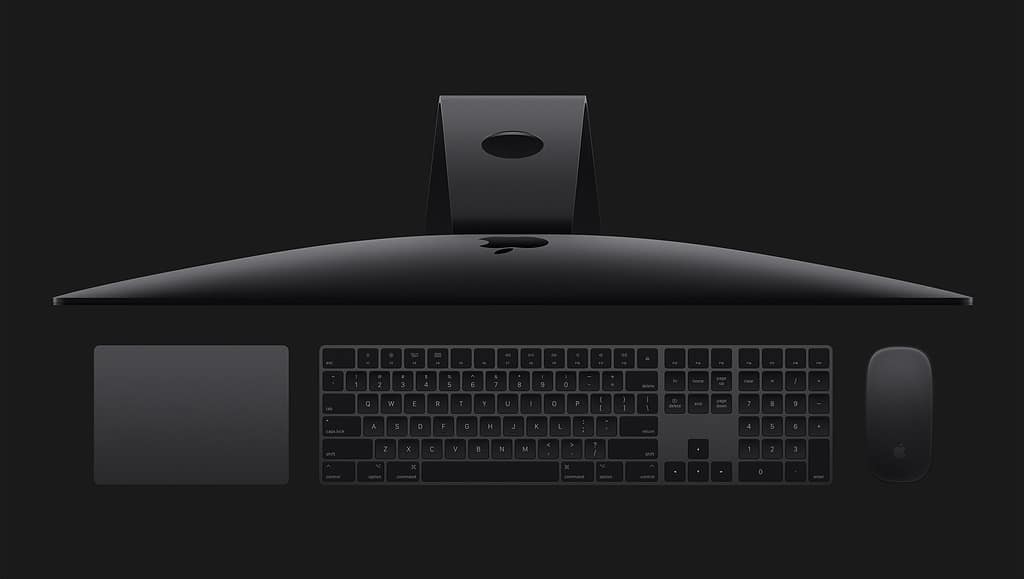 You can see why I took to calling this beast "Darth iMac Pro."[/caption]
The next thing I noticed was that the Retina 5K display gave me more screen real estate than my two-monitor MacBook Pro setup. I didn't realize how much I liked having everything on one big screen instead of two medium-sized displays.
Test #1: Importing, Transcoding, and Analyzing Video
The first test was how much time I might save editing video in Final Cut Pro. I first tested importing, transcoding, and analyzing a 1.9GB video file. On my MacBook Pro, that took a little over 11 minutes; on the iMac Pro it only took 5 minutes and 10 seconds.
So, Darth iMac was more than twice as fast at bringing video into Final Cut Pro. And rendering effects was roughly twice as fast as well.
Test #2: Exporting Video
Another bottleneck is exporting finished videos for playback on the internet, so I tested that next. Not surprisingly, the iMac Pro was again more than twice as fast as the MacBook Pro regardless of file size or type.
Test #3: Converting Video
Finally, since I often have to use Handbrake to convert finished video from one file format or display size to another, I encoded a 3.28GB movie (.MOV) file, converting it from 1080p to 720p using H.264. The resulting file was less than half the size of the original—1.42GB—on both Macs. But the process was more than twice as fast on the iMac Pro, which was done in about 6 minutes. The MacBook Pro didn't finish for another 8 minutes.
If I ever make any money from my videos, the first thing I'm going to buy is an iMac Pro.
July 11, 2018 8:01 EDT PM
Gray is "stunning"? oof. Even Kelly Bundy had the sense to invent a new color - I believe it was called 'bleen'. What the heck does California have against colors? Seems 75%-80% of all cars and SUVs (and CSUVs, Crossovers, SemiQuasi SVs etc) that I see on the road are a non color - i.e. a shade of black - silver, grey, black, (white) etc. So, not only is the iMac expensive with hardwired cards that can't be upgraded essentially guaranteeing obsoletion in a year...but it comes in "stunning gray" Even that failed 25th Anniversary Mac at least had a cooler color - sort of pewter bronze-ish bleen. d:D
July 11, 2018 8:08 EDT PM
I am a Californian and have nothing against color and in fact usually wear bright colors, a cursory look around town tells me that I am not alone in this. Folks that design tech products on the hand seem to be into black, dark grays, and blue LEDs.
July 12, 2018 1:04 EDT AM
I'd give anything for a spot of color back in the Apple line. I loved my iPhone 5c and was sad it didn't catch on. I miss my blueberry iMac and the sage green DV I had. Are we really doomed to alumin-Hell for the rest of eternity? Even the iPods got some colored aluminum love. I'm really sick of tech products in black, white and gray, whether its Macs, iPhones, iPads, DVD players, TV's or streaming boxes. For God's sake, give me a choice!
July 12, 2018 10:45 EDT AM
Paint your room walls canary yellow, wear a crimson colored shirt, green jeans, and blue suede shoes.
July 12, 2018 12:45 EDT PM
I already do. Love the shirts, but still not helping my iMac nostalgia. 
July 12, 2018 12:47 EDT PM
If I need THAT much color, I'll put my Pride flag up in my office, LOL. 🏳️‍🌈
July 17, 2018 3:14 EDT PM
That's why I bought a (red) iPhone 8. It's nice that some money goes to a good cause, but the saturated red color was the real attraction. I'd definitely go for an iMac pro in red. 
July 17, 2018 10:08 EDT PM
I'd probably go for a red iMac Pro, too, if I were going to buy an iMac Pro (and they made one in red...). Since the only current options are silver or Darth Vader, Vader wins every time (at least for me). 
January 31, 2020 3:23 EST PM
The next thing I noticed was that the Retina 5K display gave me more screen real estate than my two-monitor MacBook Pro setup. I didn't realize how much I liked having everything on one big screen instead of two medium-sized displays.