What's new in Mojave, watchOS 5 and tvOS 12
June 21, 2018 3:50 EDT PM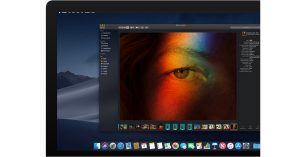 Dr. Mac's Rants & Raves
Episode #283
In addition to iOS 12 (which I covered last week), Apple previewed the rest of its new, next-generation operating systems—macOS 10.14 Mojave, tvOS 12, and watchOS 5. Here's what to look for in each:
What's new in macOS 10.14 Mojave?
The next-generation OS for Macs (version 10.14) known as Mojave, will include several useful new features:
Dark Mode: If you find your Mac's screen(s) too bright or garish, you're going to love this new feature. Dark Mode intelligently darkens almost everything on the screen. Built-in Mac apps take advantage of it automatically, and an API to let third-party developers implement it in their apps.
Stacks: This is the first real interface change for the Finder in years. It gathers files on the desktop and sorts them into "Stacks" based on their file type. It's customizable and finally offers us a quick and easy way to clean up disorganized Desktops.
FaceTime Group Calling: Finally an easy and free way to have group video or audio chat. FaceTime (on both macOS and iOS) is going to allow up to 32 people to converse at once! I think I'm gonna love this but we'll see...
Continuity Camera: This new feature lets you take pictures or scan documents with a nearby iDevice, which appear instantly on your Mac. If it works well, it may be the sleeper hit of Mojave. Or not.and
News, Stocks, Voice Memos, and Home apps: These four apps, available on the iPhone and iPad for years, are included with macOS Mojave for the first time.
But Wait—There's More (New Mojave Stuff...)
Other new features include an all new Mac App Store, which is long overdue in my opinion.  Anyway, the overhaul brings a whole new look and feel, and should make it easier to find the right Mac app faster.
I'll believe that when I see it.
And, you'll soon be able to buy many third-party apps previously unavailable in the App Store including Microsoft Office, Adobe Lightroom CC, and BBEdit to name a few.
Finally, Mojave will also include:
New screenshot controls and options.
A new Gallery View  to replace the lame Cover Flow view.and
Markup Tools everywhere including the Finder, Quick Look windows, and screenshots,
New in tvOS 12 and watchOS 5
tvOS 12 will add support for Dolby Atmos audio to Apple TV 4K, which (according to Apple) will make it the only streaming player certified for both Dolby Vision and Dolby Atmos. I'm looking forward to the new interactive aerial screen savers shot from space by astronauts.
Finally, watchOS 5 will feature Activity Competitions, auto-workout detection (YEA!!!), advanced running features, and something called "Walkie-Talkie." I'm old enough to know what that is, but will younger folks?
This year's updates offered fewer whizzy new features than in many years past, and promise more performance and stability improvements than usual, too .I consider this a good thing indeed, but how much faster, more stable, and more secure will they be?
We'll all have to wait until this fall for the thrilling conclusion... Stay tuned!