Not an Apple Watch Series 3 Review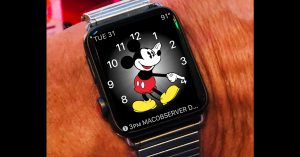 Dr. Mac's Rants & Raves
Episode #289
Before I tell you about my Apple Watch Series 3 experience, I'd like to provide you with a bit of historical context.
Before the Apple Watch era, I was what you might call a wristwatch aficionado. Over the years I'd collected maybe two dozen watches that I found appealing for one reason or another. My collection includes several vintage tank watches; a couple of modern skeleton-style watches; a pair of vintage Omega's; a TAG-Heuer diving watch I picked up in Hong Kong back when there were deals to be had; plus nearly a dozen cheap "active lifestyle" digital watches (mostly G-Shocks).
What can I say? I've always loved analog watches and I still do. But, I gotta tell you that since getting my first Apple Watch three years ago, I've gone months (if not years) between analog watch wearings.
Why? That's easy. My analog watches may be feats of engineering or works of art, but they mostly do one thing—measure time. My Apple Watch Series 3 measures time, too, but it also does at least half a dozen other things I find extremely useful.
This Is not an Apple Watch Review
By the way, this isn't a review of the Apple Watch Series 3. If it were I'd have to talk about specifications, differences from earlier models, and lots of stuff neither of us cares about. So I'm not gonna do that. Instead, let me tell you about the features I use regularly and why I don't think I'll ever go back to wearing an analog watch regularly.
What Makes Apple Watch Superior?
What makes Apple Watch superior to any of my analog watches are the things it does that the others cannot.
For example, only Apple Watch lets me press and hold the Digital Crown to chat with Siri. That alone might be worth the price of admission. Here are some of my favorite things to say to her/him/it:
Remind me to look for new studio headphones (or whatever) when I get home.
I need driving directions to House of Blues (or anywhere).
Call mom (or anyone else).
What's on my calendar for today?
Remind me to get milk (or whatever) when I'm near H-E-B.
Play music by the Beatles (or any other artist available on Apple Music).
Apple Watch with Cellular is Even More Superior...
Unlike my previous Apple Watch, the Series 3 includes cellular. It's more expensive than a Series 3 without cellular, and service is another $10 a month (with T-Mobile). But here's the cool thing: All of the above work regardless of whether my iPhone is nearby. Which means I can leave my iPhone home when I walk the dog, ride a bike, swim, or anything else, and still stream music, create appointments and reminders, and get walking or driving directions.
And...it's a Remote Shutter Release for my iPhone
Another thing I love about the watch is controlling the iPhone camera with it from across the room. The watch screen displays what the lens sees, so I can trigger the shutter remotely up to about 30 feet from my iPhone.
[caption id="attachment_45417" align="aligncenter" width="156"]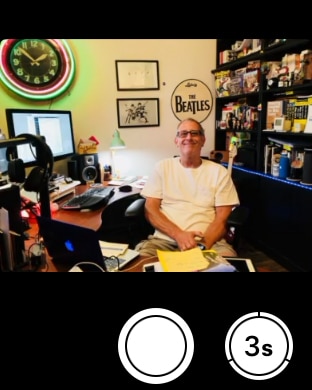 Here's what I see on my Apple Watch...[/caption]
[caption id="attachment_45418" align="aligncenter" width="400"]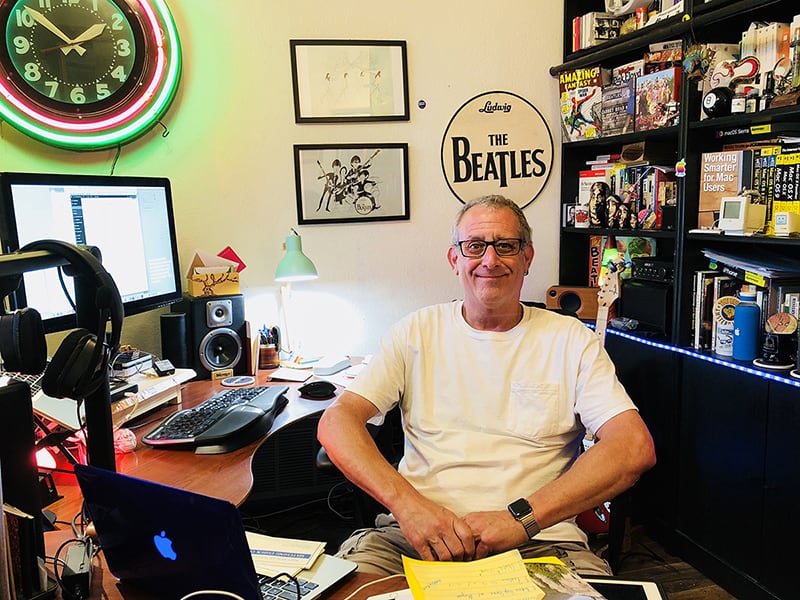 ...and here's the resulting photo.[/caption]
But wait! There's more! Another thing I love is the myriad third-party apps that deliver useful information right to my wrist. For example, Dark Sky is one fo my all-time favorites—a hyperlocal weather app that warns me when rain is going to fall wherever I happen to be standing with frightening accuracy.
And, how can you not love the ability to change faces or watch bands in seconds?
I rotate among three or four faces and a handful of watch bands regularly, like this retro look I really love:
[caption id="attachment_45419" align="aligncenter" width="512"]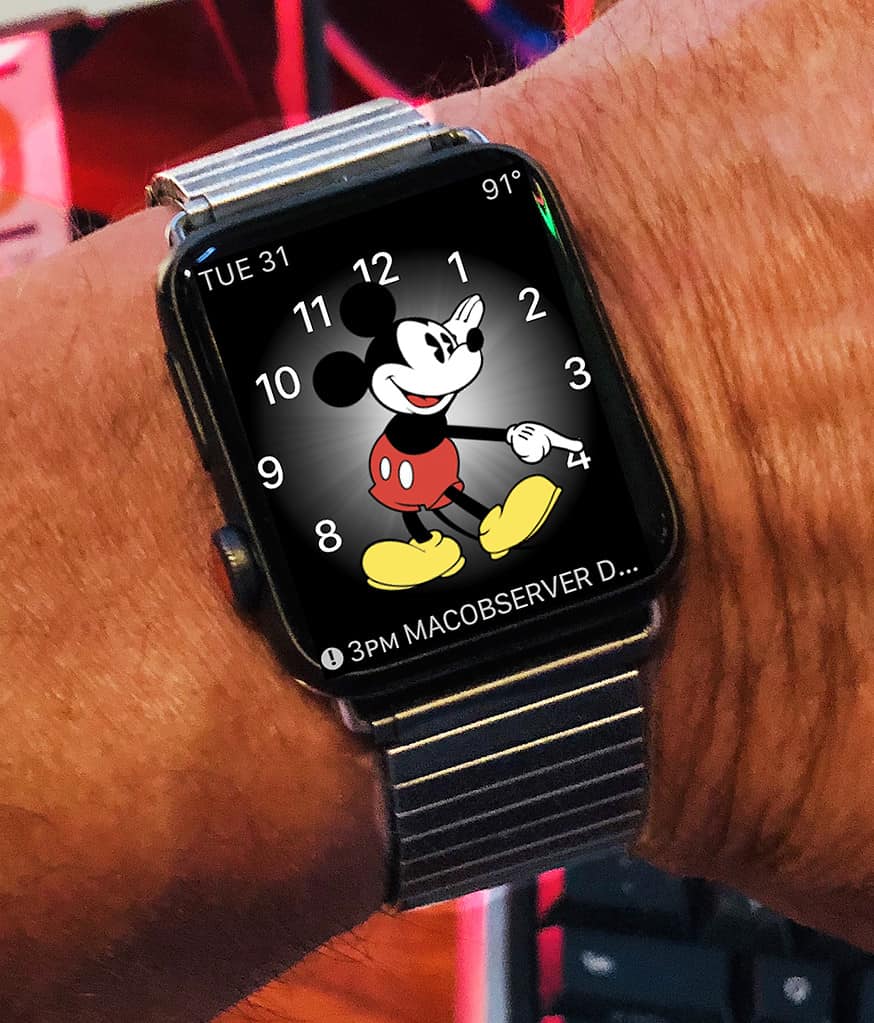 Watch face by Apple/Disney; Twist-O-Flex watchband by Speidel.[/caption]
There is one other feature, but it's the one that makes the Apple Watch absolutely, positively indispensable to me…
But I'm out of space, so I'll have to tell you about it next week.
Apple Watch. Apple, Inc. Series 3 from $329; Series 1 from $249.
Twist-o-Flex watchband. Spidel. $50.
August 1, 2018 9:00 EDT PM
I've looked at the Apple Watch since it was released. Not really impressed at first. It does "things" none of which I could see myself needing. To be honest the one time I played with one at Target, the original model, I was unimpressed. I literally could not get it to do anything. Looking back it think it might have frozen and needed rebooting. But at the time I just knew I couldn't even get it off of the watch face, let alone looking at any apps or other functions. I just figured that if it was that unintuitive then it wasn't for me.
This last weekend we stopped by the Apple Store in Rosedale Minnesota looking for a set of BlueTooth earbuds. Settled on the BeatsX ones, but that's another story.
While we were there I wandered over to the AppleWatch display. I looked and and played with a Cellular Series 3. It was very nice. I moved between screens and functions crisply. I opened a few apps and some settings and it looked quite cool. I can see myself getting one, someday. Right now it doesn't yet do enough to be worth the cost. My wife has a bunch of music she would want to put on it for when she's gardening or working around the house so it needs more storage space. Also the screen is a bit small. If I have to pull out my reading glasses to use the watch, then the watch has lost most of its convenience factor. But it's getting close. I have read rumours that this year the series 4 might have a bigger screen. That would help tremendously. Also it sounds like Apple is really pushing into medical tracking with the watch. That would be enough to put me in the Apple Watch camp.
Much like the iPhone, I'll likely be skipping the first few models and then getting one once Apple refines it a bit.
This post was modified 2 years ago by
geoduck
August 1, 2018 9:02 EDT PM
HOLY [email protected]! You have EDIT back on your comments. That's great. Thanks so much.
August 2, 2018 11:55 EDT AM
Right now it doesn't yet do enough to be worth the cost.
With the help of my I Apple Watch I lost over 70lbs, which is about 31.75146kg for those of you mired in the horrid metric system. I went from extra large shirts to small slim fit and in some cases extra slim fit. From a 38" waist to 30" Levi's shrink-to-fit. That alone was worth the cost. Yes, I could have done it without the Watch, but I was encouraged by Lord of Closing the Activity Rings, and upping my exercise goals. I also started minding food portion size and counting calories; I keep my food and caloric intake records on Numbers.
As Bob mentioned using Siri is a real handy feature, but I also use Home, Maps, Timer, Messages, What's Playing, Remote, my Bank's app, and Apple Pay.
Currently I am using a Watch 2, but still have a Watch 1 that wear when doing heavy chores. I will probably get the next model and gift my watch to my son.
August 2, 2018 4:28 EDT PM
Bob:
Great AW non-review.
As an AW enthusiast, I can relate to your post. I have a Breitling that my wife got me as a med school graduation/residency initiation gift back in '91, and even upgraded it along the way. I only went without it when it required servicing and actively missed wearing it, that is until 3 years ago with the release of AW Series 0. I was sceptical at first as to how often I'd wear the AW, or even if I wore it daily for my early morning workouts, which I knew I'd do, whether I would wear it to work or dispatch it to the drawer for the remainder - maybe to be worn on weekends. Once I strapped it on, I never took the damned thing off, not even for showers, except to recharge overnight.
I've upgraded every version, sometimes handing down my previous version to my son. I'm now a very happy owner of the Series 3 cellular, and with this version, began to experiment with bands (although for time constraints I'm usually wearing one of the sports bands I worked out and showered in). It has become an essential piece of my work/play toolkit.
I'll wait until you share what feature(s) you like most, and then share what I like, why I strap it on first thing the morning and only take it off before bed, and why this is likely the last watch I'll ever wear, version upgrades notwithstanding.
Cheers.
August 2, 2018 8:41 EDT PM
Thanks for the kind words. I appreciate them.
All will become clear in next week's Rants & Raves. I find it unlikely I'll ever wear an analog watch again.
August 2, 2018 8:42 EDT PM
Watch this space next week! (But, I think you know where I'm going with this....) :-p
August 2, 2018 8:43 EDT PM
It was my doing, of course. (NOT!) Still, you're entirely welcome. 🙂
August 2, 2018 8:44 EDT PM
My family bought me the first generation for father's day... And I upgraded to cellular myself this year. It's refined enough already; I predict you'll buy the next one and never look back.
August 3, 2018 5:44 EDT AM
As the owner of an Apple Watch series 3 and an Apple shareholder I can't tell you the pleasure it was following Apple's stock break through the one trillion dollar capitalization mark on my Apple Watch.