iMazing not being very amazing at all.
Sorry for dissing one of the sponsors, but ever since I have had iMazing, I cannot say that I have ever had a good experience with it. Granted, I have been able to make back ups before. I've never been able to restore a phone before, though. I have had luck in extracting voicemail messages and apps, but otherwise I just get frustrated the more I try and use it.
 Over the weekend, I got a new iPhone 11 and thought that I would use iMazing  to do it's amazing stuff and transfer over my phone to a new phone. I started doing a back up because I wanted the most recent and it took a really really really really long time to start backing up. As a matter fact I don't even think it ever did. So I stopped it and tried restarting. At one point, I got it to start backing up so let it do it's thing but somehow the screen went to sleep or the phone went to sleep and I got that error so I tried backing up again, but it didn't work. Then I tried with a different cable and it's sort of worked but then it didn't. Then it just took it sweet time preparing but never wind. At that point, I wrote to technical support and they gave me some suggestions that were useless. One of them was trying a different cable. Or hooking it up directly to the computer rather than through a hub which didn't matter. I gave up. I rerceived my iPhone 11 and used the regular iCloud restore and miracle of miracles, I had my whole phone on my new phone. Including data and documents that I had downloaded to the old phone. That never seem to work using iCloud restore.
Now that there is some time between my frustration over the weekend and now, I am trying to do a back up and when I left at noon it was at 99% with 5 minutes left,  and when I came back at five, it is at 99% with five minutes left. What is up?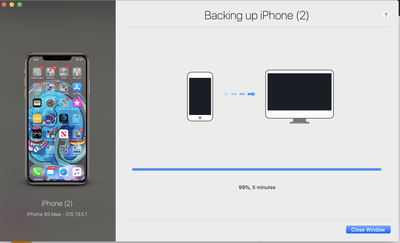 July 16, 2020 5:19 EDT AM
Don't worry. Your first backup will take the longest; all subsequent backups are incremental and will be much quicker.