iOS 12 Screen Time -- Where to Manage Devices?
December 9, 2018 7:19 EST PM
A minor irritation, but one I'm unable to solve: in the Screen Time settings you can enable "Share Across Devices" on any device signed in to iCloud. When I hit All Devices near the top then Devices in the upper right, it shows me 2 iPhones even though I only have one. The usage for the first matches my actual usage, whereas the usage for the second says nothing. When I check my devices signed in though there is only the 1 phone. Anyone know where I can remove this "phantom phone" from my devices list in Screen Time?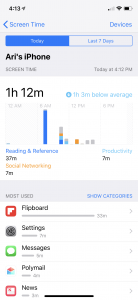 December 9, 2018 7:32 EST PM
December 9, 2018 7:34 EST PM