[Solved]

iTunes not recognising iPhone
November 14, 2018 9:24 EST PM
I have an iPhone 7 running iOS 12.1, and iPad mini 3 running iOS 12.1 and a Mac mini (mid 2010) running MacOS 10.12.6. I wanted to update the album info for a few albums from iTunes on the Mac to the iPhone. However, iTunes seems to think the iPhone is not around. Even when the iPhone is plugged in using a Lightning cable, iTunes doesn't register its presence. By contrast, the iPad (which is set to sync over wi-fi) appears in the iTunes sidebar as per the attached screen shot. When I manually synced it, it received the album info changes correctly. The screen shot also shows the Devices section of iTunes preferences, which lists both iPhone (Strike Force Mephisto) and iPad (NSA Covert Van 3) as having been backed up to it in the past. On the iPhone, in the Settings->General->iTunes Wi-Fi Sync panel, it says "To enable Wi-Fi syncing with iTunes, connect to iTunes on your computer using a cable and click "Sync with this iPhone over Wi-Fi". The trouble is, I did that months ago. Note that I upgraded the Mac mini to MacOS 10.12 a week or two ago. Before that it had been on 10.11 for some time.
So how do I get the Mac to acknowledge the iPhone's existence? Is there some setting on the iPhone that can be changed? Is there a setting on the Mac that I have missed?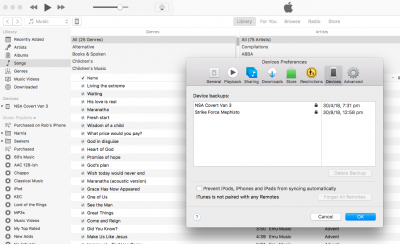 This topic was modified 2 years ago by
RobWoof
November 25, 2018 12:11 EST PM
I had this issue with a client a few weeks ago. After talking to Apple, it turned out the solution was to reinstall iTunes. I'd forgotten that while other apps either come with macOS or get installed via the App Store, iTunes is still available for independent download from apple.com.
While I was unable to delete iTunes because it's a system-required app, I reinstalled iTunes over the top and it worked again. If I recall correctly, upon connecting the iPhone, the Mac will ask to install some extra required software. Then, iTunes will properly welcome the iPhone again.
November 25, 2018 6:14 EST PM
Yes, I thought it was only for newer devices but it may be for any device running 10.12.x that iTunes may need a small update to "see" the device. Usually a pop-up appears notifying you that the update is required but a full reinstall of iTunes presumably also does the trick.
November 19, 2018 11:30 EST AM
Interesting, @RobWoof. Does the iPhone show up in System Profiler under the USB section?
November 24, 2018 11:00 EST PM
It shows up in System Profiler, and also shows up in Image Capture and Photos (although I'm having trouble importing photos from the iPhone, but that's another story).
November 25, 2018 1:51 EST AM
Bizarre... OK. Next thought: does it do this in safe mode, too?
Failing that, try iTunes in a separate user account to see if it's some pref/setting there?
November 14, 2019 3:39 EST AM
Updating iTunes to the latest version may solve the problem that iTunes does not recognize the iPhone.