Bridge Mode, APFS, and Tips from MacTech – Mac Geek Gab 735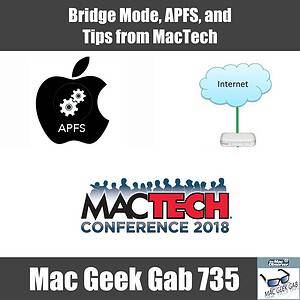 Note: Shownotes are complete!
Chapters/Timestamps/Stuff mentioned:
00:00:00 Mac Geek Gab 735 for Monday, November 12, 2018
00:01:58 SSD Dashboard by way of Parallels
00:03:19 VMware vCenter Converter Standalone (creates a .vmdk file you can import into other virtualization environments)
00:04:26 MacTech is SO worth it
00:08:03 APFS Lessons from MacTech
00:14:17 CSF-KnockKnock
00:16:17 CSF-Sloth
00:17:40 CSF-LockRattler
00:19:03 Contact Mac Geek Gab
00:19:41 QT-defaults read [file].plist works!
00:21:30 QT-launchctl list
00:22:35 SPONSOR: Opsgenie, now from Atlassian! Opsgenie empowers Dev & Ops teams to plan for service disruptions and stay in control during incidents. Visit Opsgenie.com to get a free company account for up to 5 team members, forever.
00:24:55 SPONSOR: LinkedIn Jobs. Go to LinkedIn.com/MGG and get $50 OFF toward your first job post!
00:27:01 QT-Hit Command-T in your favorite apps
00:27:56 Bill-Force Mac App Store to show missing Updates

App Store | Store | Reload Page

00:29:36 Bill-734-Dark Mode toggle for Maps

Maps | View | Use Dark Map

00:30:19 Shazoom-CSF-Dark Mode for Firefox
00:32:13 Bill-734-MacBook Air TouchID not Touch Bar
00:34:52 Rob-734-Logging in two accounts at once

Launch VMWare virtual machine with macOS to log in second user

00:28:51 Neal-734-Use CGSession to login a second user

/System/Library/CoreServices/Menu Extras/User.menu/Contents/Resources/CGSession - switchToUserID `id -u <username>`

00:41:33 Dave-Soft Keyboards with Hard Keyboards on iPads
00:43:25 Kraig-iOS 12.1 eSIM bug
00:46:44 SPONSOR: eero plus. Never think about WiFi again - Get $100 off the eero base unit and 2 beacons package, and 1 year of eero Plus, visit eero.com/mgg and at checkout enter MGG.
00:49:20 SPONSOR: Jamf Now. MGG listeners can start securing their business today by managing their first 3 devices for free! Add more starting at just two dollars a month, per device. Create your free account today at jamf.com/MGG
00:51:14 Cindy-Install a Printer That Doesn't Exist?

System Preferences | Printers & Scanners | + | Use: | Select Software | [Printer]

00:56:53 Dave-Cable Modem in Bridge Mode
01:04:09 Chuck-Mojave thoughts
01:09:45 Gary-Finding Photos
01:14:56 MGGF-Garry-Naming exported Photos folders
01:16:15 Jeff-Photos Backup
01:22:29 MGG 735 Outtro
You're downloading today's show from CacheFly's network
November 21, 2018 1:29 EST PM
The explanation of the Modem/Router is without a doubt the most thorough yet simplest and easiest to understand I have ever heard. Dave Hamilton is reminds me of a college professor I had MANY years ago. She had a wealth of knowledge but was able to share her expertise in a manner all the students could grasp, digest & remember. This is such a great podcast. I am a GIT. (Geek In Training)
One friend advised - turn to essay- diplomas writers. They write works for students - and they're scribbling something to me, then you will change it, correct the mistakes - and "for show" will do. I chose this Essays.Assigncode.com service, but you know, all the same, I would like that they write my essay in a high-quality, and not a blunder. Do you understand what I'm talking about?